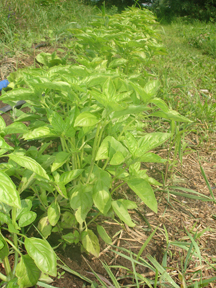 July ushers in the epitome of summer garden abundance here in Wisconsin. So I was disappointed to see my local supermarket in town selling a teeny "fresh" box of basil from California, a quarter of an ounce for $2.49. With these high ingredient prices, it's no wonder making your own pesto hasn't evolved to higher home culinary status.
But ignore that price tag. With a little planning, you can make the amazing homemade, local pesto that will keep you savoring summer all winter long. Here are a few frugal tips to get you started:
1. Grow Your Own Basil
There's a reason why fresh basil comes with such a high price tag: the herb is incredibly hard to keep fresh. From the moment it is cut, the leaves start to wilt, making transport very difficult. One of the most economical ways to get your feet wet in gardening is to grow basil (or any fresh herb you use frequently), which can readily be grown in a container or pot.
Another option if you have befriended a grower at your local farmers' market is to see if you can buy "leftover" basil at their end of their sale day. Any leftover basil will probably be at that wilted stage. While the looks aren't perfect, the flavor still will be and you'll be chopping it into the pesto anyway so the look of the leaf won't matter. The farmer will be happy to get rid of it and may cut you a nice clearance special price.
2. Experiment with Different Nuts
Pine nuts may be the local nut of choice in traditional Mediterranean pesto, but it comes with another high price tag when making the American version. Other nuts work equally well, such as walnuts, pecans and almond. I've even used peanuts and pistachios in a pinch. The nut will alter the pesto flavor, so experiment with small batches to see what nut alternatives you like best.
3. Stock Up the Freezer for Winter
Eating pesto in the winter is the frugal equivalent of jetting to Tuscany, at least with a cheaper point of entry. But remember to stock up and make big pesto batches when fresh basil is at its peak. My husband, John Ivanko, is our resident pesto maker and he will typically quadruple the recipe below since it freezes very well. We freeze the pesto in one-cup freezer containers but, for smaller households, try freezing the pesto in individual compartment in an ice cube tray. "Pop" the pesto cube out and place in a freezer bag for easy, individual servings.
Basil Pesto
From Edible Earth: Savoring the Good Life with Vegetarian Recipes from Inn Serendipity
This is very much one of those "mix to taste" type of recipes. Don't feel the need to go off this ingredient list exactly; experiment and play with the various flavors to create your own custom pesto.
Ingredients:
1 c. firmly packed, washed fresh basil leaves
½ c. pine nuts, walnuts or pecans
½ c. Parmesan cheese or other hard cheeses such as Gruyere, grated
2 cloves garlic, minced
½ t. salt (or to taste)
2 T. olive oil
Dash of lemon juice
Directions:
* In a food processor, combine basil, nuts, cheese, garlic, olive oil and salt. Cover; blend or process with several on-off turns until a paste forms, stopping the machine several times and scraping sides.
* With the machine running slowly, gradually add the oil and process until the consistency of soft butter.
* Transfer to a storage container. Refrigerate for a couple days or pack into freezer containers to freeze.
Yields: 5-7 servings.
Photo credit:  Lisa Kivirist