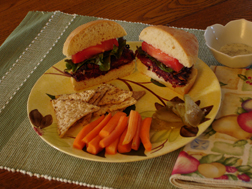 The first year we grew beets on our farm, it was on a serendipitous whim because neither me nor my husband had ever cooked with beets. As serendipitous gardening fate would have it, we pulled out a bumper beet crop that fall — quickly necessitating research in what to do with them.
Which led us to developing this Beet Burger recipe, a new twist on the veggie burger. It's a very adaptable, forgiving recipe—feel free to modify and experiment with ingredients, like substituting carrots for some of the beets. The burgers freeze well (freeze them on a tray before placing in a freezer bag so they don't stick together) and taste surprisingly good cold. The recipe is a bit complex, so I usually make a triple batch in a jumbo bowl and stock up for a while.
Recipe after the jump.
Beet Burgers
From Edible Earth: Savoring the Good Life with Vegetarian Recipes from Inn Serendipity
Ingredients:
4 c. grated beets
½ c. onions, chopped
1 c. cooked rice
1 c. sunflower seeds
½ c. sesame seeds
2 eggs, beaten
2 T. soy sauce
1 c. cheddar cheese, grated
3 T. all-purpose flour
¼ c. vegetable oil
Directions:
1. Mix all ingredients well in a large bowl. Easiest to mix with clean hands.
2. Form into patties and bake on heavily greased (we use vegetable oil) baking sheets at 350 degrees about 45 minutes. Cooked patties should be browned and firm. Flip at about 40 minutes for the last five minutes of baking. May need to use a spatula to get patty off baking sheet. Note: This is one of those "you need to test your oven to determine baking temperatures and times."
Yield: approximately 12 burger patties.
Photo Credit: John Ivanko