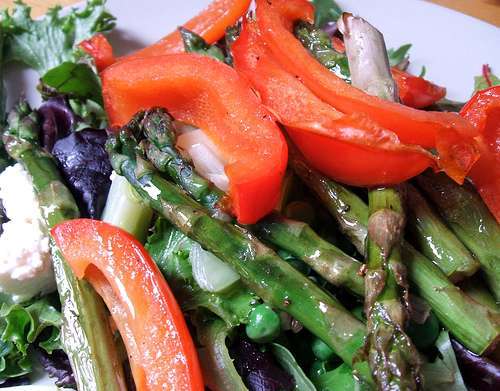 A cool summer salad is the perfect side dish complement for a summer barbecue or dinner on a warm evening.  Many summer salads are mayonnaise based though and typically not too healthy.  Here's a simple, healthy, and quite delicious antipasto salad.
Here are the ingredients that you'll need.  As always, I strive for the most local and organic products that I can get my hands on.
3 cups (2inch) sliced asparagus (about 1/4 lb)
3 cups quartered mushrooms (about 3/4 lb)
1 cup

red bell pepper

strips
1/2 cup pitted ripe olives
3 oz mozzarella cheese cubed (omit or replace with firm tofu, seitan, or soy cheese if you want to make the recipe vegan)
1 lb (or a 14 oz can if you're feeling lazy like I am sometimes) quartered artichoke hearts drained
1 (11.5 oz) jar pickled pepporoncini peppers drained
For the sauce
1/3

cup cider vinegar

1/4 cup finely chopped fresh parsley
2 tbs

extra virgin olive oil

2 tsp dried oregano
1 tsp sugar
1/4 tsp salt
1/4 tsp pepper
3 garlic cloves minced
To prepare the salad:
Steam asparagus for 2 minutes, drain, plunge in ice water, drain
Combine asparagus with remaining ingredients in large bowl
Combine all sauce ingredients in small bowl and whisk
Pour over vegetable mixture tossing to coat
Cover and refrigerate for 2 hours stirring occasionally.
And remember that a little experimentation always works wonders.  For instance, if it isn't asparagus season (which it probably isn't for you in the middle of summer), you can substitute small canned corn on the cob cut into bite size pieces.
I typically use fresh homemade mozzarella (see You Can Make Homemade Mozzarella Cheese) but any firm cheese can be used.  I also use any good but mild vinegar for the sauce.
Photo credit: chatirygirl on Flickr under a Creative Commons License.