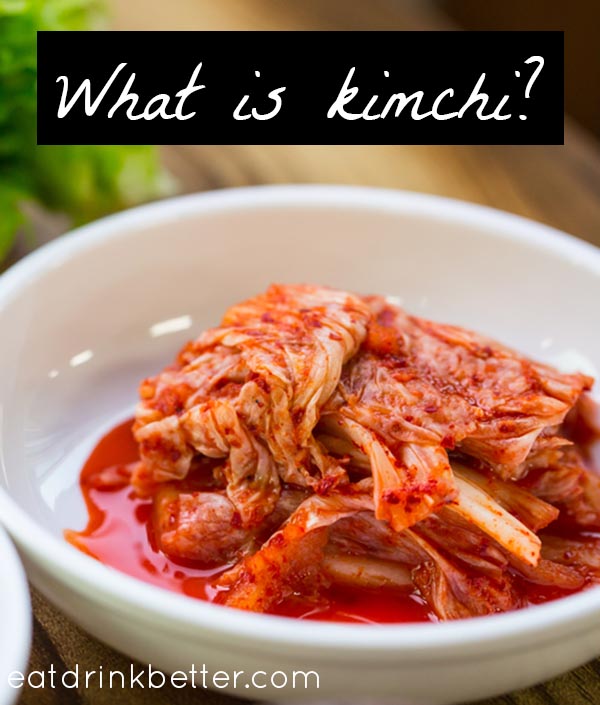 What is kimchi? Learn the benefits of this fermented superfood and how to eat it!
Kimchi is a traditional Korean condiment made from fermented cabbage. It has a tangy flavor similar to sauerkraut, but it's also a little bit spicy. Lately I'm seeing kimchi on menus topping everything from Korean dishes to veggie dogs, and I have to tell you, I love it.
I like to put kimchi on basically everything lately. Beans and rice. Salads. Sandwiches. Sometimes I just eat a bite straight from the jar. I don't know what it is about this fermented condiment, but I'm obsessed, and I'm not alone.
From fancy restaurants to food trucks, kimchi is becoming more and more popular. You can sort of treat it like hot sauce, but it's so much more beneficial than a squeeze from the Sriracha bottle.
If you're never had kimchi before, the taste might seem a little bit intense. It's potent stuff! You wouldn't fill a soup bowl with hot sauce, and I don't recommend piling the kimchi onto your plate, especially at first. Try a chopped tablespoon stirred into your food until you develop your taste for it.
Vegan and vegetarian friends, know that some bottled kimchi contains fish paste or shrimp paste, so read those labels before you buy!
What is kimchi? A jar of fermented goodness!
So now that you have an idea of how to eat this stuff, you'll be pleased to hear that it's super healthy for you! Like other fermented foods, kimchi is chock full of beneficial bacteria that promote healthy digestion.
Related: Raw Sauerkraut: A Fermented Superfood, How to Make Sauerkraut
According to my friend Dr. Karen Lee kimchi has some extra special benefits:
an excellent source of vitamins A, B, C and phytochemicals
boosts the immune system
may protect against breast cancer
Not only does Dr. Lee go into more detail about the benefits of kimchi, but she has a wonderfully simple recipe for making your own on her blog. I highly recommend checking out her Korean kimchi recipe!
If you'd rather not make your kimchi from scratch, it's become pretty easy to find at the grocery store. And if you can't find it at the store, you can order it online! There's a company here in Atlanta called Simply Seoul that makes some of the best kimchi I've ever had. It's free of fish and shrimp paste, and they make a ton of awesome varieties. Their beet kimchi is unmissable. They also ship! A $10 jar might seem very expensive, but a jar lasts me 2-3 weeks, even when I'm using it daily.
Have you tried kimchi? How do you like to eat it?
Disclosure: I did not receive any compensation from Simply Seoul for the mention in this post. They're just a small, local business that I like a lot!
Image Credit: Kimchi photo via Shutterstock