Finding vegan food in Honolulu is super easy, but a good vegan brunch or vegan breakfast in Honolulu can be elusive, until now!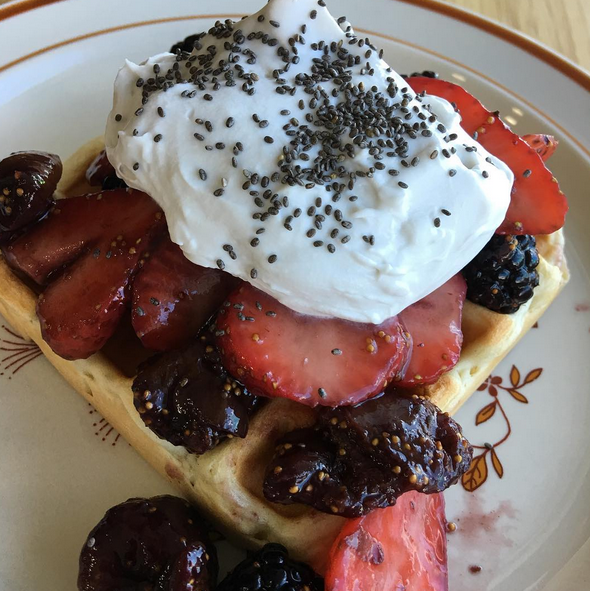 Honolulu is the city I have called home for almost 15 years. Our incredibly diverse population makes finding awesome food easy for lunch and dinner, but vegan brunch and vegan breakfast in Honolulu can be a bit more challenging.
We've been lucky to see a boom in vegan breakfast offerings over the past year. There are now almost a dozen eateries offering substantial vegan breakfast items like homemade waffles, breakfast scrambles, burritos, smoothie bowls, Tofu Benedicts, and so much more.
I have eaten at almost every location on this list, and all opinions are my own. I also did an informal Facebook poll to get any listings that I wasn't familiar with, but if I missed something let me know. We want to have the most comprehensive list available to travelers and to kama'aina (locals!).
And if this list isn't enough to convince you to hop the pond, Hawaii Public Radio reported that our fair city is one of the best US cities for vegan food, ranking 7 out of 10 on PETA's list!
The Best Vegan Breakfast in Honolulu
Juicy Brew
Juicy Brew, helmed by sisters Jennifer and Christina Hee, has just opened their second location. While Juicy Brew has been serving up tea, coffee, and quick grab-and-go items (like their truly epic vegan breakfast burritos) in their in Hale Pawaa (Keeamoku/Beretania St.) location for the past year, their new Kaimuki storefront offers a ton of exciting options for our vegan food scene in Honolulu.
Their pop-up brunch a few weeks ago was packed with good people, and featured an incredible menu of vegan waffles with berries and coconut creme, vegan beet burger wrap, chickpea scramble, and a jackfruit curry. They've just opened full time for breakfast and lunch, and will continue to host vegan brunches on Sundays. Find them on Facebook and Instagram to find their latest offerings and hours. We visited again for brunch and had another waffle (because, of course), this time topped with 'marshmallow fluff' made from aquafaba, along with a vegan loco moco, a veggie patty with grains and mushroom gravy. A big win again. Very vegetarian and vegan-friendly.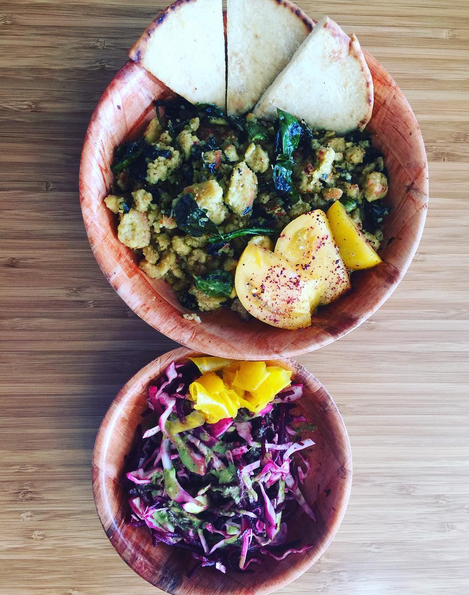 Peace Cafe
Peace Cafe has been a Honolulu standard for almost 10 years, serving simple, rustic vegan fare. Finally they have expanded their hours and are now open for breakfast!
The offerings are a bit limited: tofu scramble with a side of soup and toast, smoothie bowls, coffee, along with half sizes of their great sandwiches, but all are super good and clean. Find them on Facebook to get their latest offerings and hours. Fully vegan!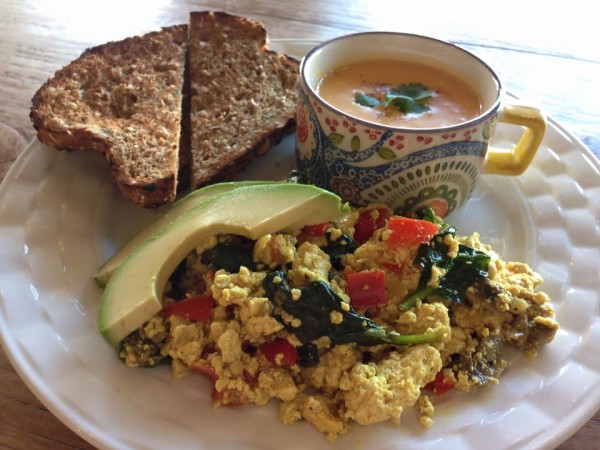 Beet Box
Technically the Beet Box is not in Honolulu city proper, but if you're on the North Shore, this is your best option for vegan deliciousness all day long. The Beet Box is open from 7am-4pm everyday for vegetarian breakfast and lunch. Find their menu here and grab their specials on Instagram or Facebook. Totally vegetarian, very vegan friendly.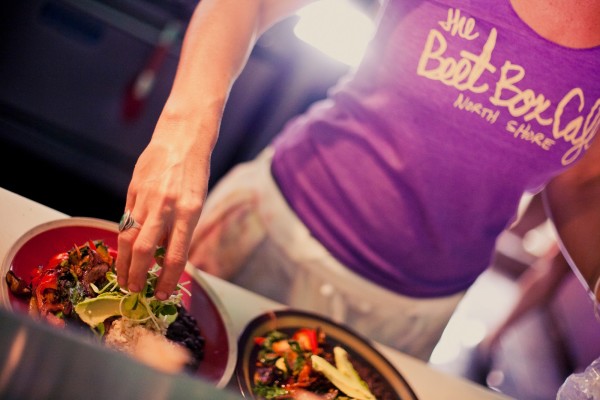 Tucker and Bevvy
With two locations close to Waikiki, T&B is great for omni-friendly vegan breakfast in Honolulu, and they offer both vegan and vegetarian options at both locations.
The sit-down breakfast/brunch location on Kapahulu offers yummies like kale and quinoa with kabocha pumpkin, fresh fruit sides, breakfast lentils, and their famous avocado toast pictured below. Their picnic location at Kapahulu and Kalakaua in Waikiki offers grab-and-go dishes like kale and pumpkin, fruits, and more. Find their whole menu here. Vegetarian and vegan-friendly.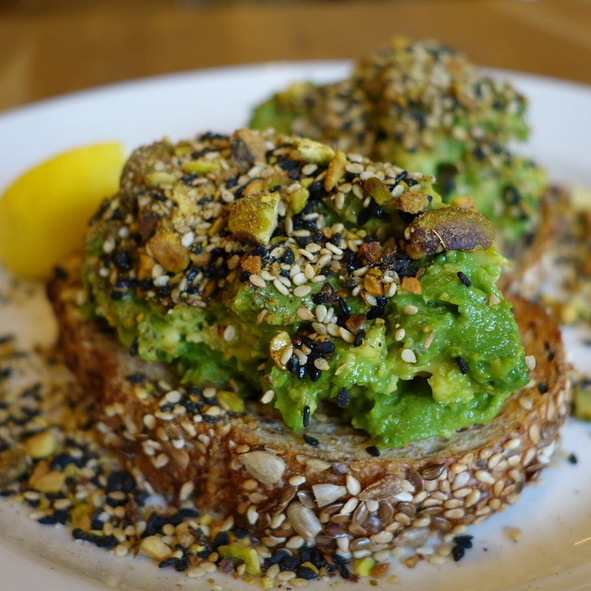 Downbeat Diner
Opening at 10am makes them not so much a breakfast joint, but better for brunch and BEST for late-night breakfast options– they are open until 3am most nights.
They offer a vegan option of every item on their menu, so imagine vegan diner food like chicken wings, french toast, brownie sundaes, house-made veggie burgers, and so much more. Find their hours and menu here. Very vegetarian and vegan-friendly.
Umeke Market
One of the very few choices for healthy breakfast in downtown Honolulu, Umeke opens at 7am for the early risers and hardworking downtowners. Find their whole menu of sandwiches, smoothies, and more here. Vegetarian and vegan-friendly.
Maui Tacos, Waikiki
If you need a substantial breakfast to make up for late night partying in Waikiki, Maui Tacos opens at 9am for soyrizo breakfast burritos and awesome homemade salsa.
This place has long been a favorite of mine for lunch, but it's so awesome to know they are open for breakfast too. Find them in multiple locations around the islands, but in Waikiki at the Royal Hawaiian Shopping Center and in Kailua. Vegetarian and vegan-friendly.
Lulu's Waikiki
The sports bar with the best view ever, Lulu's also serves beer and food all day, along with a few vegan options for breakfast. You can get fresh fruit and a Tofu Benedict that includes spinach, tomatoes, and homemade tapenade.
Ai Love Nalo
Ai Love Nalo is also not technically in Honolulu, but it's one of the most incredible locations on the island for fresh, locally-grown, fully vegan meals. Get the cold brew coffee with coconut milk or an epic smoothie in a jar. Don't miss the local dishes like laulau or lu'au for totally vegan versions of real Hawaiian food.
Open Wednesday-Monday at 9am, with the kitchen open at 10:30. We found out the hard way they are closed on Tuesdays. Find them online or on Instagram. Fully vegan!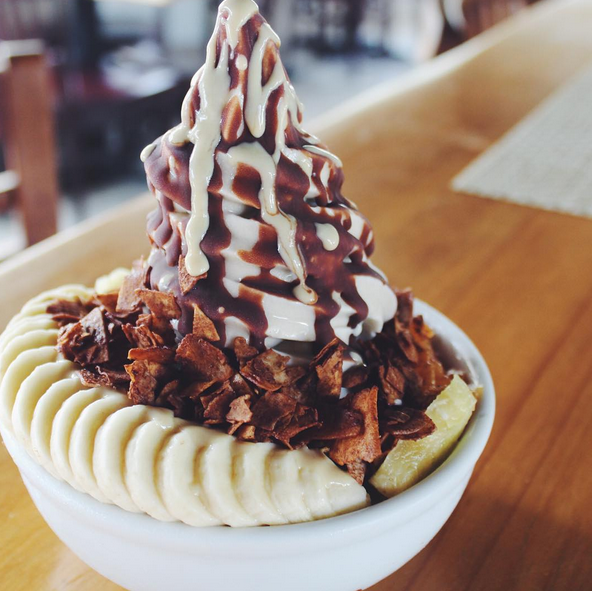 Blue Tree Cafe
You're going to find a lovely selection of juices, smoothies, homemade almond milk, coffee and house-brewed kombucha here at this charming little cafe at Kapiolani/Ward Avenue.
Open early at 6am on weekdays to get your day started healthfully, Blue Tree also has snacks, baked goods and small eats to tide you over until lunch time. Find them on Instagram too. Vegetarian and vegan-friendly.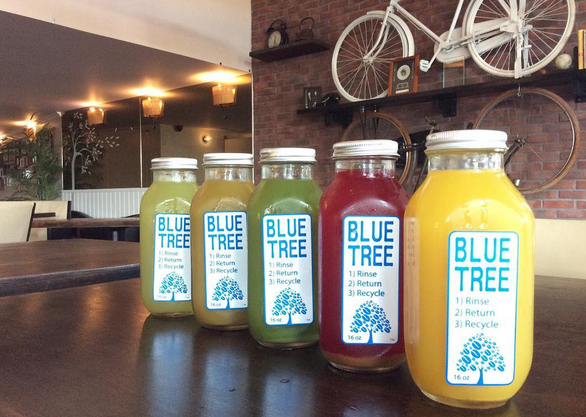 All images from respective restaurants, via Facebook or Instagram