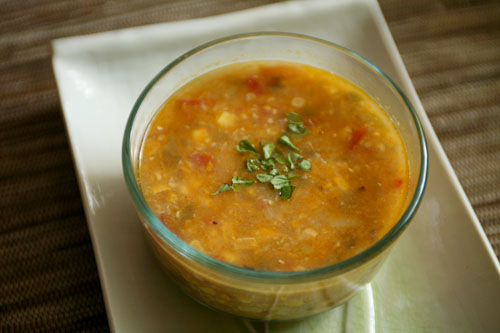 We've been getting an abundance of corn from the CSA lately, and maque choux is a perfect seasonal recipe for letting that local, organic corn shine.
Vegetarian and vegan recipes in Cajun cooking are few and far between. This one is a twist on the traditional corn side dish called maque choux, which is pronounced "mock shoe." My grandmother made it in the summer time when fresh corn is sweet and abundant. My mother usually serves it with barbeque chicken and dirty rice.
This soup version of the recipe is a beautiful full meal. I love the vibrant mix of colors from the fresh corn, tomatoes, peppers and purple potatoes. I substituted jalapenos for the traditional green pepper and garnished with a little cilantro for a spicy, Mexican kick.
Vegan Maque Choux
Recipe by Bonnie J Heath
Ingredients
6 ears of corn
2 tablespoons of margarine
1 medium onion, chopped
2-3 seeded jalapeno peppers, chopped
1 pint of cherry or grape tomatoes, quartered
1/2 pound of small purple potatoes, cubed
4 cups of vegetable broth
3 tablespoons of cilantro
Cooking Directions
Cut the corn off the cob and scrape the cobs to get all of the juice out of the cob. Heat margarine over medium heat in a soup pot and add onion, pepper and saute until softened, about 5 minutes. Add corn, tomato and cook, stirring frequently for 10-15 minutes until corn is tender. Add potatoes and vegetable broth and cook for another 10 minutes until potatoes are done.
Season the soup with salt and pepper to taste. Garnish with the cilantro.
Looking for more vegan Cajun food? Check out Green Diva Meg's vegan gumbo recipe!
Maque Choux photo by Bonnie J Heath Photography