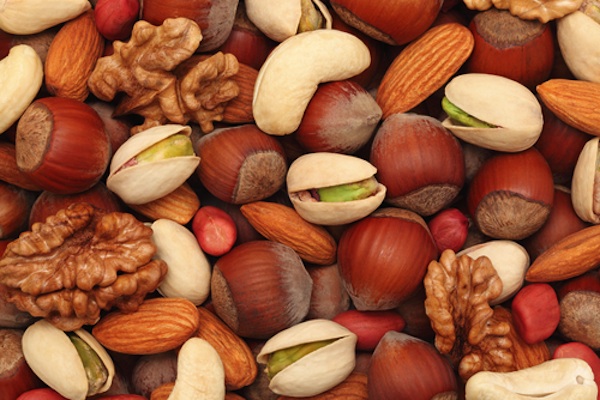 Becky's recent post about the health benefits of nuts made me curious. Since they're so good for you, which ones should you eat? Is one better than another?
Nuts Are Really, Really Good For You
Becky's post summarizes the results of a couple of recent research studies that followed almost 119,000 people over 30 years. The results? Those who ate nuts daily were 20% less likely to die from any cause. 20%! From any cause! That's significant.
One of the research report's authors, Charles Fuchs, talked with NPR's Ira Flatow to discuss the results. Bottom line, eat nuts once a week, and you get some health benefit. But the more you eat (to a point anyway), the more beneficial. It appears the "right" amount is about 1 ounce daily. And the studies indicate this benefit applies to eating any type of nuts, including peanuts (which are actually legumes).
Good to know, but I wanted to see if there were differences in the nutrition of various nuts. So I started a little research project.
All Nuts Aren't Created Equal
I found a chart comparing the nutritional content of 9 nuts. After a brief look at where their nutritional values differ significantly, here's what I learned. (All percentages apply to 1 ounce of the nuts referenced.)
23 almonds weigh about 1 ounce. As do roughly 167 pine nuts, 49 pistachios, and 19 pecan halves. Take a look at the chart below for other 1 ounce counts.
1 ounce of almonds, hazelnuts, or pistachios delivers 3 to 4 grams of fiber. Not a lot more than other types, which have 1 to 2 grams, but good to know if you're looking to get more of that important component into your diet.
Some nuts are higher in magnesium than others. Magnesium prevents cardiovascular diseases, regulates blood pressure, and treats migraines, insomnia, and depression. Knowing that Brazil nuts deliver 25% of the recommended daily value of this important nutrient may put them at the top of your list.
Pine nuts have 120% of the recommended daily value of manganese, a trace mineral that supports normal nerve and brain function and fights free radicals. That's significantly higher than the other eight types. Food for thought.
You can get 35% of the recommended amount of Vitamin K from an ounce of almonds, compared to 20% from hazelnuts and 0% from macadamias. Vitamin K is a powerful antioxidant important for brain health.
Pistachios may be good for your eyes. One ounce contains 329 micrograms of lutein and zeaxanthin, the only 2 carotenoids the human body doesn't synthesize. They are deposited in high levels in your retinas and help filter harmful lights and keep your eyes healthy. None of the other 8 nuts comes close to the same amount with the runner up, hazelnuts, having only 26 micrograms. My aging eyes are happy to know this.
Here's the table I created summarizing my findings: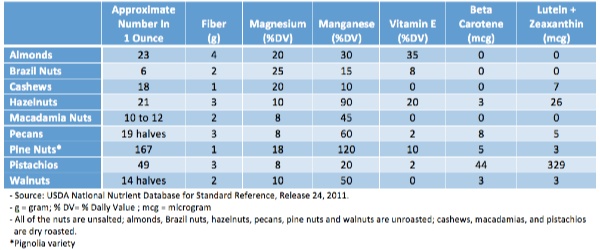 For a crazy detailed look at other nutritional values across nut types, check out the source I used, which was prepared by the International Tree Nut Council Nutrition Research & Education Foundation.
See which nuts you prefer and grab a handful a day. Or combine them into some easy, fast, delicious granola bars, or incredible, gluten free nut and seed bread. Which are your favorites and why?
Image Credit: Nuts via Shutterstock