Site News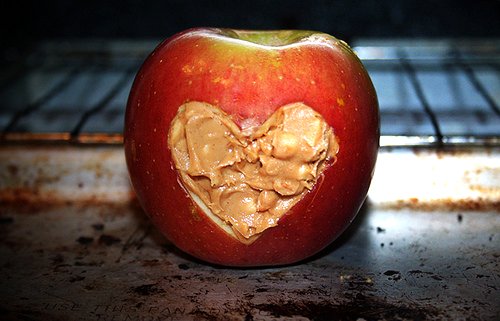 Published on February 13th, 2009 | by Kay Sexton
1
Peanut Butter Recall – Why Not Make Your Own?
Peanuts are not nuts, they are legumes and their use in peanut butter often produces a high fat, high sugar food that is additively tasty but not good for your health. Organic peanut butter is great, but can be just as high fat and is expensive. By making your own, genuinely nut-based nut butters you could eat better, save money and know exactly how your food has been processed.
Nuts are a great source of fiber, protein and essential fatty acids, and if you don't add saturated fats and sugars, are an excellent topping for toast and crackers or to give a zing to waffles or pancakes. You can use home-made nut butters to flavor soups and stir-fries too.
Instead of peanuts, why not try almonds, Brazil nuts, cashews, hazelnuts, macadamias, pecans, pistachios or walnuts? You can also add seeds such as sesame, flax and linseed to the mixture, to suit your own tastes and dietary preferences.
Making a nut butter
For each cup of nutmeats add one teaspoon of good oil, such as almond for almond butter, sesame for pistachio butter, or cold pressed olive oil for other butters. You need to make nut butter in an average temperature, so not on a really hot day or a bitterly cold one. This is because butters are temperature sensitive and you'll get the wrong consistency if you make it in very hot or cold conditions and then eat it in normal ones.
Put the nutmeats in a food processor and chop or pulse until the nuts become very fine. Use a spatula to scrape down tiny particles that build up on sides and continue processing. When the nuts begin to form a ball, slowly pour in the teaspoon of oil. Add more oil if the nut butter doesn't form a spreading consistency.
Storing raw nut butters
You can keep nut butter into a tightly sealed container in refrigerator for about two weeks. Remember to take it out of the fridge and allow to sit at room temperature before trying to spread it. Processed peanut butter contains a range of ingredients that emulsify it and give it a longer life, but at the cost of freshness and simplicity.
Variations
You can make a stronger flavored butter by dry roasting any of the nuts. Simply spread the nuts out on a dry baking sheet and toast at 170/350 for around five minutes before stirring and then continuing to roast for another five minutes, checking constantly so they don't scorch. This form of nut butter will probably need more oil and is good if you want a savory version as you can add a few strong dried herbs or even chili flakes to make the mixture more intense and grown up. Put the nuts or herbs in with the browning nuts to boost flavour, allow the ingredients to cool before processing.
Alternatively, sweeten any nut butter with ingredients to your taste, such as raw chocolate, maple syrup, cinnamon or honey.
For Valentine's Day, why not spread some heart-shaped toast with a home-made nut butter and serve with sliced red apples? It's a heart-healthy treat for your loved ones.
Heart peanut butter courtesy of Glitter Feet at Flickr under a creative commons licence

Keep up with the latest sustainable food news by signing up for our free newsletter. CLICK HERE to sign up!