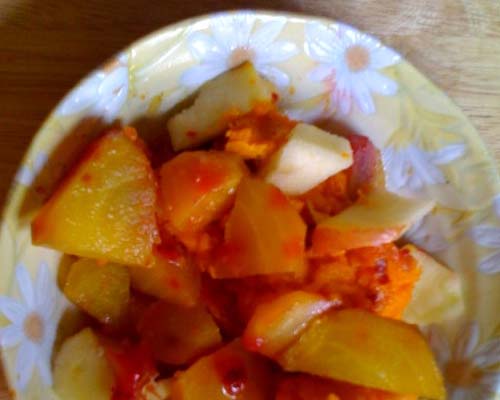 Fall salads are as bright and colorful as the falling leaves outside now. I hope you'll try this easy fresh beet, apple and yam salad with cranberry dressing.
The recipe is simple. First boil and roast the beets and yams. Then let cool, slice some organic apples and the golden beets together with the yams or sweet potatoes. Cranberry vinaigrette adds a delightful tang to this side dish.
To make the cranberry vinaigrette add organic cranberry sauce and any olive oil, vinegar or other berry to the mix, I had frozen organic raspberries which did the trick. This salad pairs well with many Thanksgiving stuffings, and fixings.
Here are more facts (and recipes) on the healthy ingredients in this great thanksgiving salad: