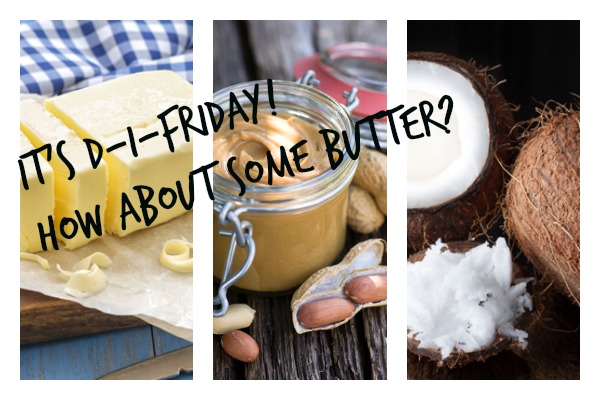 It's the last day of our weekly specials — something we like to call D-I-FRIday — a day where you make something from scratch you would normally buy already prepared. Today, it's all about how to make butter — not just butter-butter, but butters of all types. Not only will your butters be better than what you can buy in the store — they will cost less, have little-to-no additives and preservatives, and make you feel like a Top Chef. So read on and learn how to make the butter of your choosing!
Delicious Cow's Milk Butter
I love butter, especially the stuff made with milk from happy, grass-fed cows. Did you know it's super simple to make your own? And it's a great food experiment to experience with your kids. Here are links to a few different ways to make your own fresh, creamy butter at home:
Making butter produces buttermilk as a byproduct. Don't toss it! Use it to make buttermilk biscuits, pancakes, or other baked goods. I've also used it to make gravy with my Sunday roast chicken drippings — my stepdaughter asked if it had been touched by the Lord. (That was cool.)
Vegan? We've Got a Butter For You Too
I had no idea there was such a thing as vegan butter. But there is! One of our readers submitted this coconut oil-based vegan butter recipe. Luminous Vegans shared this recipe for artisan vegan butter from Miyoko Schinner. And here's one more vegan butter recipe from One Green Planet. Give one a try!
Get Cuckoo for Coconut Butter
Andrea Bertoli, editor and writer for our sister site, Vibrant Wellness Journal (which is awesome btw), shared her technique for making coconut butter using shredded, dried, unsweetened coconut and your food processor. Here's what she has to say about keeping coconut butter as a pantry staple:
Coconut Butter is the spreadable, spoonable, creamy, melty version of coconut, and it belongs in your kitchen alongside almond butter and peanut butter. Perfect for spreading on fruit, toast, or just eating by the spoonful! It's different than Coconut Oil (think of the difference between peanut butter and peanut oil). After the oil is pressed out, the dried coconut remains, and when this is processed it become creamy and smooth. And ready for anything!
And if Andrea says it, it must be true…
Ain't Nuttin' Better than Homemade Nut Butters
Recent research has confirmed the health benefits of nuts, like almonds, pistachios, pecans, and walnuts. Why not turn them into delicious nut butters? Cooking Light published a "Nut Butter Primer" that shares tips for making 8 different nut butters along with their flavor profiles and ways to use them. And we've written about simple techniques to make and store a variety of nut butters. Here are a few more nut-specific recipes, all from One Green Planet:
Looking for ways to use those nut butters? One Green Planet shares some interesting ideas. (Peanut Butter and Jelly Smoothie anyone?). And Andrea Bertoli wrote a super guide to making your own personalized nut butter sauces. You choose the nut butter, the flavor you want (sweet? salty? spicy?), and a mix-in or two, and — BOOM! You've made your own delectable sauce to mix into your linguine or dip those spring rolls into.
Are you feeling inspired to make some butter on D-I-FRIday? I hope so. Let us know what your experiment leads to!
Image Credit: Butters via Shutterstock