The Flint Water Crisis is far from over. It's going to take time, money, and dedication to undo the damage done to this Michigan town. The people of Flint need all of us to stand up for their rights.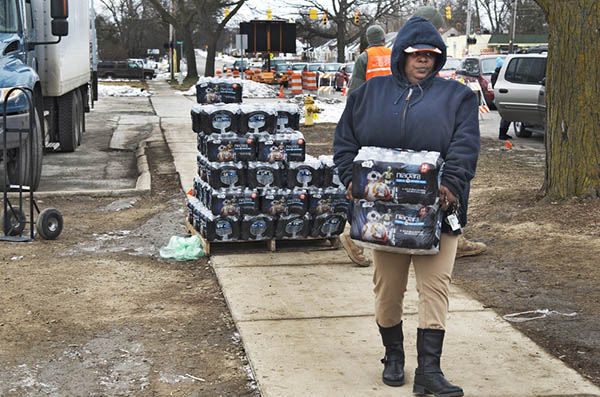 While news of the Flint Water Crisis broke only weeks ago, Flint's problems began last year, when Governor Rick Snyder covertly decided to change the city's water source from the clean water of Lake Huron to the extremely polluted Flint River.
Related: UN Declares Clean Water a Human Right
The Flint River water was so polluted with lead and other hazardous chemicals that it has caused short and long-term health problems for Flint's residents, especially young children. Irreversible brain damage, Legionnaire's Disease, and other serious health problems are rampant in Flint because of the contaminated water.
In fact, the water was so toxic that General Motors complained to Governor Snyder that it was corroding the cars they were building in Flint. The governor quickly switched GM to a clean water supply when the corporation complained but left the rest of Flint to drink the toxic water.
Related: Why We Can't Take Clean Water for Granted
Not only has the Flint Water Crisis been a public health tragedy, it's an economic nightmare. Homes in Flint are worthless now, and because the majority of Flint's residents are low-income families, that means they're stuck living in a town with polluted water and no means to get out.
It's going to cost more than $1.5 billion to make Flint's water potable again, and right now Governor Snyder isn't offering the town nearly enough to undo the damage that he brought to Flint. There are two petitions making the rounds, addressing different aspects of the Flint Water Crisis:
1. Tell Governor Snyder to fix what he broke. Right now, he's only offering to spend $28 million on Flint's water infrastructure. The Story of Stuff is petitioning the governor's office to pony up the full $1.5 billion needed to fix that damage. Sign the petition here.
2. Arrest Governor Snyder. Filmmaker, activist, and Flint native, Michael Moore, is taking things further. He points out that no terrorist organization has succeeded in poisoning as many Americans as Governor Snyder did over the last year and change. He is calling for the arrest of Governor Snyder for violating the EPA Clean Water Act. Sign the petition here.