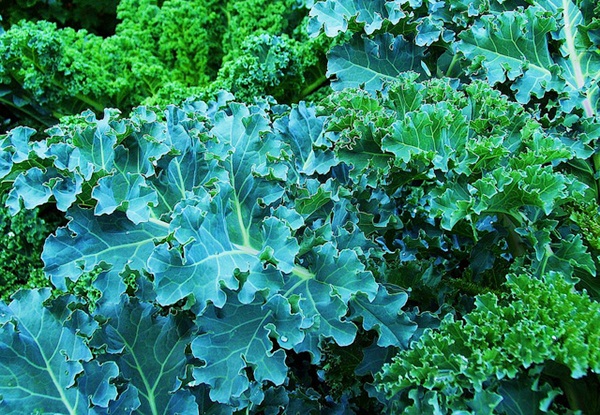 This superfood can be found in most grocery stores all year round, but is truly in season from the middle of winter to the first part of spring.   During this time it tastes its best, and is most widely available.
Kale, (along with its relatives such as Brussels sprouts, collard greens, and cabbage) is full nutrients such as vitamins A, C, and E, fiber, calcium, manganese, and loaded with sulfur containing phytonutrients which have been shown to protect against many kinds of cancer including breast and ovarian.
Try adding kale to soups, casseroles, and salads… or whip up a batch of crunchy kale chips.  They make a great guilt free snack the whole family will enjoy!
Kale Chips Recipe

1 bunch kale – wash, remove stems, and tear into 3 to 4 inch pieces.
2 tablespoons nutritional yeast
1/2 tablespoon apple cider vinegar
1 tablespoon olive oil
Pinch of sea salt
Heat oven to 375 degrees.  Mix vinegar and oil, pour over kale and toss to coat.  Sprinkle in the nutritional yeast and salt.  Toss again until kale is evenly coated.  Spread onto a baking sheet, and bake for approximately 15 minutes or until crispy and brown around the edges.
Enjoy by themselves, or try crumbling them up over baked potatoes, pasta dishes, or salads.
Image credit: vizpix on flickr creative commons.