Herbal homemade soda is quite simple actually. Almost any herb can be used, and this lavender and lemon combination is cooling and refreshing!
Lovin' Fresh is a series of recipes designed to showcase produce gathered from local farms or grown in my own garden.
"Hot. So very hot."  These words, or some variation of them, echo through my head at least a dozen times a day now that summer is officially here.  Interspersed among them are a sundry of other fleeting thoughts, most prevalent among them being, "Is it lunchtime yet?"   You see, laboring as I do outside so much of the day in my horticulture work, I tend to quickly get a little parched and hungry.  Concocting refreshing icy beverages has become a priority.
This desperation for refreshment brings us to a truly revitalizing Lavender Lemon Soda that is the ideal remedy for a sweaty brow.  It is downright cleansing with its effervescent flavors. I have been intrigued by herbal sodas since last summer when I had one at a local café, but I surprised even myself with how tasty this particular combination turned out to be.
Herbal homemade soda is quite simple actually.  Almost any herb can be used to make an infused simple syrup that then goes on to flavor some form of bubbly (seltzer, tonic water, ginger ale, and so forth).  I'm anticipating coming up with several other combinations using the herbs in my tea garden.
So bring on the heat!  I've got a great way to chill!
Lavender Lemon Soda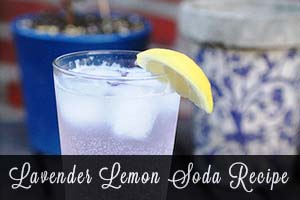 Serves 4.
Ingredients
1 cup water
1 cup sugar (or coconut sugar)
2 tablespoons fresh lavender florets (Hidcote variety recommended)
1 cup fresh squeezed lemon juice
Seltzer water
Ice
Method
In a small saucepan, combine water, sugar, and lavender.  Bring to a simmer over gentle heat.  Remove from stove and let steep for 5-10 minutes.  Strain and chill until ready to use.
To make the soda, combine a ¼ cup of lavender syrup with a ¼ cup lemon juice over ice in a pint glass.  Fill the glass with seltzer water and serve immediately.