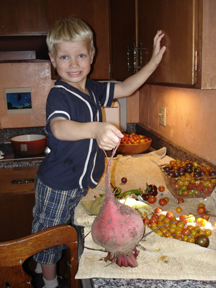 I confess: rutabagas overwhelm me. Turnips come in a close second. As these hefty big root crops pile up on the counter here at Inn Serendipity, I realize I need an easy cooking plan. These roasted root vegetables are a simple way to enjoy fall's bounty.
Fall crops – from butternuts to beets – require taking out the big sharp knives, the cutting boards, and usually can't go from garden to plate in ten minutes or less. (Case in point: the yummy, yet rather complex, Beet Burger recipe I wrote about last week). But there's a reason for that: these types of fall vegetables are meant to store and be savored through the winter months, particularly here in through our Wisconsin winters. Tougher skins and harder insides hold up to seasonal and local eating booty through our lean Midwest growing months, providing the opportunity to still eat fresh year round.
Consider these Roasted Root Vegetables my point of entry into the winter cooking season. Cooked in olive oil with some simple seasonings, this recipe showcases the distinct, hearty flavors of root vegetables. Potato recipes get temporarily bumped off the breakfast plate at Inn Serendipity this time of year as this flavorful, unusual recipe prompts folks to rethink their assumptions about rutabagas and other roots.
Roasted Root Vegetables (Vegan)
From Edible Earth: Savoring the Good Life with Vegetarian Recipes from Inn Serendipity
Ingredients:
8 c. beets, turnips, rutabagas and potatoes, cleaned, peeled and chopped into bite-size pieces.
2 ¼ t. garlic salt
2 ¼ t. dried oregano
1 ½ t. sugar
1 ½ t. dried thyme
½ c. olive oil
Directions:
* Boil vegetables until tender but still firm. If you are using a maroon colored beet, consider boiling the beets separately to not spread their color to the other veggies.
* Mix spices and oil in a glass jar and let set for about an hour or more.
*Place veggies in a 9-in. x 13-in. baking pan.Drizzle spice and oil mixture over veggies and toss to coat.
* Bake at 425 degrees for 20-25 minutes or until tender, stirring occasionally.
Serves 8.
Photo credits: Top image by John Ivanko; rutabaga image via Shutterstock