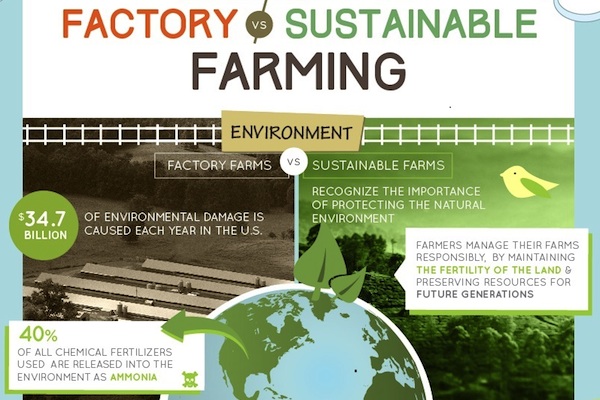 Most of the meat you eat comes from factory farms. But what does that really mean?
Google it and you'll see factory farming defined as "a system of rearing livestock using intensive methods, by which poultry, pigs, or cattle are confined indoors under strictly controlled conditions." Dig just a little deeper, however, and you find some unappetizing truths: Most of the meat you eat comes from animals that were raised in horrifying conditions by large corporations seeking to maximize profits at the expense of animal welfare, the environment, and your health.
If you care that 5,000 people in the U.S. die from foodborne illness every year; if it matters that 35,000 miles of rivers were polluted by hog, chicken, and cattle waste in the 90's; if the 69,000 children that suffered from pesticide-related poisoning or exposure in 2002 mean something — you should care about factory farming.
Peruse this infographic with more of the whys. Then read on to see what you can do given this new knowledge.
"Enough with the scare tactics. What can I do?"
"You must be the change you wish to see in the world." — Mahatma Ghandi
Buy your meat, eggs, and produce from known sources (preferably local) that use sustainable production approaches. Farmers markets have grown in number and are now so simple to find with a few simple search engines.
Educate your local businesses. Let your favorite supermarket know you care about where your food comes from, and find another store if they don't. Patronize restaurants that support local, sustainable food production.
Support organizations dedicated to improving the situation. Food and Water Watch, Slow Food, and Farm Sanctuary are a few of my favorites. You can volunteer, donate, or simply share their messages. Spread the word.
Are these factory farming stats surprising? What will you do differently now that you know more?
Infographic Credit: A-Z Solutions