It's World Food Day 2015! Here's how making changes (even small ones) can help feed 9 billion by 2050.
by Julia Dennis
Food is more than a pile of nutrients; food is a way of life, food is culture, and for those with money to buy it, food is a choice. World Food Day 2015 is a perfect time to declutter debates on food and focus on the smart, objective food choices individuals can make today to move the dial towards a more food secure future.
Food is a complicated issue- what to buy and what to eat is a topic full of personal opinions and political interests. If we are still eating red meat, GMO apples and refined sugars then we are completely normal. Or is it suicidal? It seems to depend on who you ask.
But push aside the complexities and debates, and the major problems surrounding access to food become disturbingly clear. More than 800 million people remain undernourished around the world- most of whom are farmers, and most of whom are women.
Meanwhile, one third of the global population is overnourished, consuming more than enough and facing higher and higher risks from preventable diseases because of their diet.
When considering the astronomical amount of food that is painstakingly produced and then wasted- upwards of 40% every year globally- there is truly no denying that changes are needed in the way we eat, and quickly.
So what is being done? Industrialized countries dedicate billions of dollars through public and private funding each year to chip away at global hunger, researching alternative, sustainable agriculture and consumption solutions hand-in-hand with countries where food insecurity remains highest. This is the good news, but there are challenges ahead if we will meet the impending Sustainable Development Goals being set by the United Nations this year, including hunger and poverty reduction.
While an overhaul of our global food system may be required, World Food Day, October 16 each year, is also meant as a reminder that solutions begin with individuals as much as with international organizations, corporations and policy makers. Working our way back to food balance may be easier than you think if you start small and start today.
Here are a few examples of changes you can make which can help to make this World Food Day kickstart a food system that works harder and healtheir for more people around the world.
1. 50 grams (0.11 lbs) Limit of Protein Per Day
This is not a meagre portion- about the size of a small chicken breast- but it is one answer to limiting the demand for livestock, which accounts for nearly 20% of greenhouse gasses. Climate change is a farmers worst enemy, increasing unpredictability of the weather they depend on (California knows this all too well). The USDA will put a meat-reduction diet recommendation in writing for the first time this year. Moderate your consumption, and replace meat with more peas, beans, nuts, and other sources of protein instead.
2. Fair Trade
An average meal in the US includes ingredients from 5 different countries. Fair Trade products, which meet ethical and environmental standards around the world to earn that little green Fair Trade label, outsell organic and bio products combined. They help consumers support fair incomes for smallholder farmers. Learn how to spot these products in your supermarket.
3. Crickets for Dinner
Are you ready to dine shop a little lower down on the food chain? The UN's Food and Agriculture Organization encourages the environmental, health and social benefits of eating insects. If you're not ready for a truly plant-based 'garden burger,' then instead tell companies you would eat animals which dine on insects, to save food resources for people.
4. Follow your Nose
Despite the image that food waste is due to lazy, careless consumers, studies show that at the household level we hate to waste. So how do we stop it? Unfortunately, we live under an expiration date-tatorship. Expiration dates instruct us to throw perfectly good food away, so we buy more perfectly good food. Yogurts, grapes, milk and eggs go 'bad' before we have a chance to get to smell them. Can we trust these dates? By 'following you nose' and taking a sniff instead you can tell if a product is still good and reduce your weekly waste.
5. Food Waste, the App
Not sure if you can trust your nose alone? Enlist your smartphone to get out of our expiry date-tatoriship. The government's new Foodkeeper app is here to help. Download it today to figure out when and what to throw away to keep minimizing your waste.
6. Ditching the Tray
A study in the US found 20% less food was wasted at university and workplace cafeterias where diners did not use trays to load up on lunch. Colleges alone have saved up to 22 million pounds of food per year, which is not just budget-smart but also puts the next generation on a fast track to more sustainable food choices.
7. Write an Email
Government has a key role to play on sustainable food issues, providing leadership, reinforcing a sense of urgency, indicating priority areas for action and enabling others to deliver much needed action. Use your zip code to find your representative's email address and drop them a line pushing for higher prioritizing of food security through Overseas Development Aid (ODA) spending.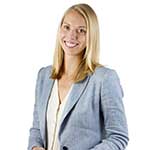 About Julia Dennis: California-born food security researcher with a background in journalism and a Master's in Environment and Development from King's College London. For the past 2 years, Julia has been working with CABI's international development projects, which help farmers in over 30 countries worldwide. This year she is a German Chancellor's Fellow based in Berlin at Germanwatch, a climate change and food security institute.