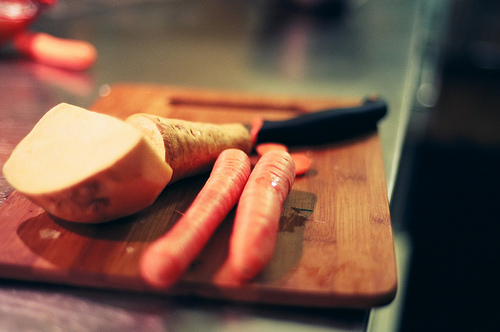 Here's a great comfort food recipe that's hearty, healthy and very economical. I started doing this as a side dish for Thanksgiving meals, but with enough veggie diversity, it makes a wonderful main dish.
Winter is a great time for root vegetables, and the portobello mushrooms give this an almost meaty kick.
Seasonal Winter Root Vegetable Roast
1 medium rutabaga, cut into chunks
4-5 small yellow onions, peeled and left whole
6-8 small white potatoes (red or white skins are ok), washed with skin on
4-5 small turnips, peeled and chunked
4-5 large carrots, leave in large pieces (maybe cut into thirds)
1/2 lb of baby portobello mushrooms, rinsed and stems removed, but leave whole
1c veggie stock
salt and pepper, to taste
1/2t thyme
1/2t marjoram
garlic powder, to taste
Grease the bottom of a large roasting pan….margarine is OK. Make sure you preheat the oven to 350F.
Add all the veggies except the mushrooms. Each one should have a little space.
Place in an oven at 350 degrees. After 1/2 hour add enough veggie broth to cover the bottom of the pan.
Add the spices including some garlic powder.
Mix with a spoon so all veggies get some broth, and add the mushrooms.
Put back into the oven for another 1/2 hour. There should always be a little veggie broth in the bottom of the pan. You can also add a bit of white wine along with the veggie broth after the first 1/2 hour.
This can be served with some great crusty baguette, and a sharp mustard goes well with the veggies. I have been asked to serve ketchup, and you might like the taste of mint jelly for something unusual.
Image Credit: Creative Commons photo by nurpax