I bet if we took a survey, we'd find that soups are the favorite food of the season! Creamy, comforting, and so yummy, they seem deeply nourishing during cold weather. We've gathered 35 cozy soups to help you through a season of chills.
The vegan soup recipes below include some awesome staples, like chicken noodle, matzo ball, and Italian wedding soup, but also really unique takes on other classics, like my pumpkin & adzuki bean chili and a cream of mushroom soup with chanterelles instead of button mushrooms. But there are others that feature some very unique veggies, like white carrots, sweet potatoes, zucchini, and asparagus to bring some wild variety to your soup routine.
Take a peek at these awesome soup recipes below and start making your grocery list!
1. Red Lentil Curry Stew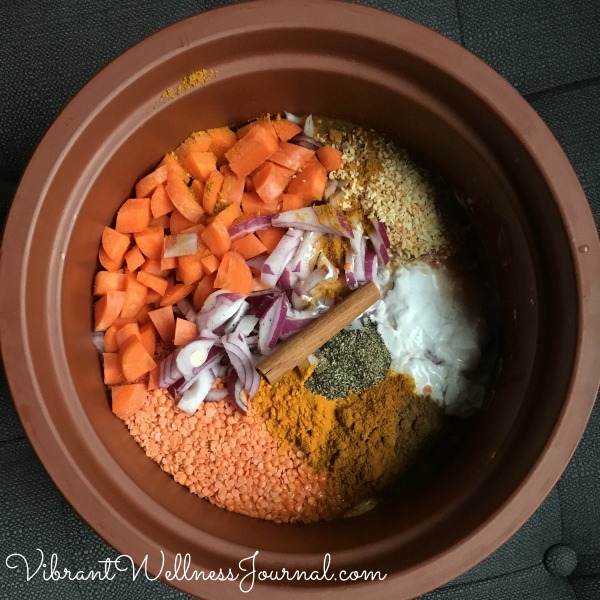 I like all lentils, but red lentils are one of my favorites. Of course, they are delicious, but one of their best features is that they cook in just about 15 minutes – but they also hold up to a long cooking time, as in this red lentil stew in the slow cooker. This is one of my staple recipes that I make for quick dinners or weekend batch cooking since it freezes well. Play with the level of spice as you like, and try adding some vegan yogurt or chopped cucumbers on top for a warm/cool sensation.
2. Sun-Dried Tomato Soup with Greens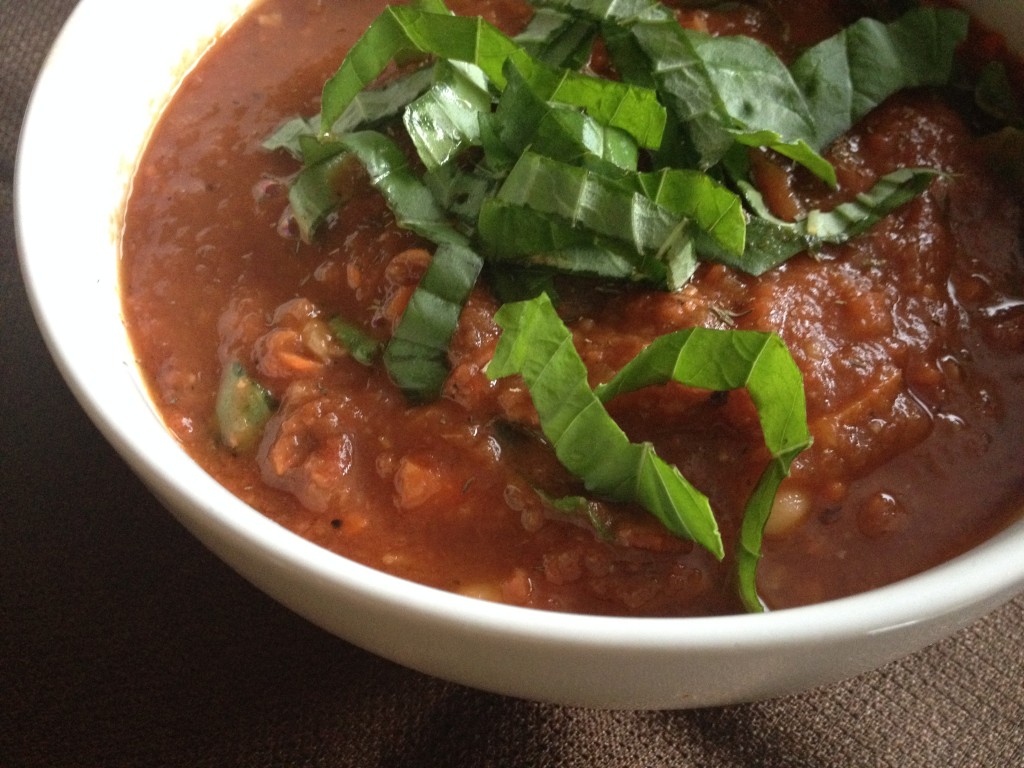 The secret for this sun-dried tomato soup is the richness of the sun-dried tomatoes, which gives the recipe a nice depth of flavor without a lot of bouillon or broth. It's also one of the few recipes that I like to use chard for, as it's not one of my favorite greens. Like most soups, it's pretty flexible: choose spinach and kale instead of chard, add zucchini or squash to add texture, or play with the ratio of blended-chunky to make the soup your own. Fun fact about this recipe: in one of my very first cooking classes, I was chopping garlic for this recipe and nearly sliced my finger off in front of the crowd! I was bleeding like crazy, in a lot of pain, and deeply embarrassed, but it taught me a valuable lesson about pre-class prep! And you know what? After class, I asked some students if it was weird, and none of them had even noticed!
3. Ful Muddamus (Fava Bean Soup)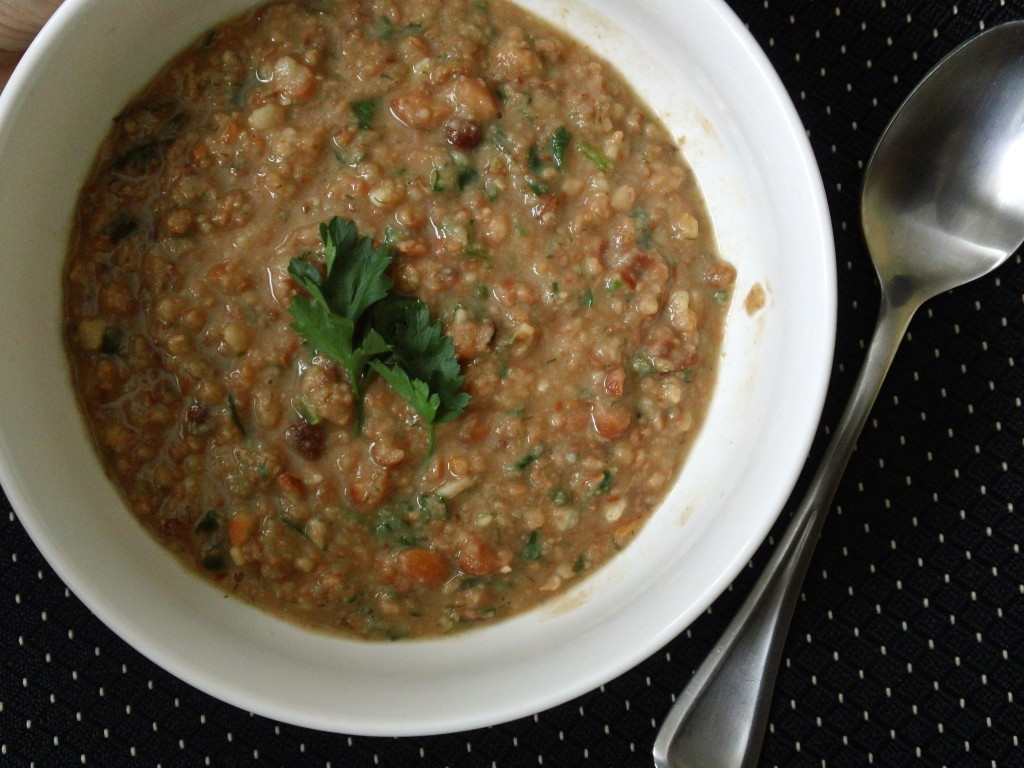 Fava bean soup might be the least pretty soup on the planet, but it's so dang good you're not gonna care. Fava beans are hard to cook, but you can buy them canned, and I'd highly recommend doing so. Even when canned, most brands I've found do need to be peeled before using. The skins on favas are quite tough and I've made this without peeling to not-awesome results. Take a few minutes, listen to a podcast, and peel away. And then the magic happens. Favas are one of the most flavorful, interesting beans in the world, and if you've never tried them before, this is a great way to do so. The soup is traditionally eaten for breakfast in Egypt, so you can do that, or eat it for dinner with some toasted pita and a big salad.
4. Black Bean Soup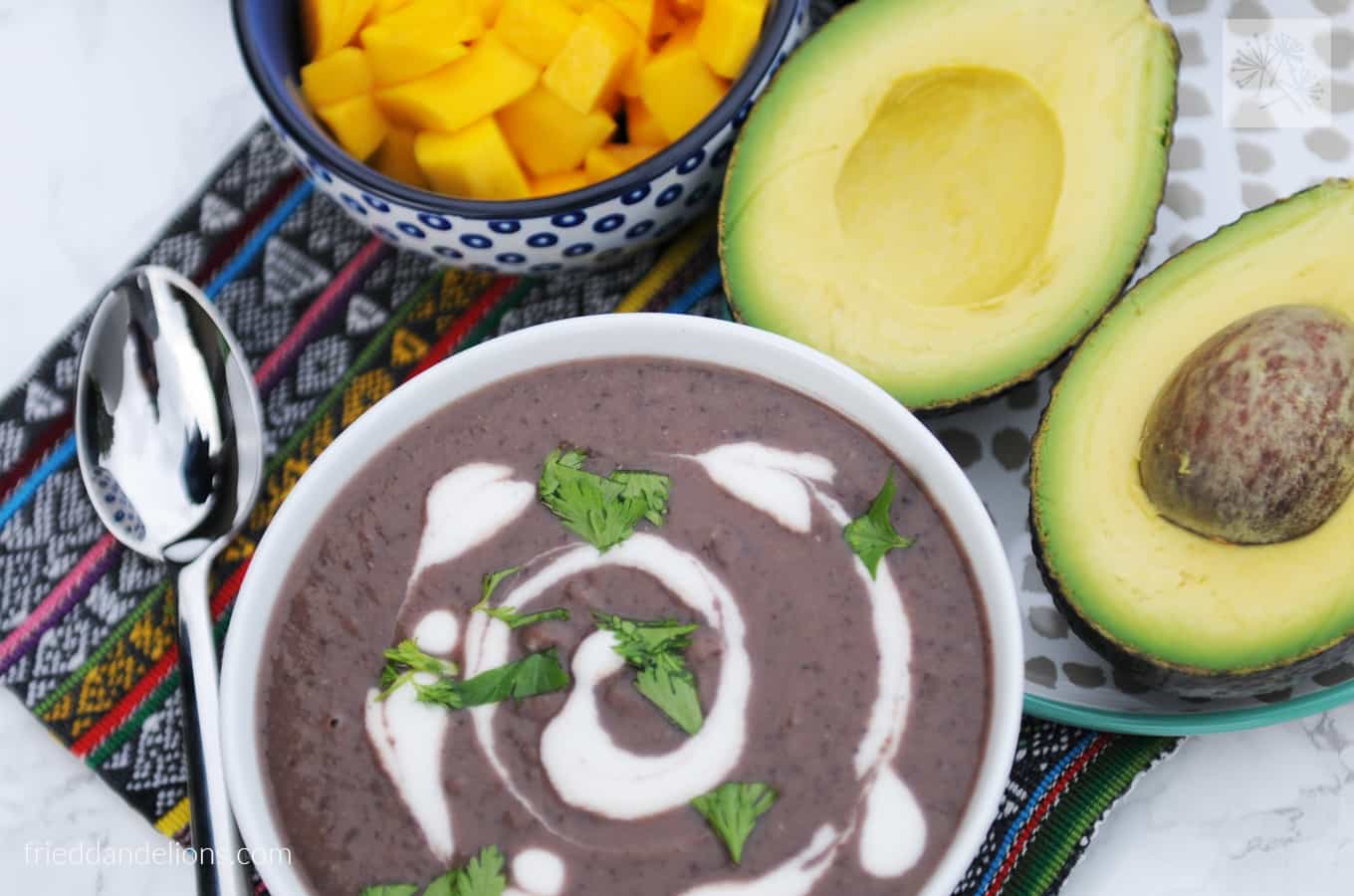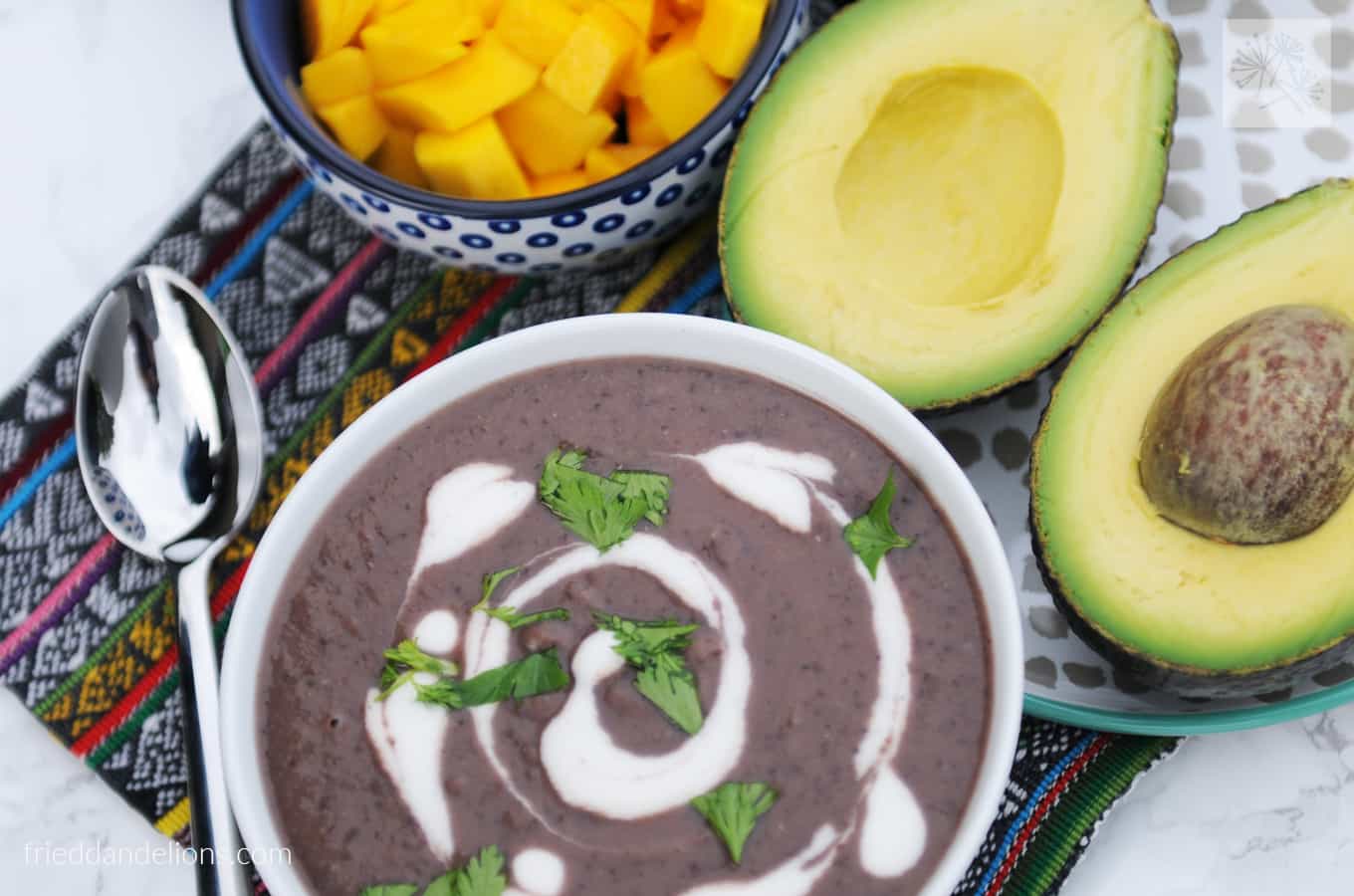 Every chef needs a good black bean soup recipe in their repertoire, and this simple black bean soup from Fried Dandelions covers all the bases – and includes a bunch of yummy toppings to make it even better.
5. No-Chicken Noodle Soup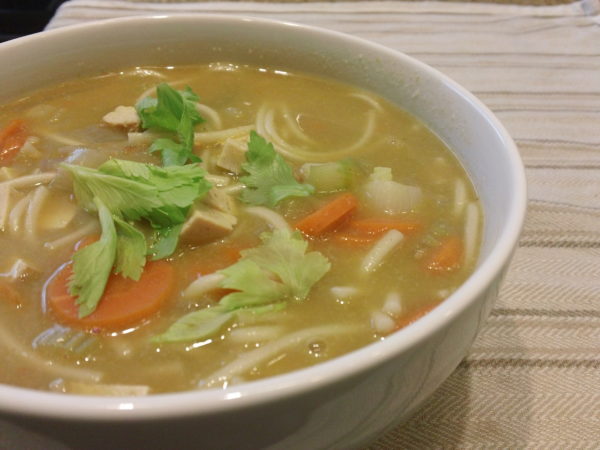 I recently came down with the cold to end all colds: I was sick and stuffy and sniffly for two weeks. During the worst days, all I wanted was this no-chicken chicken noodle soup. Like most kids, this was my medicine from Mom and Grandma when I was a kid, and it feels just as comforting now that it's made vegan. The big cheat here is the no-chicken broth, but the baked tofu and tiny chopped veggies make it feel so homemade, you'll be wishing to get the sniffles so that you can make it again.
6. White Bean Stew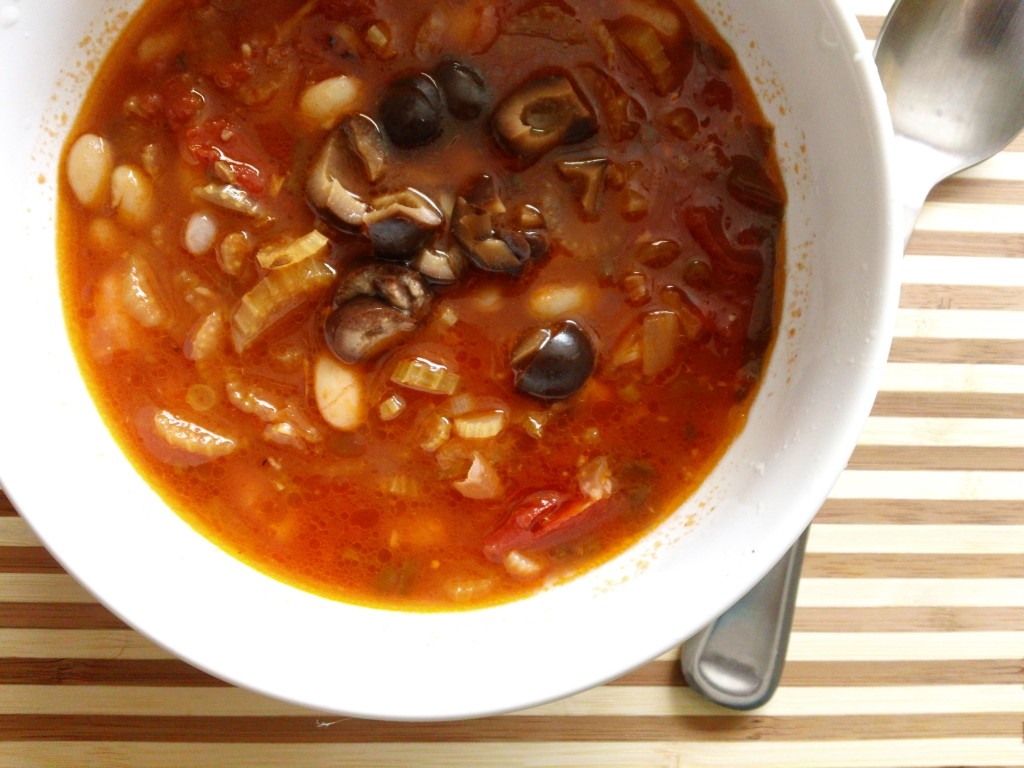 A surprisingly delicious recipe! I say surprisingly because firstly, that's a LOT of celery (which I think is kinda icky), and second, the flavors just don't seem like they would work. But as I learned years ago, it pays to trust in Heidi Swanson of 101 Cookbooks. You can see my version of white bean stew here. Don't skip the lemon or olives as garnish; it really brings the flavors home.
7. French Onion Soup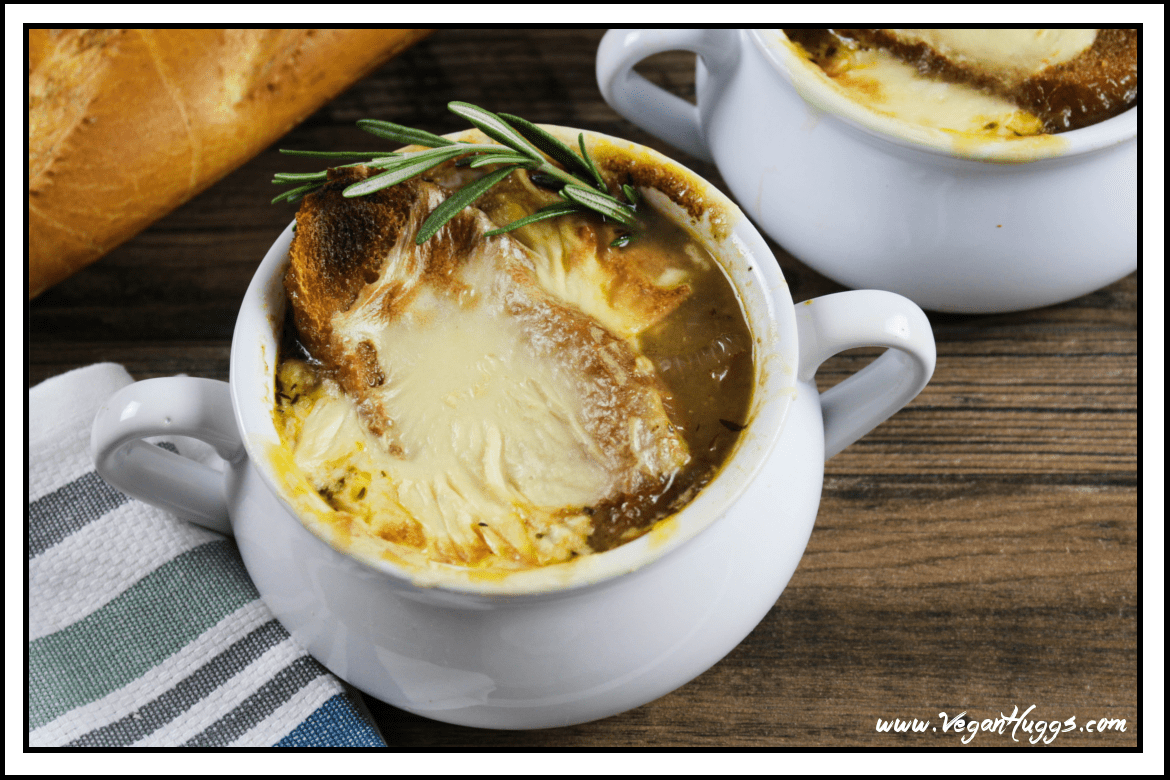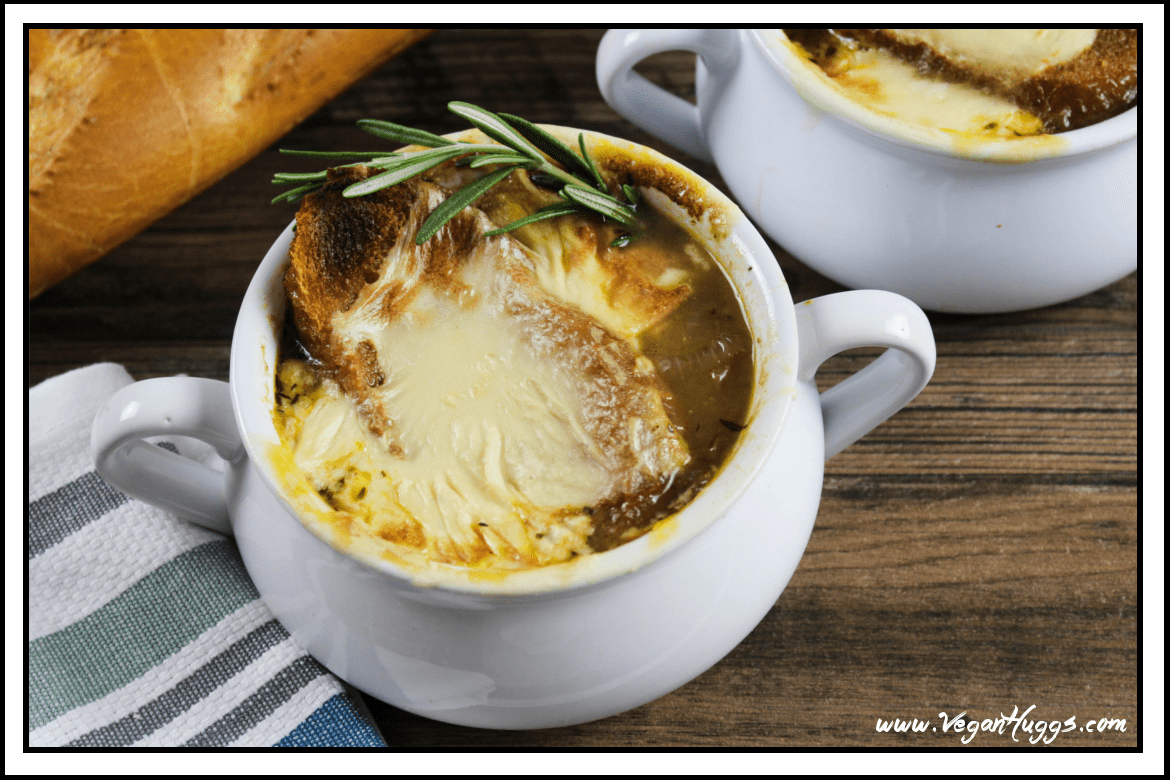 Honestly, I had never eaten French onion soup until I made a vegan-ized recipe, so I can't compare to 'regular' meat-broth based soup. However, I can say that French onion soup is super delicious, feels very fancy, and comes together pretty easily, though it is a bit time-consuming – especially if you make your own broth, which I highly recommend. Melissa's recipe features everything I want in a perfect French onion soup.
8. Barley Minestrone Soup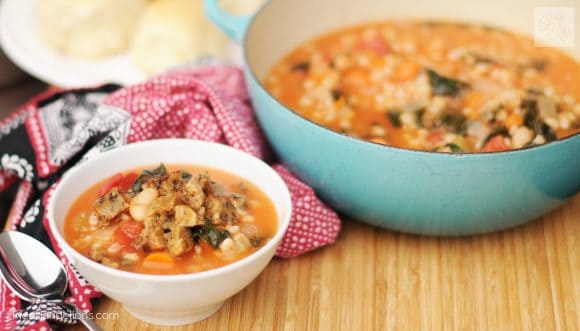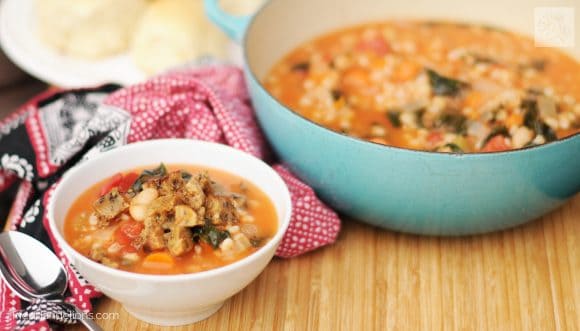 Sarah serves this yummy soup for her family on Christmas Eve, but whatever time of year, this recipe is cozy, delicious and looks very yummy. This barley minestrone soup from Fried Dandelions has all the flavor components of classic minestrone soup – sausage, tomatoes, white beans, and greens – but trades noodles for hearty barley for a fun twist. Bonus: She says it freezes and microwaves well, too!
9. Red Pepper & Pumpkin Soup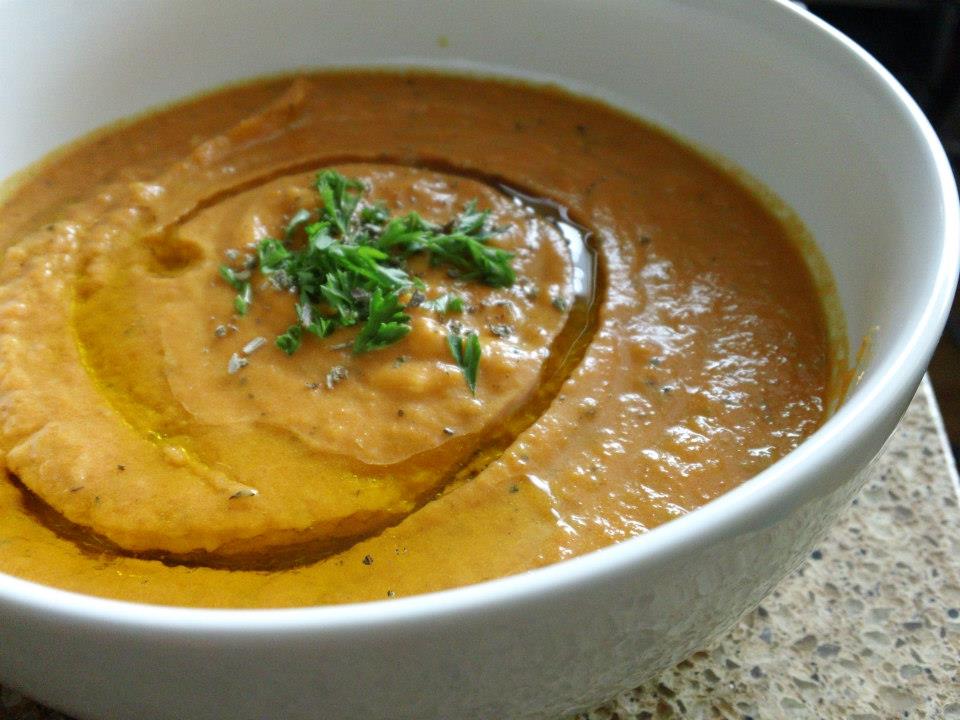 Sweet, creamy kabocha and smoky red pepper are totally made for each other, and this red pepper and pumpkin soup is their happy courtship. I made this soup a few weeks ago and immediately bought another kabocha so I could make it again the following week. Kabocha is my favorite squash because the skin is edible, so you don't have to waste time (or risk chopping off your fingers) skinning these tough curcurbits (that's the squash and melon family, in case you're not a botany nerd).
10. Potato Leek Soup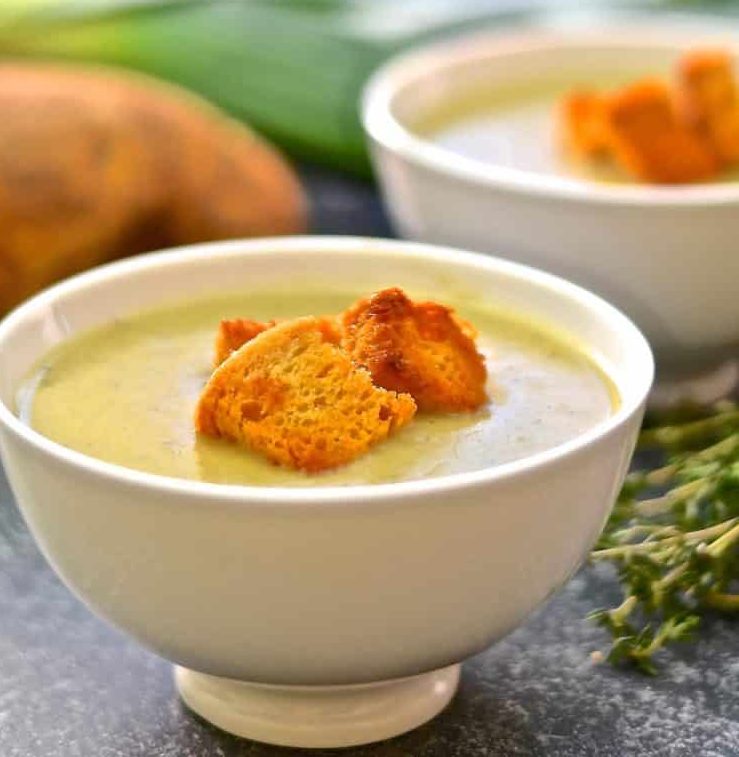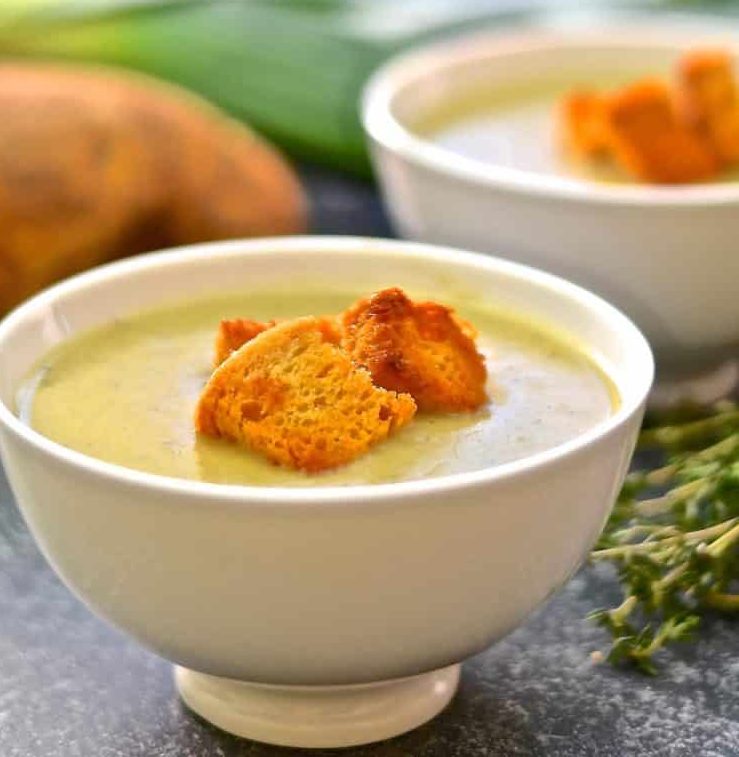 Mel at A Virtual Vegan has a classic potato leek soup recipe that I just can't wait to make. I love fresh leeks and think their mild flavor is so lovely, and in combination with simple potatoes, this makes a nice comfort food. It has just a few ingredients and comes together quickly (about a half-hour), so it's a great weeknight meal, too.
11. Spicy Coconut Soup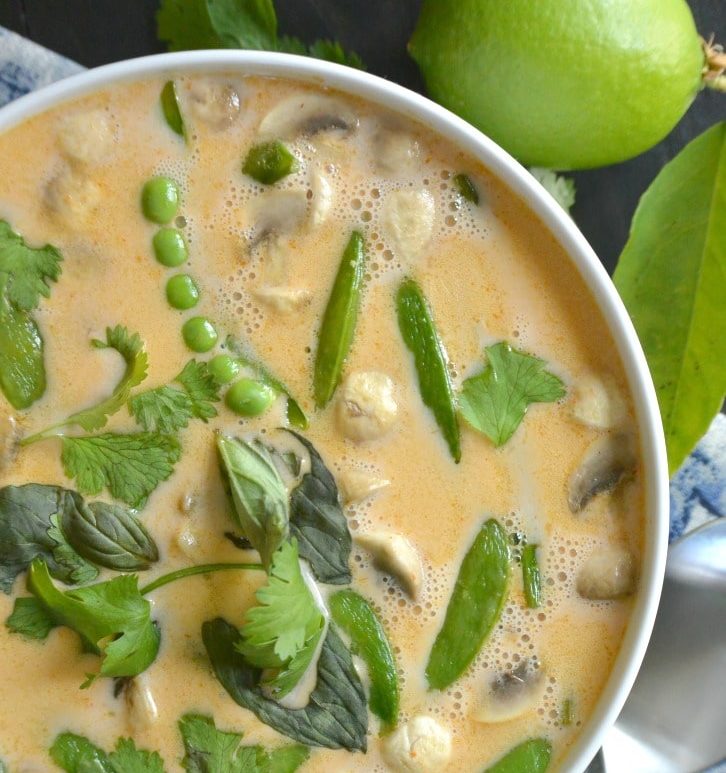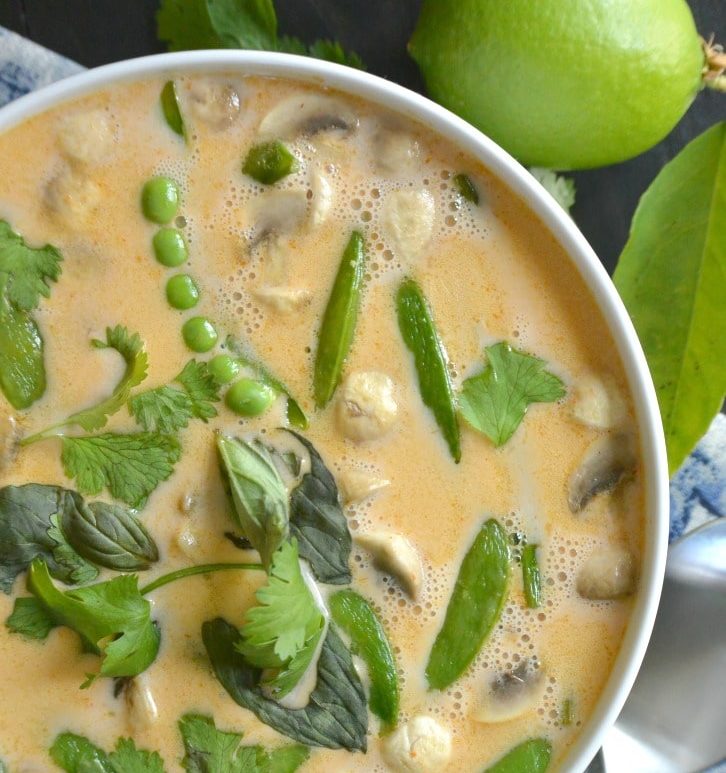 Feeling like a more brothy soup? This spicy coconut soup from Amy at Veggies Save the Day looks so. very. amazing. I love spicy coconut soup from my local Thai restaurant, but it's always overly sweet and maybe has ingredients that don't agree with me. But Amy's soup is simple, comes together super quickly (20 minutes, folks!), and still looks damn fancy.
12. Pumpkin & Adzuki Bean Chili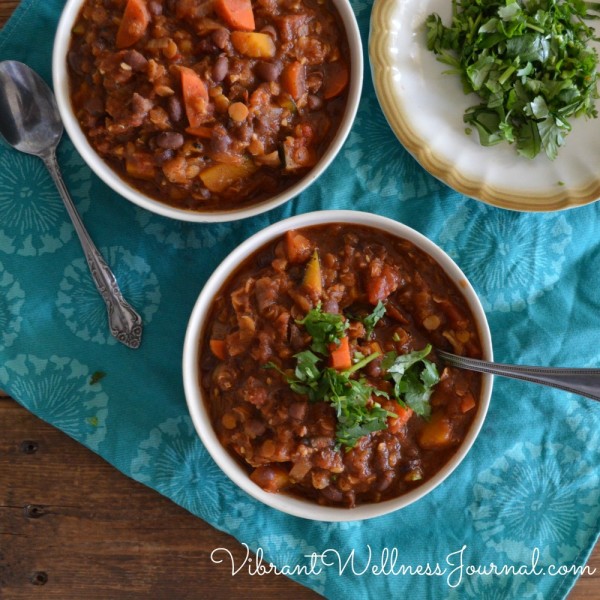 Is chili a soup? Maybe not, but this recipe was a revelation when I made it last year so I'm including here! This pumpkin and adzuki bean chili features my favorite squash (kabocha!) again, along with two ingredients not usually found in chili (adzuki beans and lentils). It's incredibly filling and delicious and is a nice way to incorporate adzuki beans into your diet. If you're not familiar, adzuki beans are usually the 'red beans' found in Japanese and Chinese desserts, since their creamy texture and ever-so-slightly sweet flavor lends itself well to sweet recipes. You can get adzuki beans in a can or buy them dried and cook them at home before using in this recipe.
13. Vegan Wild Rice Soup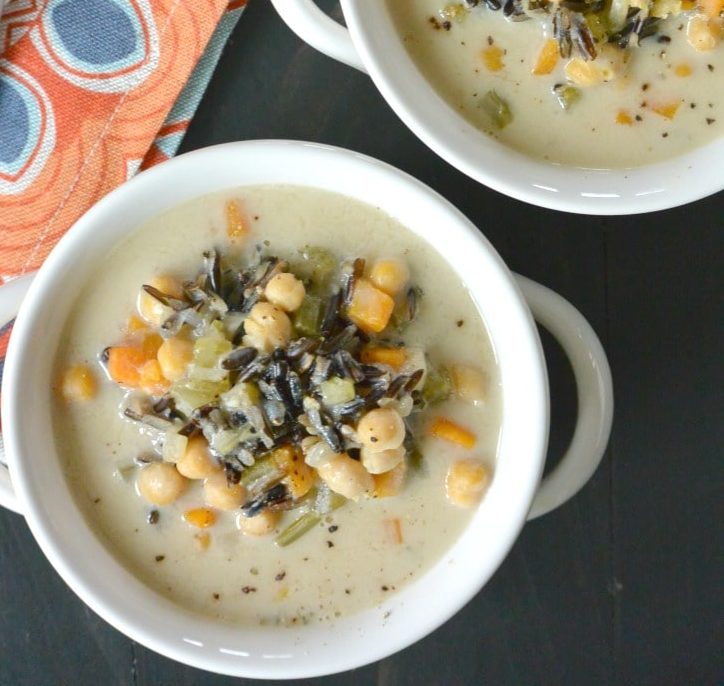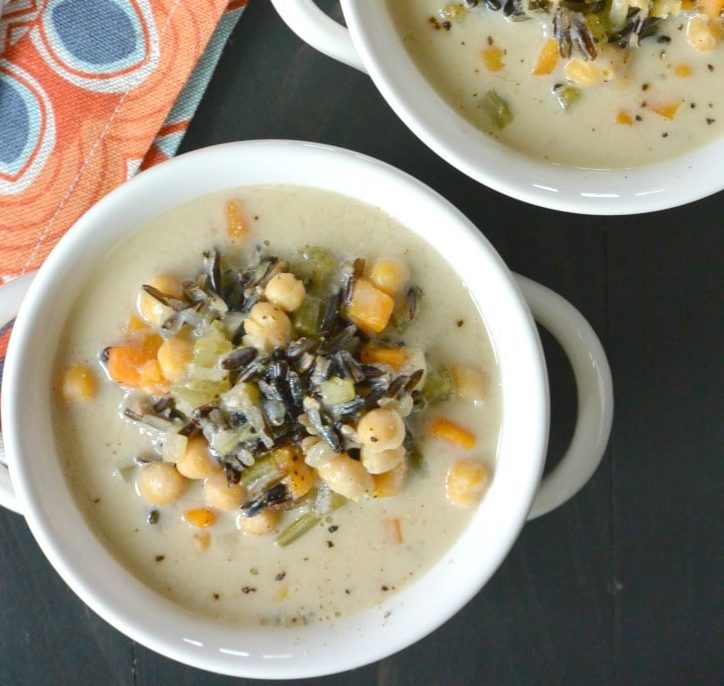 I had not heard about wild rice soup until my friend Amy shared her recipe with me, and it looks so yummy! If you're a lucky owner of an InstaPot, you'll want to try this recipe. Wild rice, she explains, is not actually a rice at all. She says, "wild rice is more nutritious than white rice [with] fewer calories, more protein, and more fiber [and] it's high in magnesium, potassium, and vitamin B6." Sounds good, right?! Toss in chickpeas and a mirepoix of celery, onion, and carrots and it's a complete (and completely awesome) meal.
14. Vegetable Curry Noodle Soup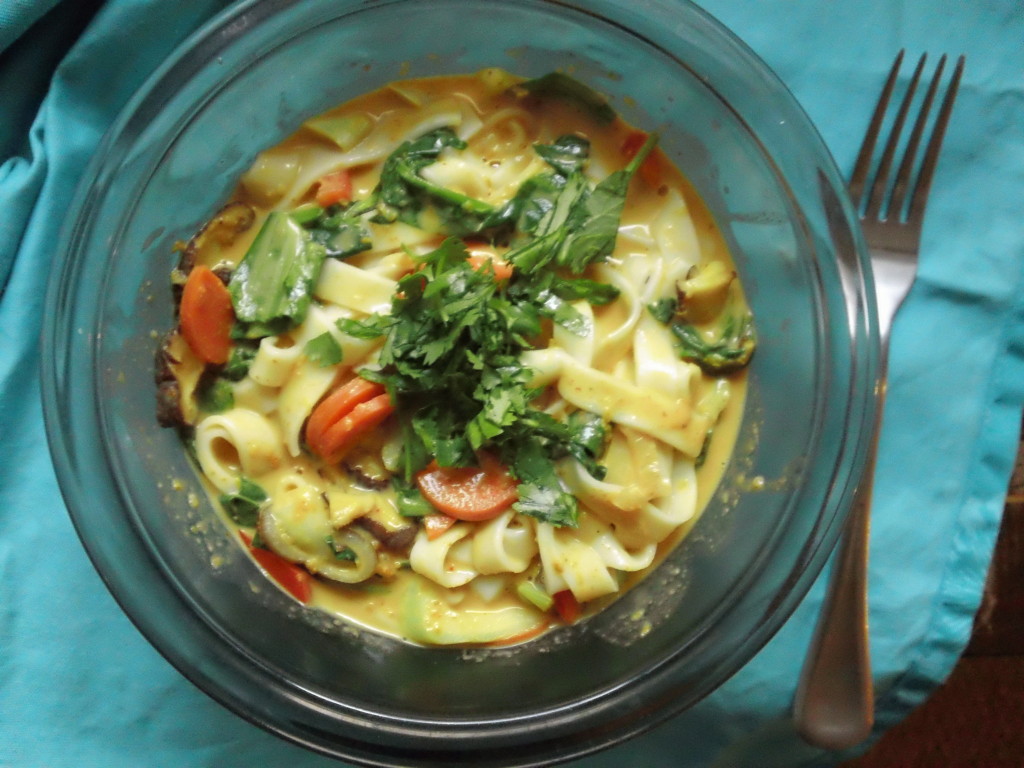 My favorite Thai restaurant here makes a curry noodle soup that feels incredibly cozy but is very rich. I've lightened the recipe and included healthier udon noodles, along with a ton of veggies for a steamy, spicy bowl of YUM! Using pre-made curry paste makes this a surprisingly simple weeknight meal.
15. Vegan Hot & Sour Soup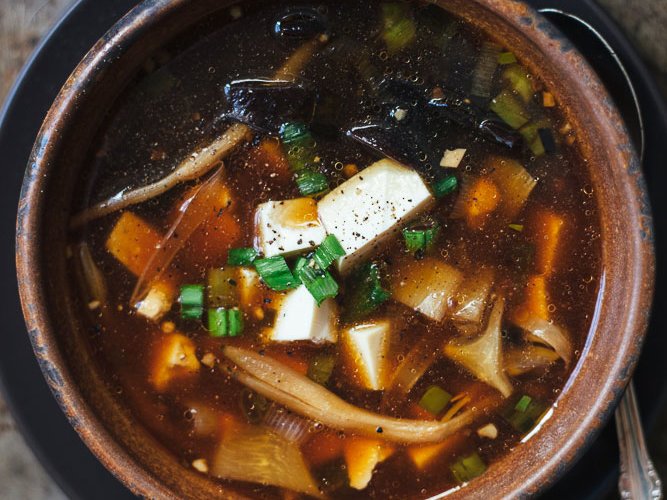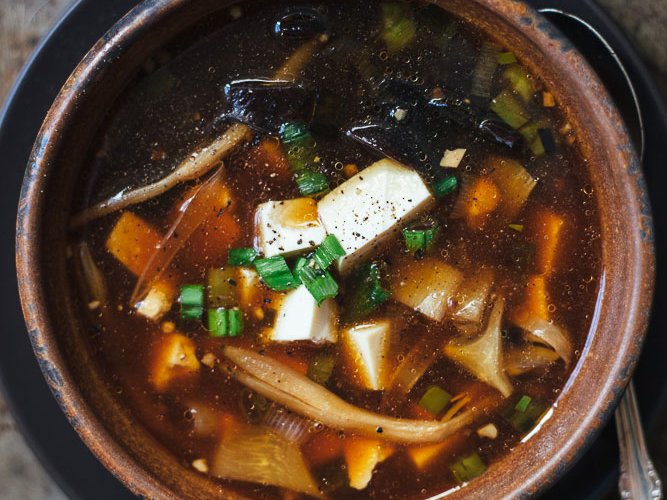 Hot and sour soup is an awesome recipe when you're feeling under the weather. I used to buy it from a neighborhood restaurant until I figured out how easy it was to make at home. This recipe from Food & Wine has a prettier picture than my version, so I'm sharing their recipe!
16. Easy Vegan Ramen Noodle Soup (+ Homemade Ramen Noodles!)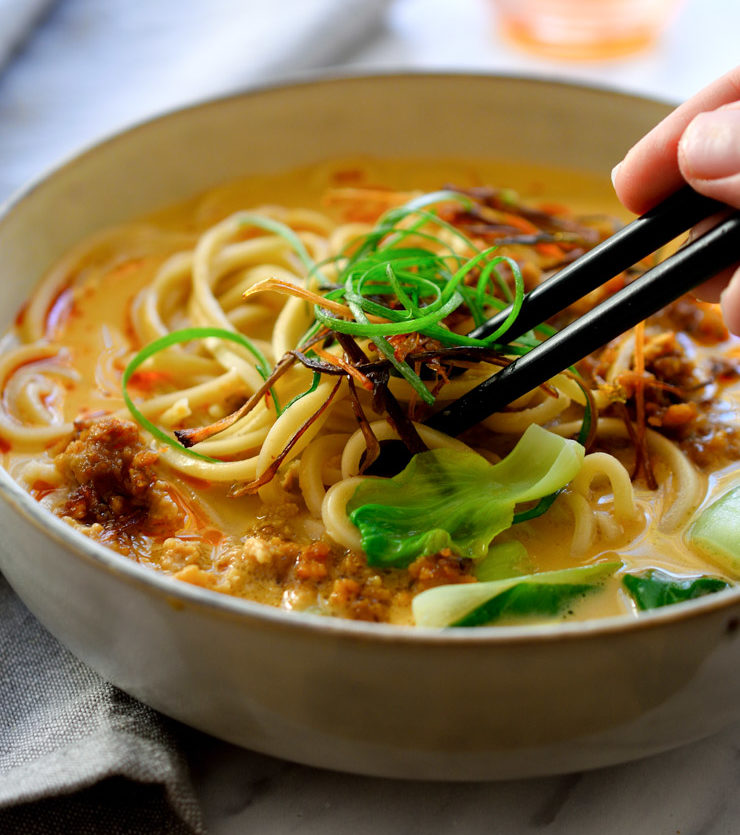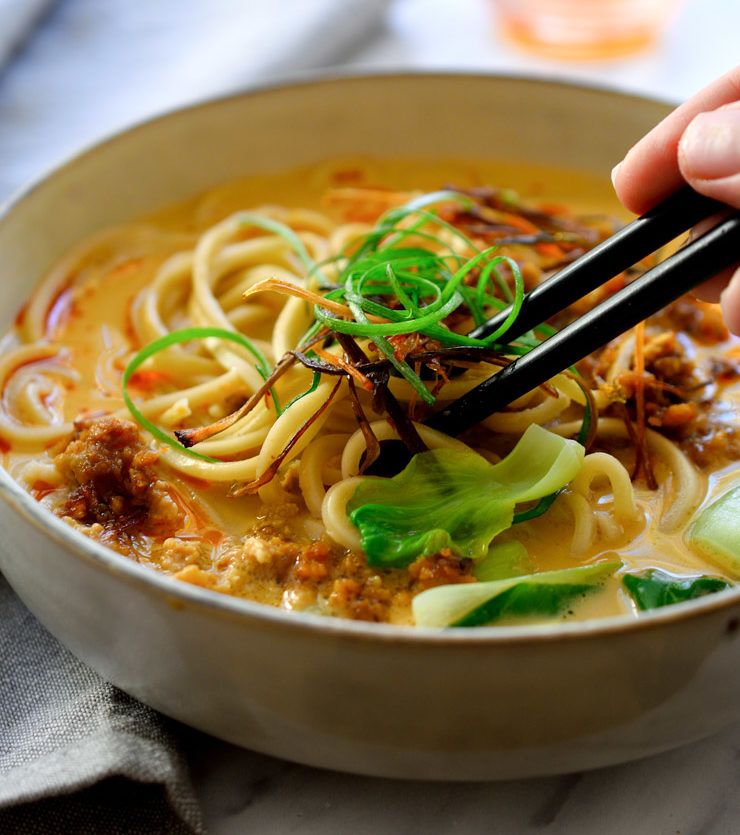 Ramen noodles are so hot right now. This vegan ramen noodle soup recipe (with a bonus recipe for homemade ramen noodles) is from Cilantro & Citronella and uses a veg-friendly broth made with a miso and tahini, making a creamier soup base, which is her take on tan tan ramen.
17. Baked Potato Soup Recipe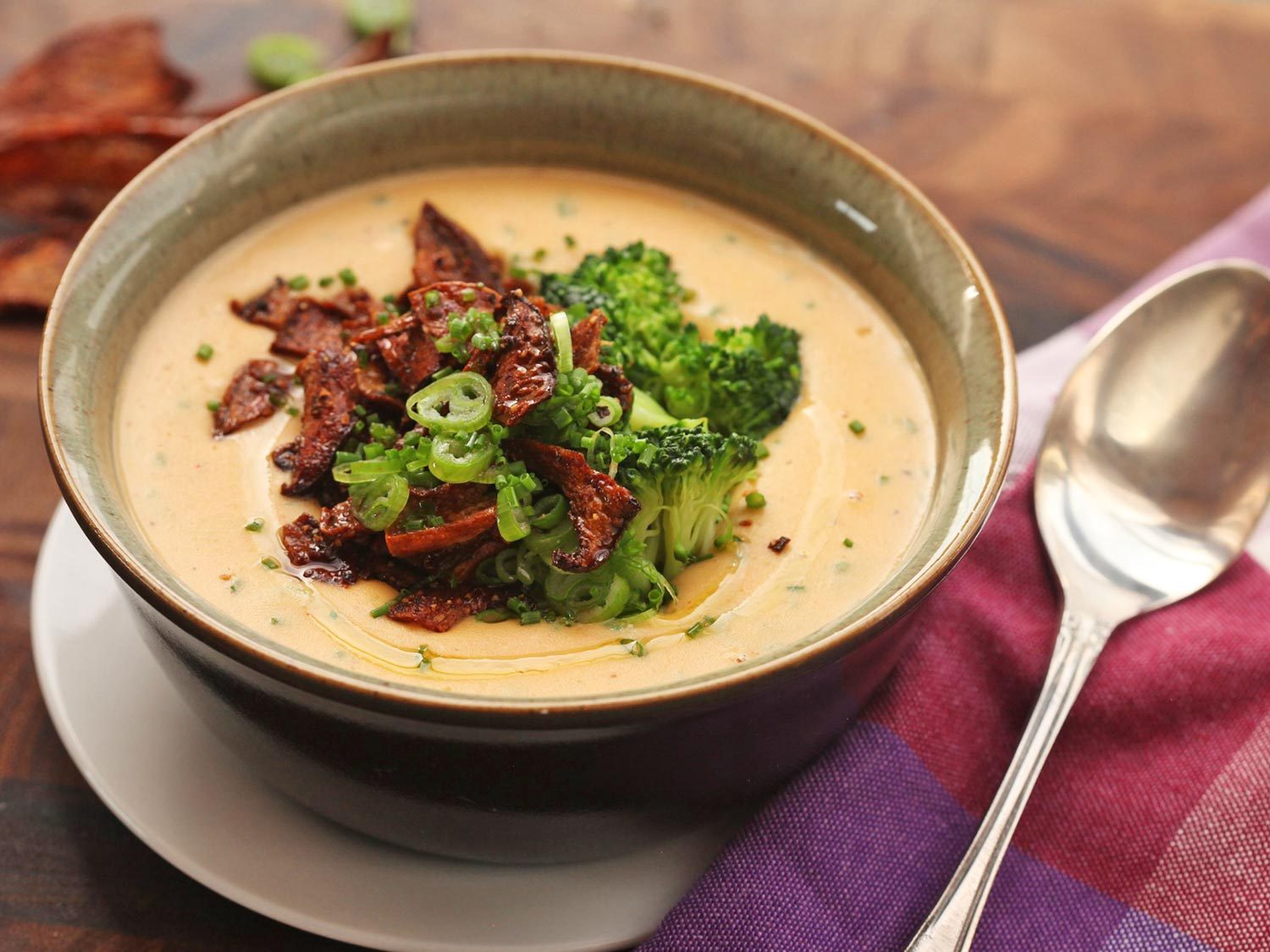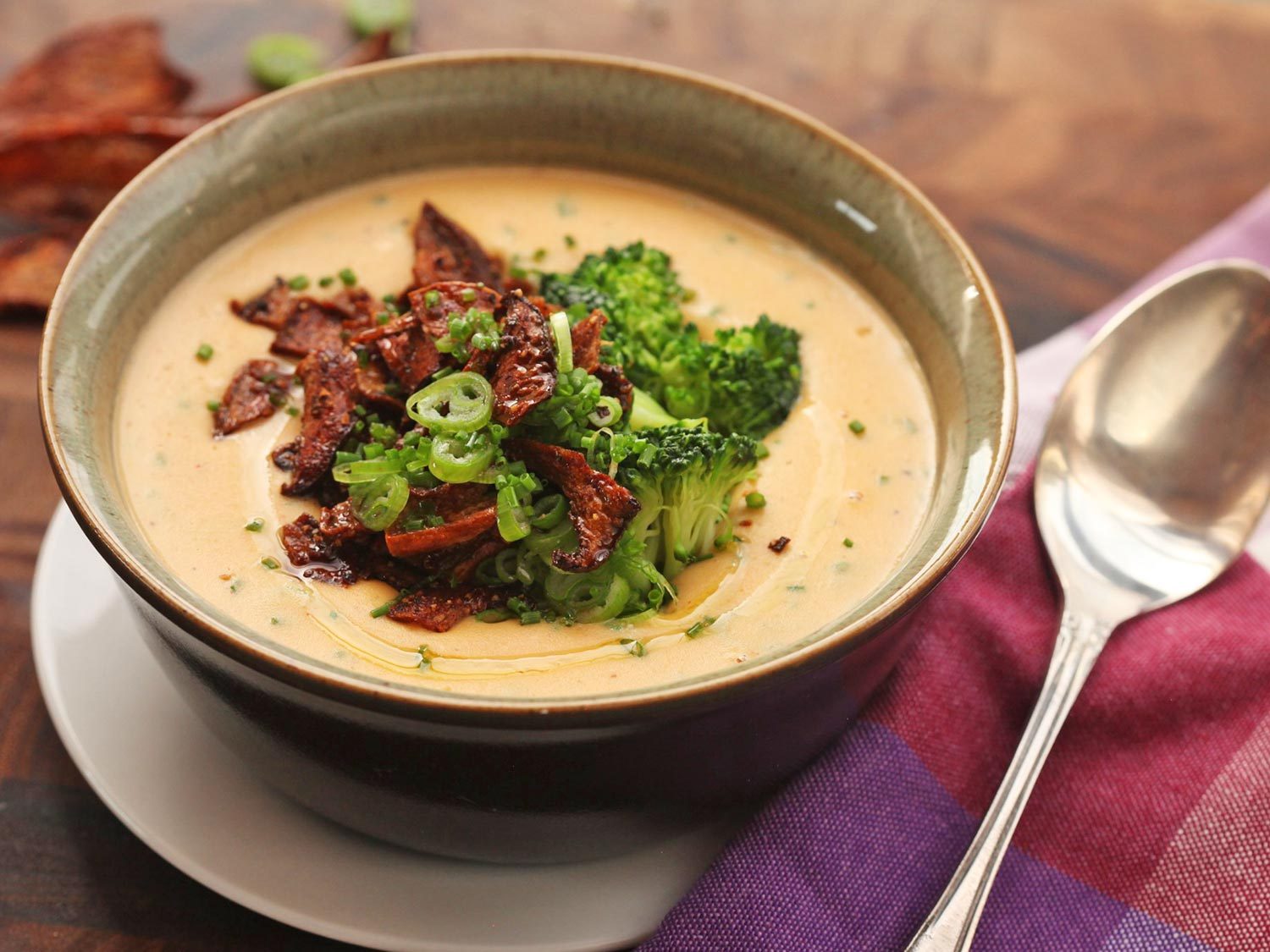 Baked potato goodness but in soup form: what a brilliant idea! Serious Eats has an awesome recipe for baked potato soup, made with a mix of cauliflower and potato for a perfect texture and topped with some yummy mushroom bacon.
18. Creamy Corn Soup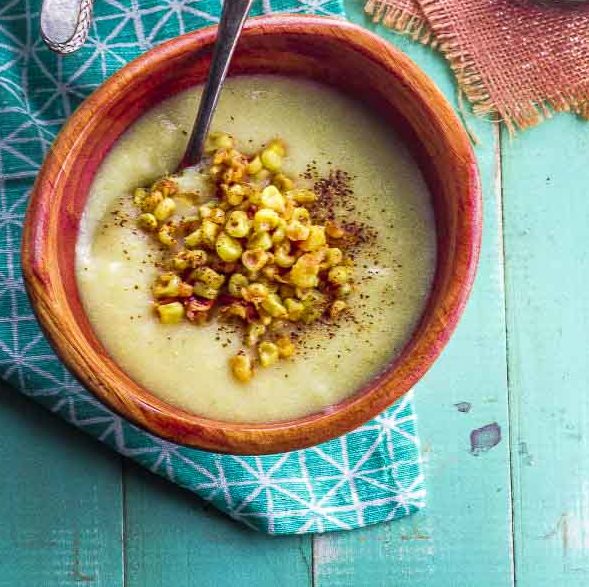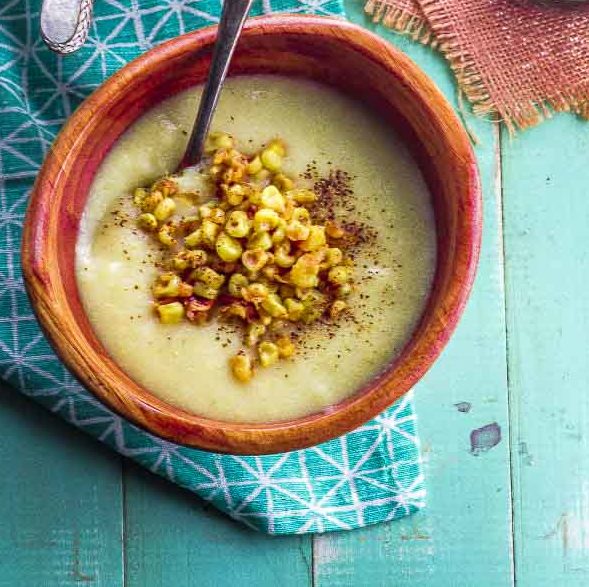 Corn soup is a really cozy recipe memory for me: It's one of the first recipes I ever made for my family as a vegetarian, and it was a holiday staple for years in the Bertoli house. This version of creamy corn soup from Vicky and Ruth at May I Have That Recipe looks like it would be a good replacement for the recipe I lost along the way.
19. Matzo Ball Soup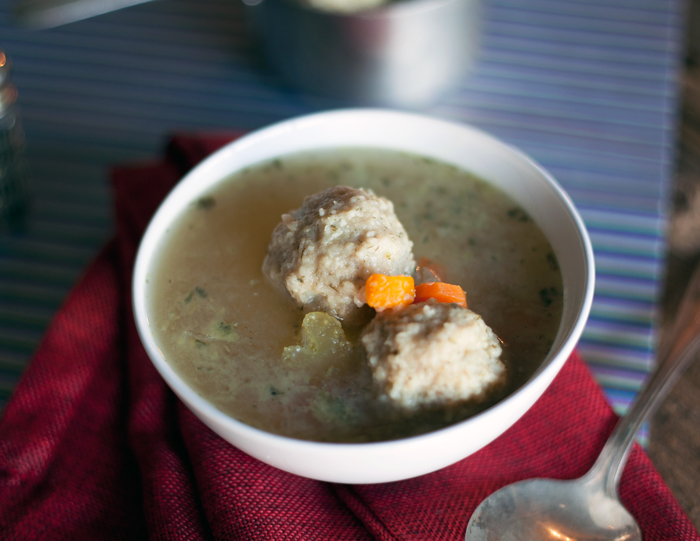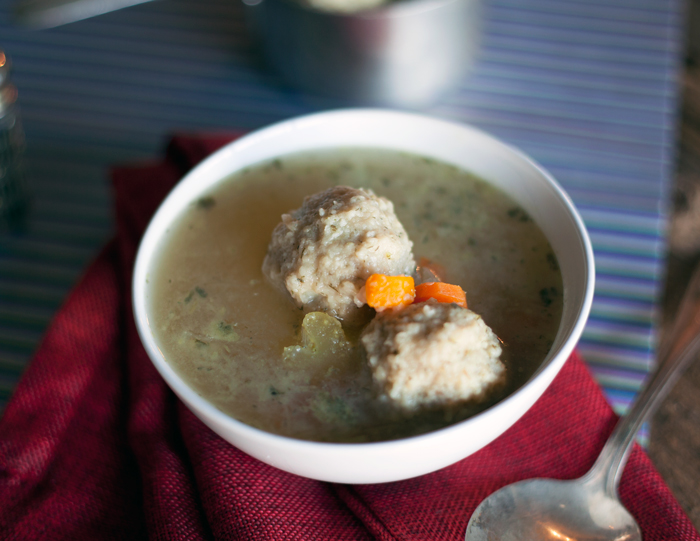 Yes, matzo ball soup! Classic comfort food in the form of broth and dumplings. This vegan matzo ball soup recipe from The Edgy Veg looks like the best version out there.
20. Asparagus Soup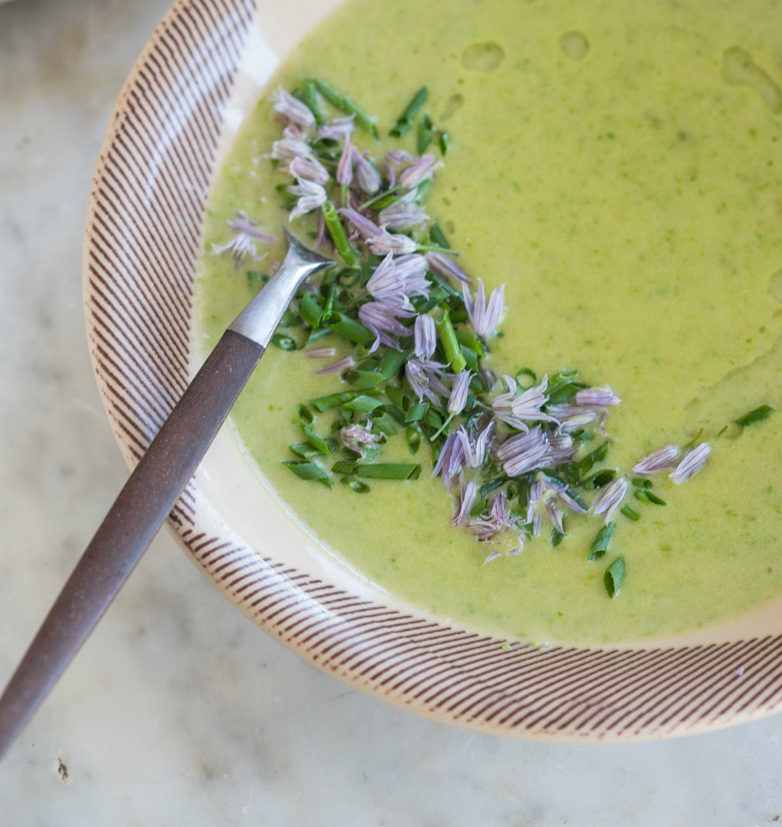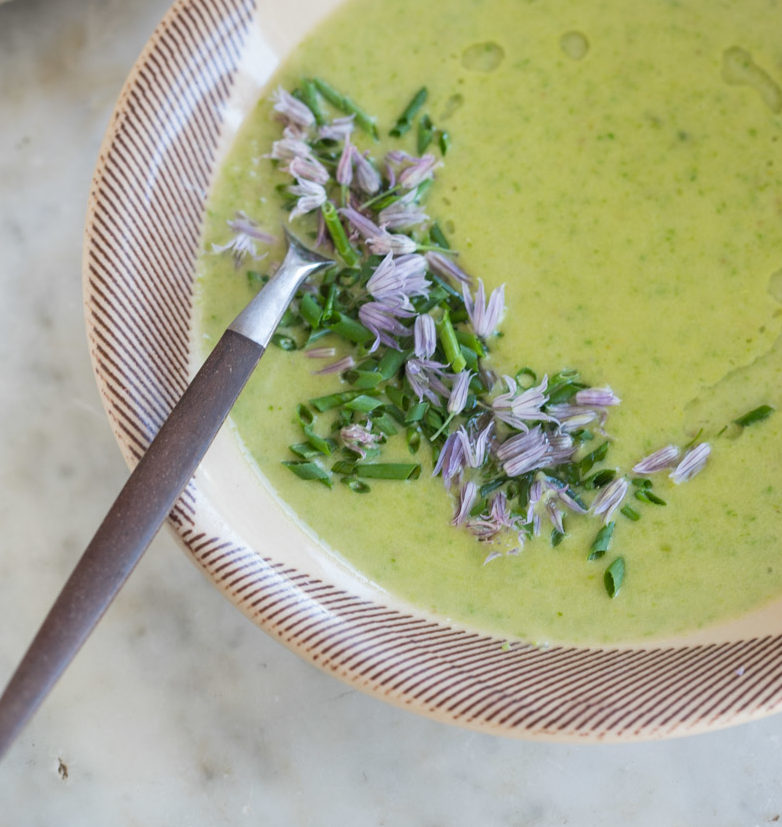 Of course, Heidi at 101 Cookbooks has a recipe for asparagus soup. Seems like a weird veggie to make a full soup from, but she convinced me that it's a great idea. Here's proof!
21. Cheesy Vegan Potato Soup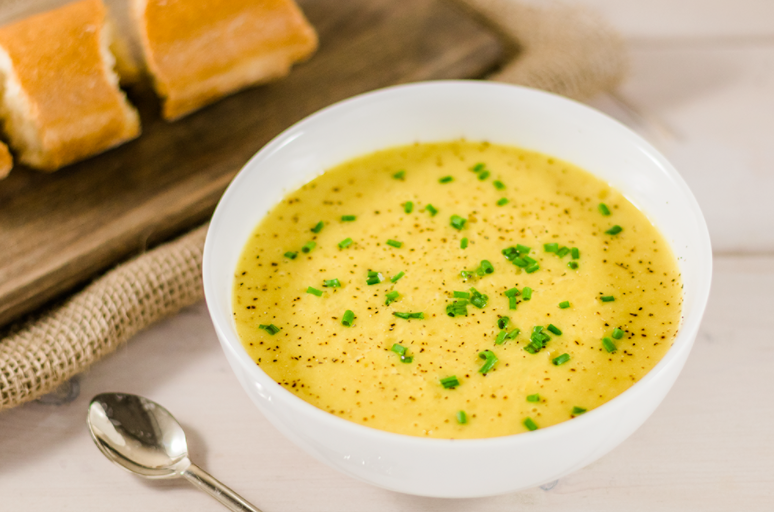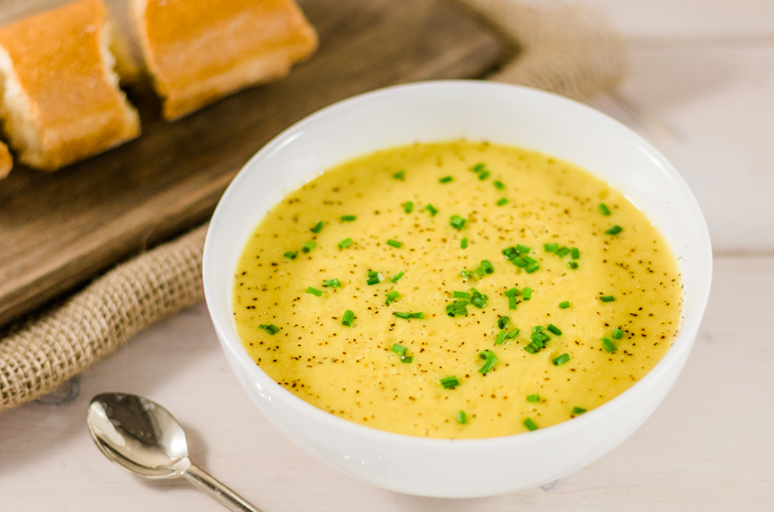 What makes simple potato soup more delicious than the addition of cheese? Nah, nothing. This cheesy vegan potato soup recipe from Karissa Bowers on Organic Authority is perfect in its simplicity.
22. Lasagna Soup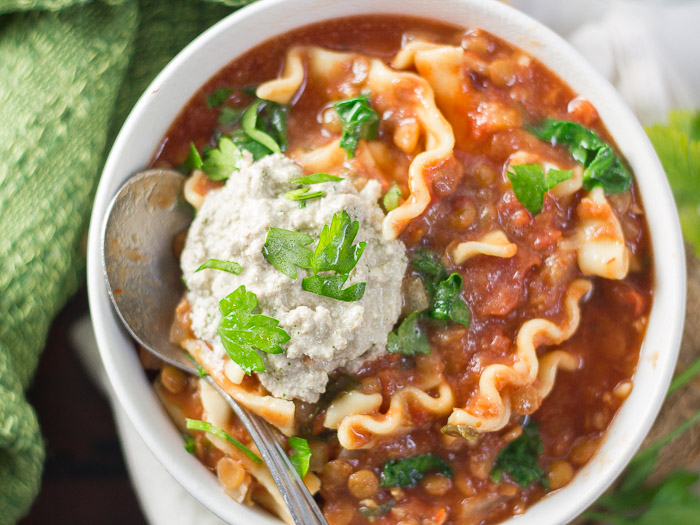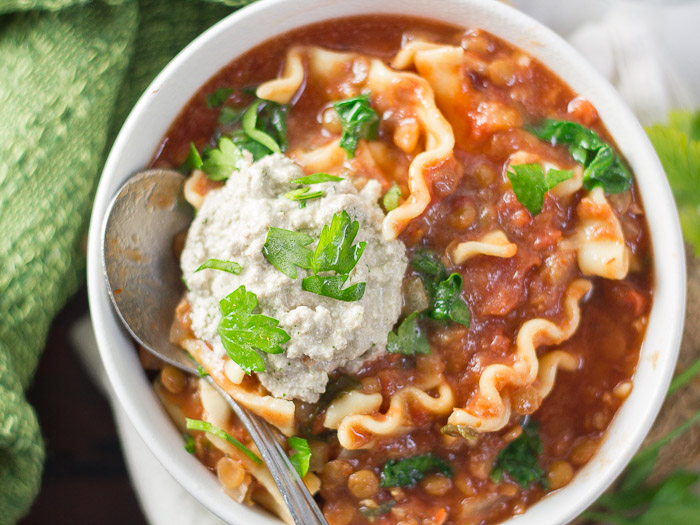 I didn't know lasagna soup was a thing, but just look at that picture and tell me it doesn't look totally brilliant!
23. Tortilla Soup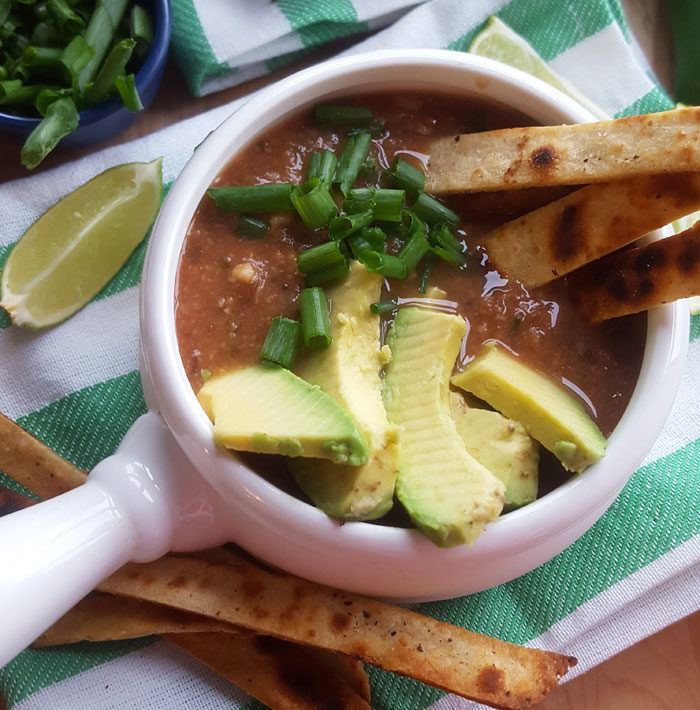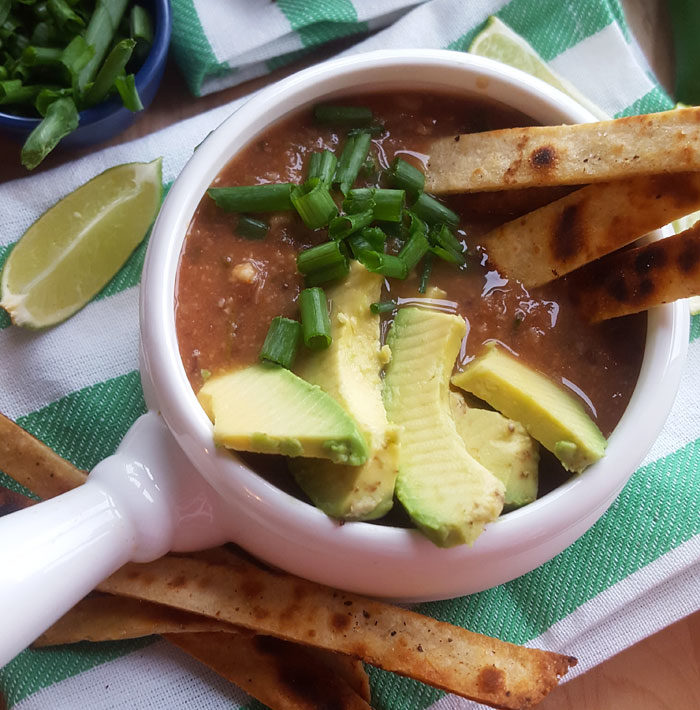 Tortilla soup is often made with chicken, but why, when you can make a wonderfully delicious vegan tortilla soup in under 20 minutes with avocado, cilantro, jalapeño, and fire-roasted tomatoes..?
24. Leek, Fennel & Apple Soup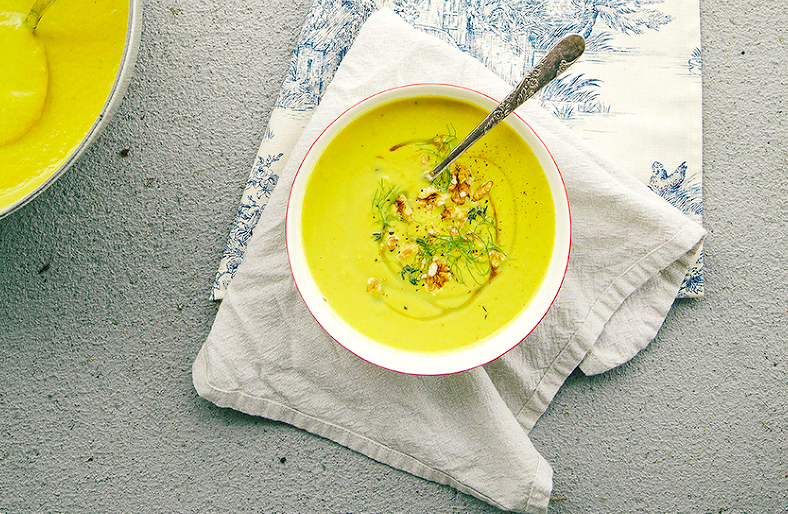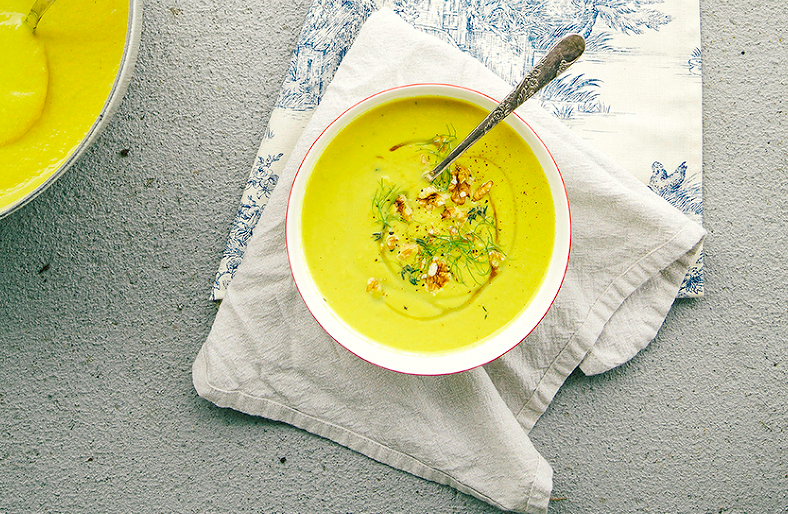 Following along the lines of recipes I could never have imagined, here is a leek, fennel, and apple soup from The First Mess, which at first seems like a weird combination, but really, her idea that these veggies taste good as a salad makes sense that it would taste good as a soup, too.
25. Thai Zucchini Soup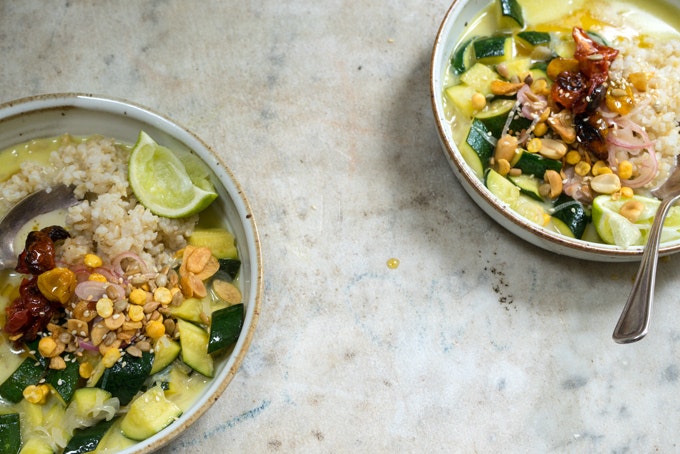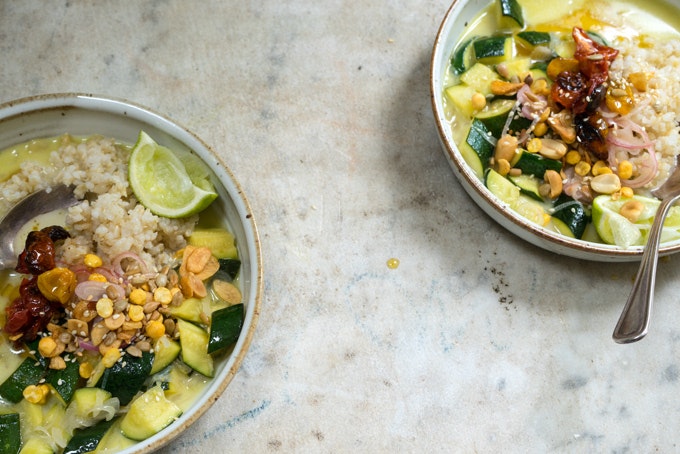 Just like with asparagus, leave it to Heidi to create a soup based on just zucchini. This Thai zucchini soup looks like the perfect summer/fall recipe when you can't figure out one more zucchini recipe.
26. Vegan Cream of Mushroom Soup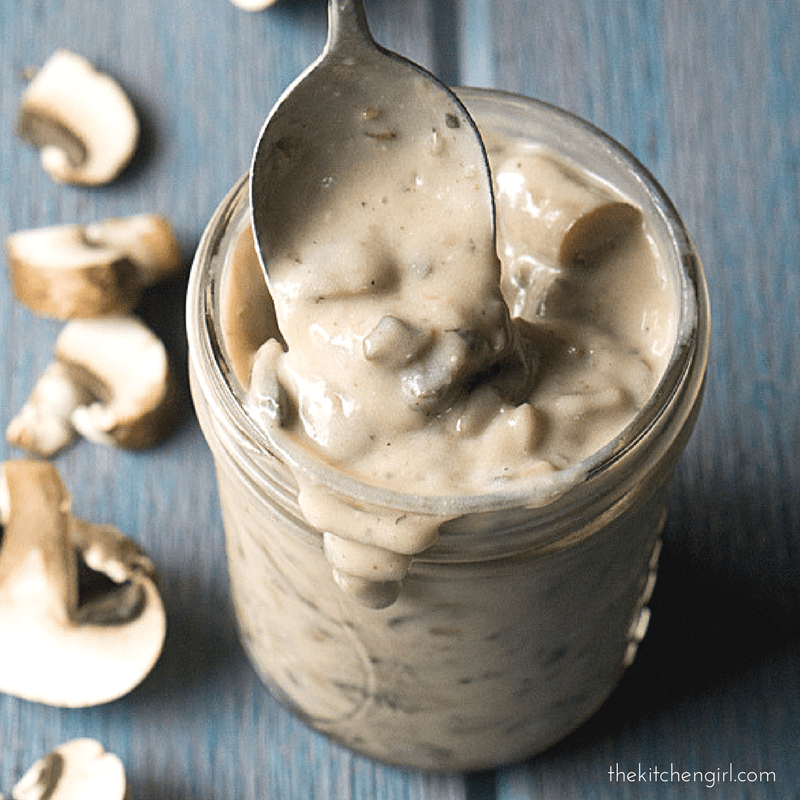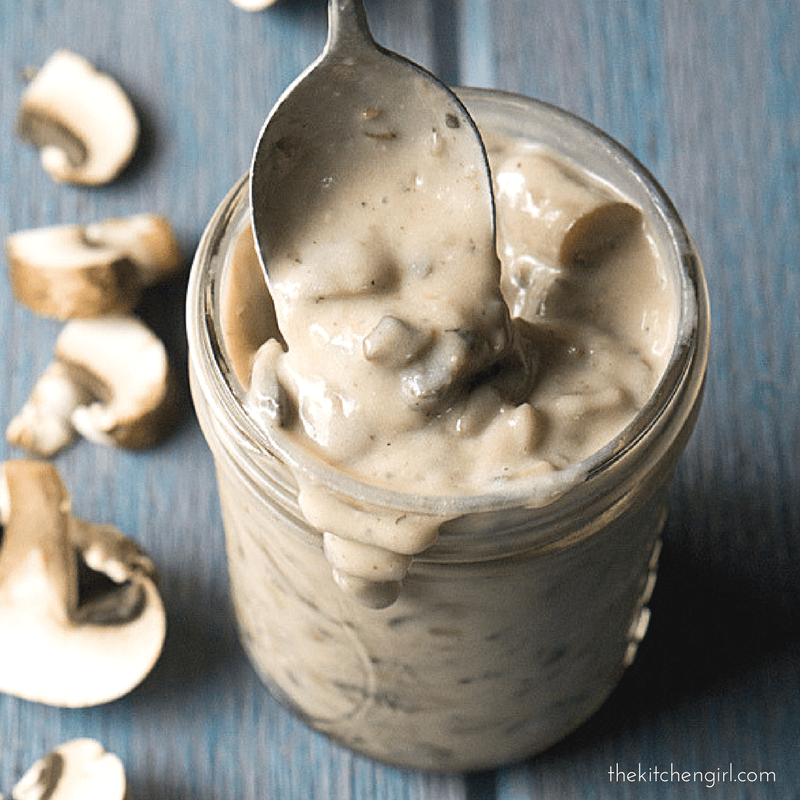 Cream of mushroom soup is the base for many classic American dishes, like that green bean casserole that always shows up at Thanksgiving. Skip the canned stuff and make your own with fresh mushrooms, chickpea flour (a magic ingredient, if you've not used it before!), and almond milk. Easy!
27. Moroccan Vegetable Soup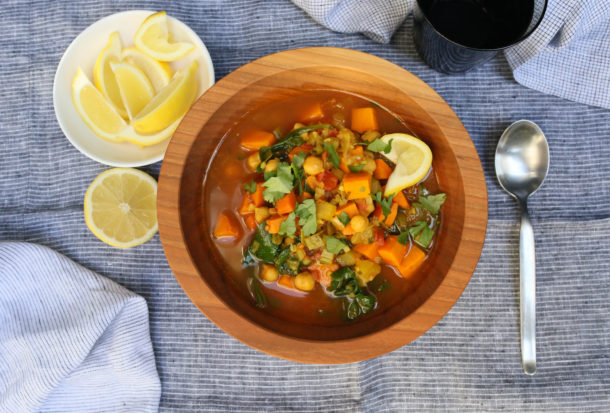 All the flavors of Morocco in a simple Moroccan vegetable soup: cinnamon, cumin, ginger, and turmeric! This easy recipe has a long list of ingredients but comes together easily in about a half-hour!
28. Vegan Wedding Soup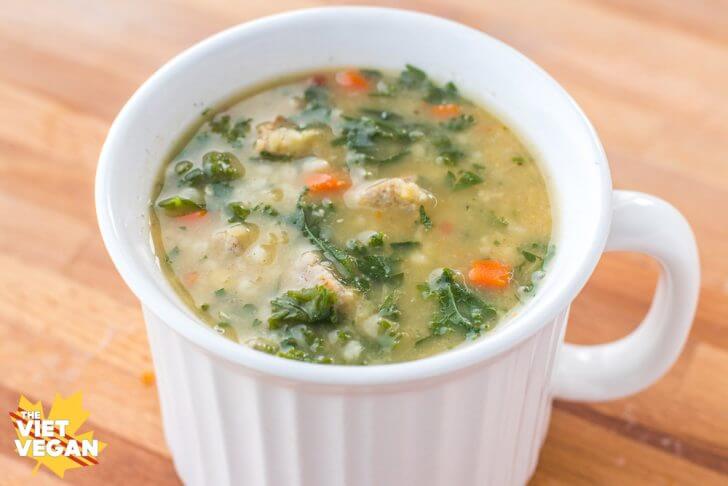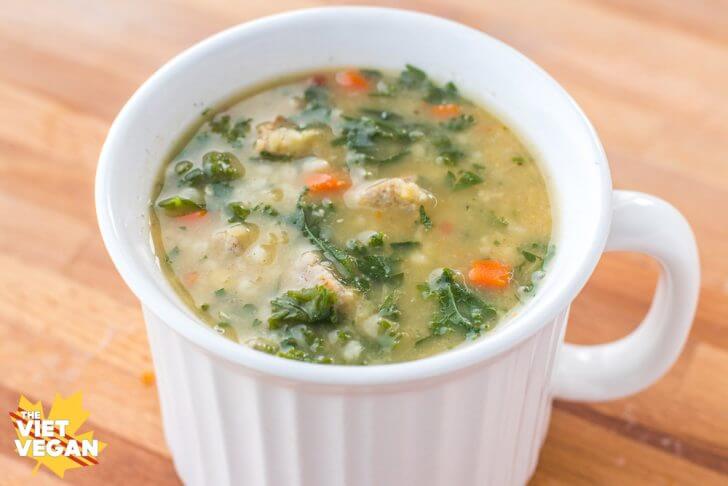 Vegan wedding soup is another take on a traditional recipe with a healthy twist, using vegan sausage instead of regular meat and including heaps of greens. A healthy, simple weeknight meal.
29. Curried Cauliflower Soup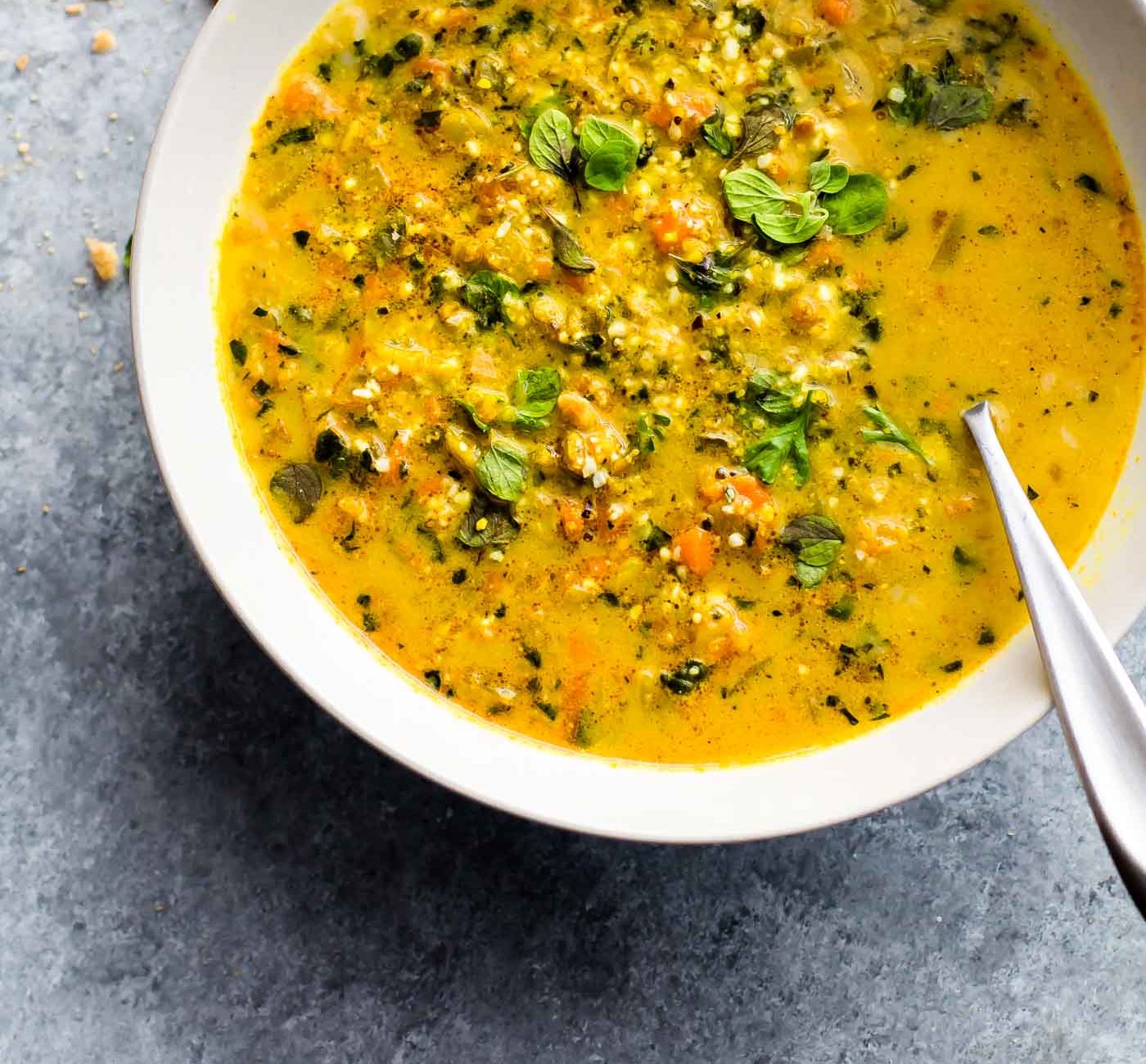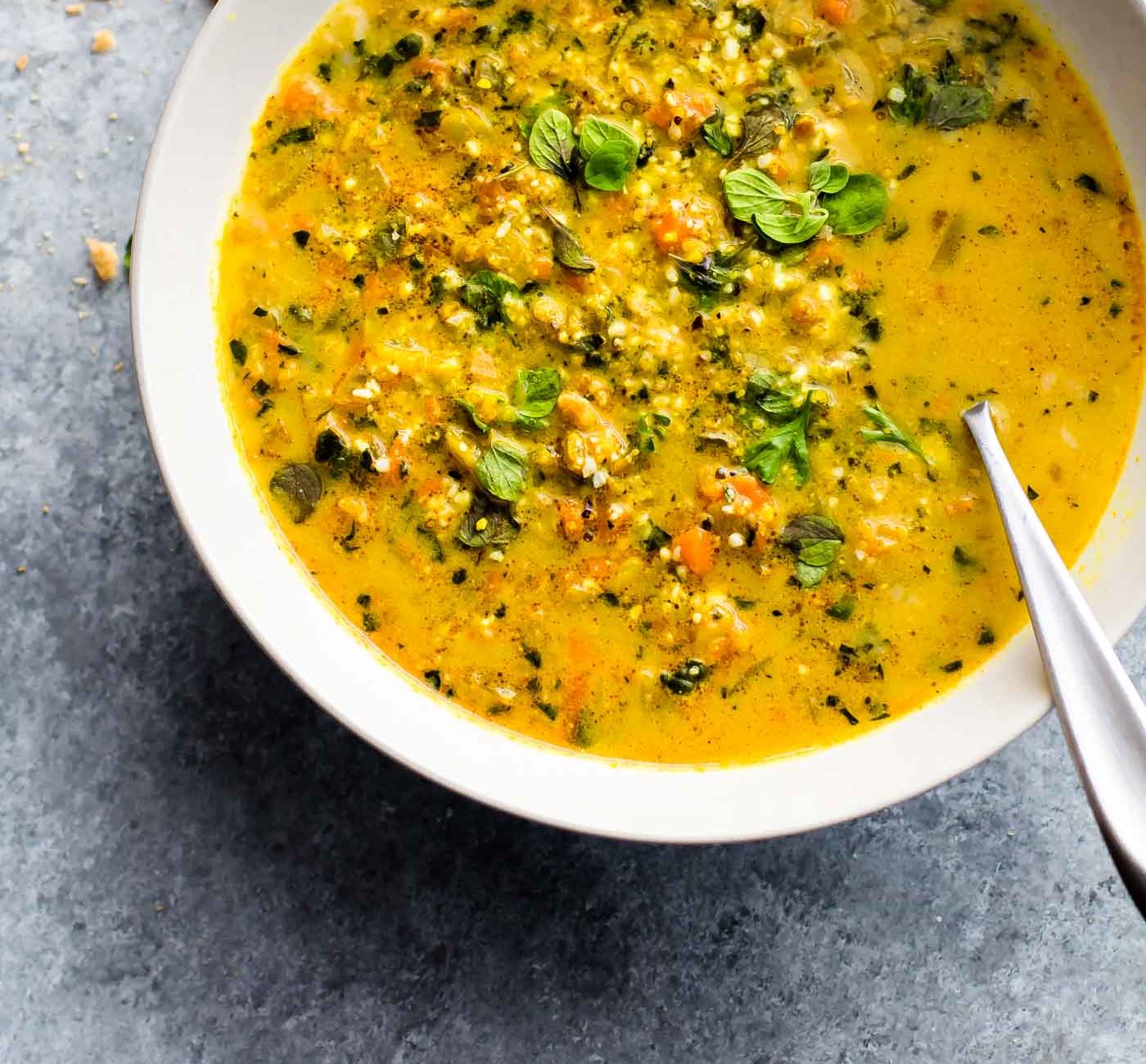 Cauliflower soup is a great way to make use of this healthy, hearty veggie. This one features curry flavors and "riced" cauliflower for a fun texture twist. I made a blended version of this before, and I loved the combo of a creamy base and bright curry flavors.
30. White Velvet Soup (White Carrots)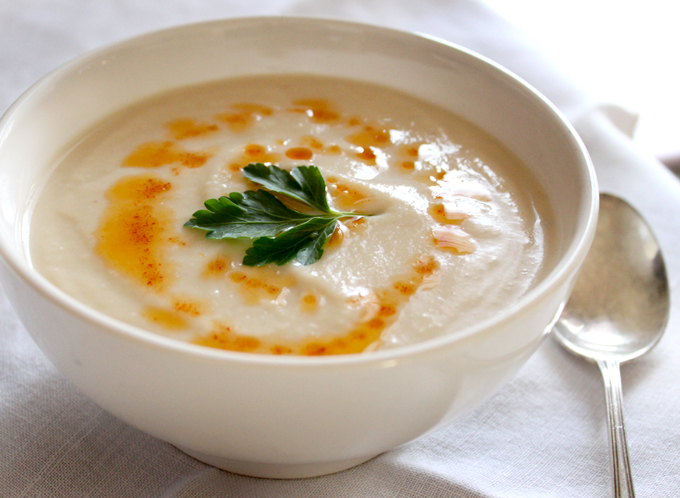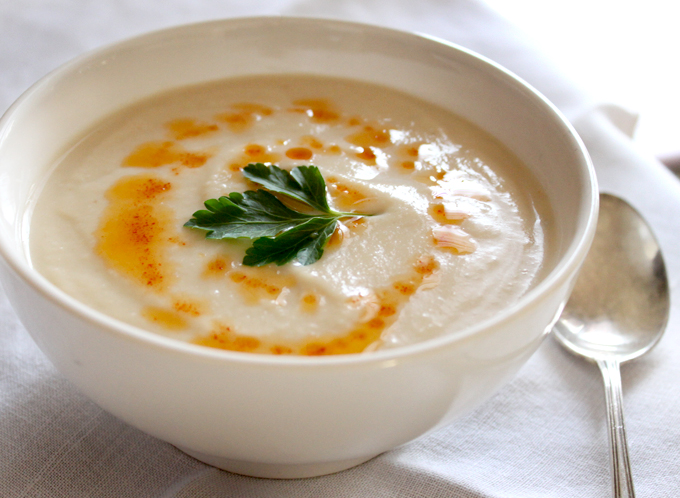 Sarah B. is one of my favorite healthy chefs, and this white velvet soup is a case in point. She makes white carrots plus beans look incredibly beautiful and decadent, and for that, we should thank her. The recipe is from "My New Roots" but was shared as a guest post at Green Kitchen Stories.
31. Roasted Red Pepper Tomato Soup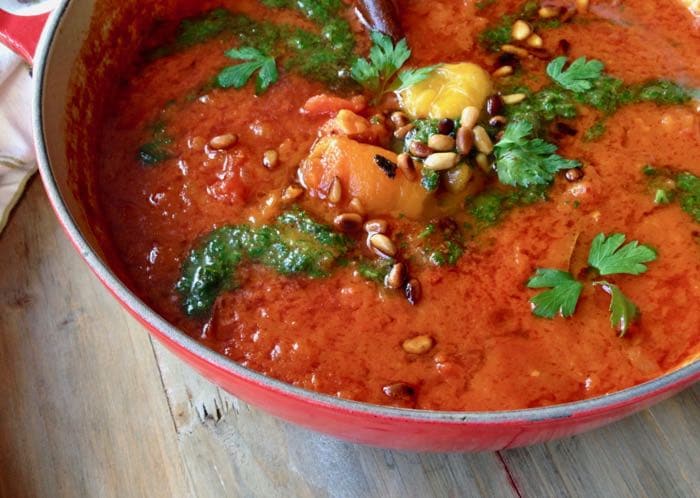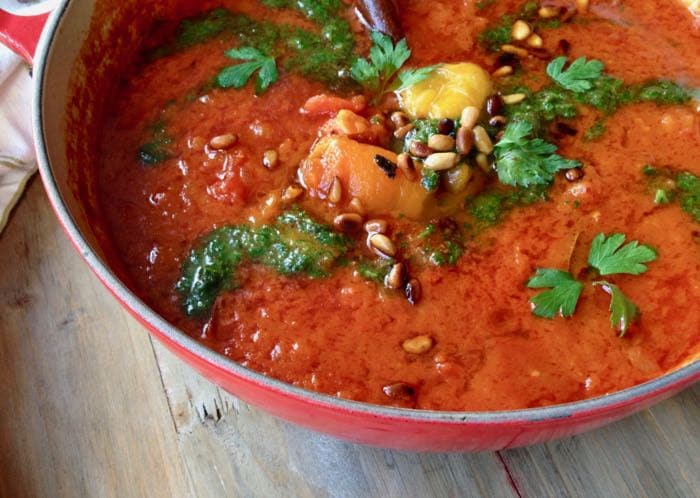 Florentina's recipe for roasted red pepper tomato soup looks awesome, and I think it would be just as delicious hot as it would be cold during peak tomato season.
32. Indian Sweet Potato Soup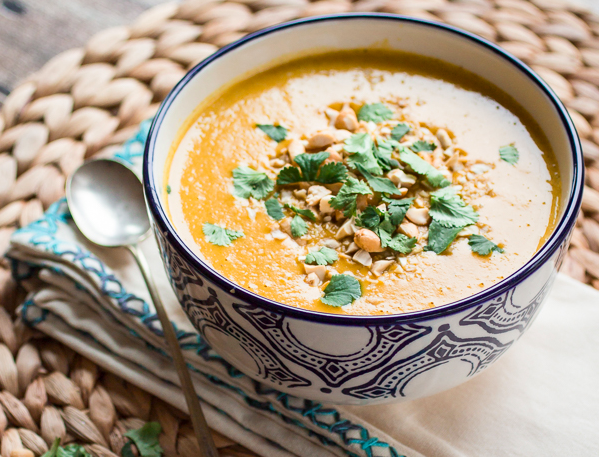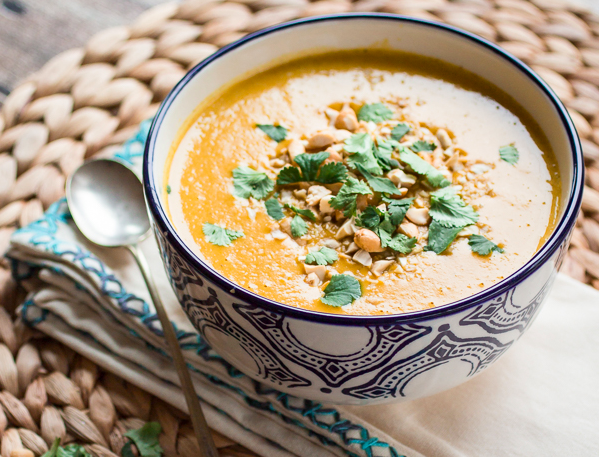 Sweet potatoes make an awesome base for creamy soups: They are rich and filling, but easy to prepare and totally affordable. This simple soup uses a base of sweet potatoes, some coconut for creaminess, and a selection of Indian spices for a warming meal.
33. Vegan Chanterelle Soup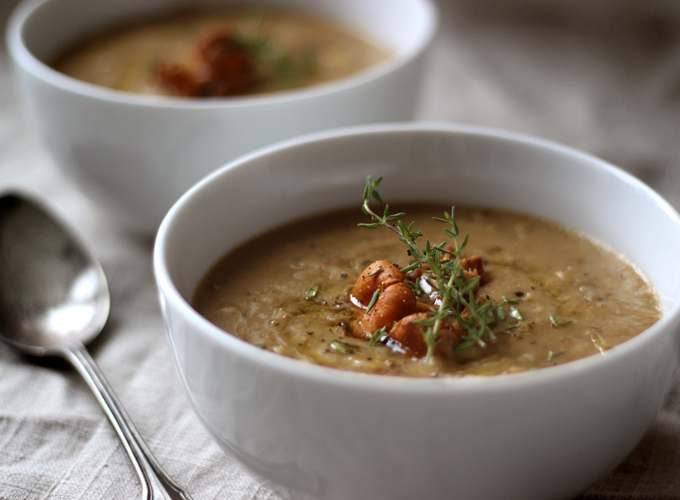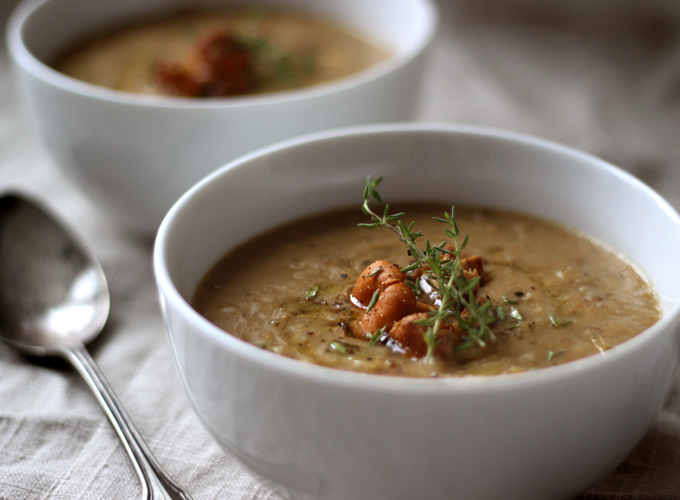 If you can get your hand on a ton of chanterelle mushrooms, this cream of chanterelle soup is THE soup to make to get the most from these exotic and beautiful fungi. This is a light cream soup that uses beans and a roux to thicken.
34. Kaniwa Coconut Stew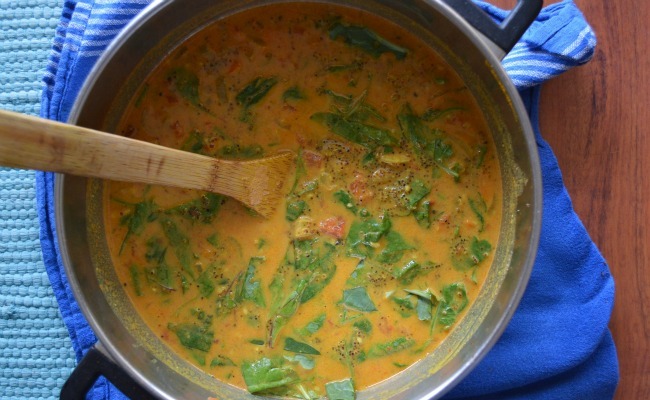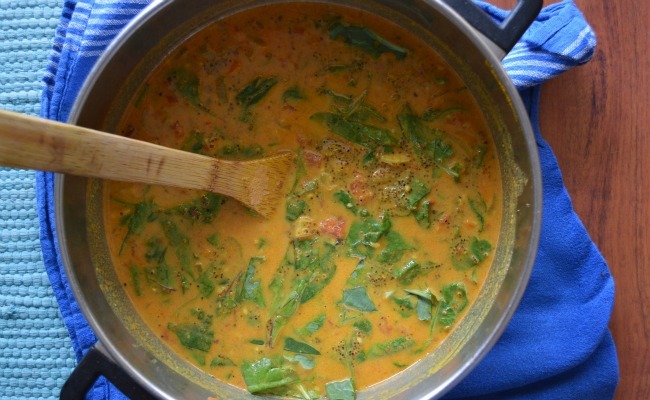 I got to experiment with kaniwa, a teeny pseudo-grain related to quinoa, a few years ago. I made it plain (reminds me of a cross between quinoa and teff), but I decided to put it into a soup. This rich tomato-coconut broth with floaty brown grains is interesting and unique – I loved the way it turned out.
35. Ethiopian Chickpea Stew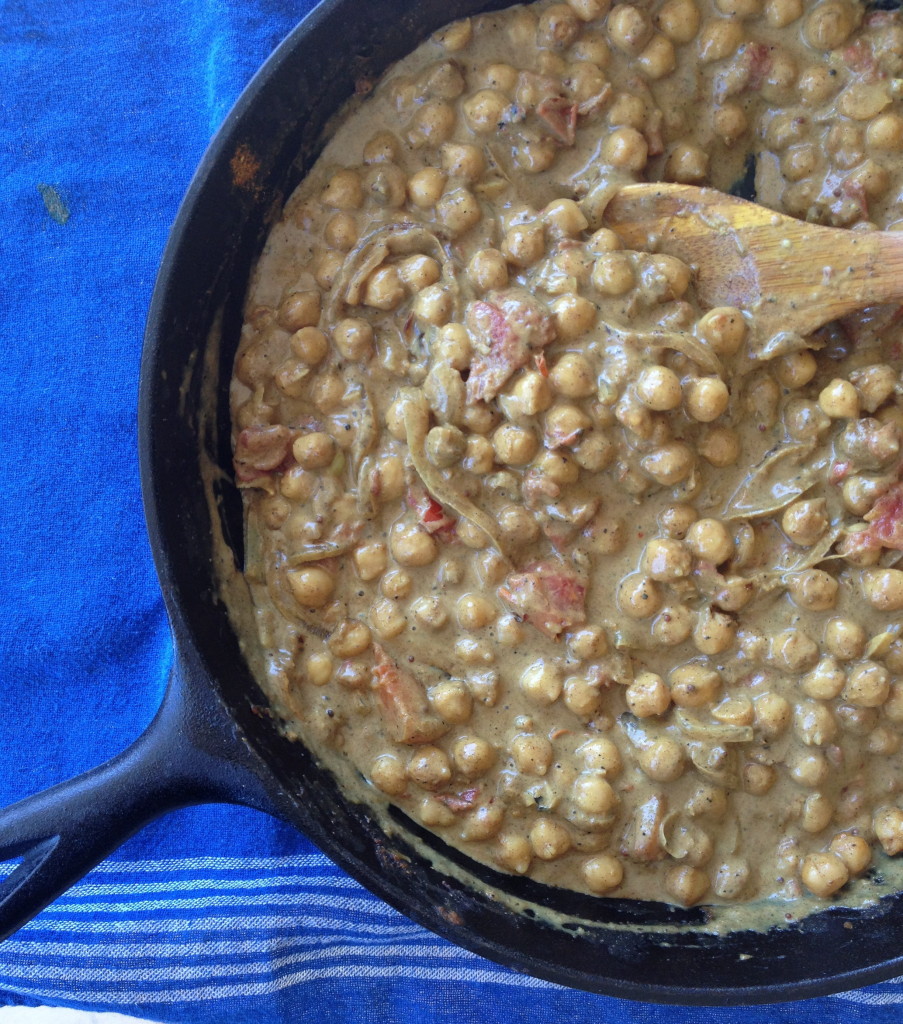 When I first read about the combo of tomato and peanut butter, I was dubious. But stick with me: This Ethiopian chickpea stew (yes, using tomatoes and peanut butter, along with coconut and a few rich spices) is wildly delicious and different.