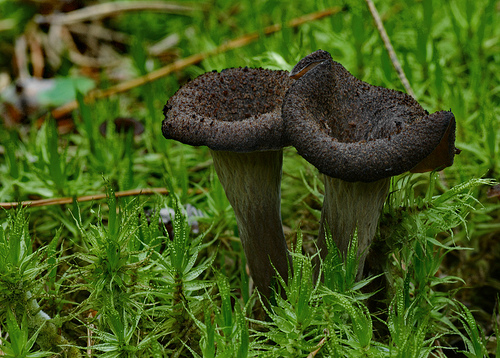 Last week my husband was lucky enough to stumble upon these hard-to-find wild mushrooms while doing ecological field research.
I'd been dying to try the elusive black trumpet, and it didn't disappoint.
Black trumpets are closely related to chanterelles, but much harder to spot because they are perfectly camouflaged on the forest floor. Occasionally black trumpets grow in moss patches like in the photo above, which makes them much easier to see!
These dark brown or black mushrooms are funnel-shaped and as delicate as flowers. They're in season summer through fall in North America, except in California, where they're found in winter.
The black trumpet has no poisonous look-alikes, but is sometimes confused with the inedible Devil's Urn. As always, it's best to go foraging with someone who knows their 'shrooms before you head out on your own.
Black trumpets are wonderfully fragrant and have a potent woodsy flavor. Their earthiness intensifies with dehydration, making them a perfect candidate for dried mushroom powder. Dried mushrooms are a delicious way to add umami to vegetarian and vegan dishes.
If mushroom hunting isn't your thing, you can order dried black trumpets on the web or find them in specialty stores. If you're lucky, you might even see fresh black trumpets  at your local farmers market.
My fiance and I made this linguine with our black trumpets and dehydrated the rest for winter stews and vegan gravy. What a find!
Image courtesy of ressaure via a Creative Commons license.