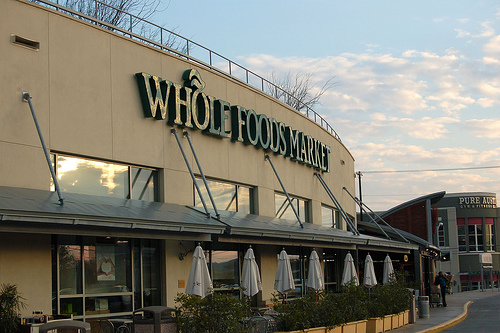 Advertising, as we all know, often employs misleading tactics to sell products. We don't always look twice and read through the illusion. Cornucopia Institute, an organization with the mission of helping us break through the misinformation and the "blurring" of lines between organic and natural, recently caught some sketchy activity by Dean Foods, maker of Silk soymilk, and reported the issue to the USDA for correction.
Thank you, Cornucopia! And thank you to the grocery providers, such as Whole Foods Market, who noticed that and responded in favor of honesty to the consumer and support for hard-working organic soy farmers in the US as well.
Silk Soymilk, Dean Foods Try to Pull a Fast One on Consumers
Silk, which I think has become the leading manufacturer of soymilk in the US, shifted from using organic soybeans last year to only using "natural" soybeans. However, they continued to use a picture in their ads of a carton of organic soymilk. This is like talking out of both sides of your mouth and amounts to nothing short of visual propaganda.
For the consumer who is simply trying to buy a clean product in the middle of their busy day, the blurring of lines is easily done in regards to organic vs. natural. With tricks like this and similar packaging, the differences can easily go unnoticed.
Whole Foods Stands Up to Silk, Dean Foods
Customers want integrity and do not want misinformation. Thankfully, some stores have now dropped Dean Foods from their stores, making the whole thing easier to decipher for the consumer. The entire chain of Whole Foods stores is the biggest player to have done so.
So, even though Dean Foods has jumped the organic ship, its customers won't go down with it.
Of course, we always love to encourage you making your own wholesome foods, and you can always make organic soymilk yourself to ensure integrity, (but I have to say I've never tried that myself). At the least, at Whole foods, you have plenty of alternatives to Silk.  Earth Balance's new organic soymilk products look like they're worth a try, and they are even made strictly from soybeans grown in the US. (Another thing Silk did recently is switch from US-grown soy to soy from China.)
Other good options are old bastions like Edensoy and Organic Valley, also with products made from organic beans grown on American family farms. And you can always try organic almond milk and oat milk, some of my favorites.
The High Price Companies Pay to Fool Their Consumers
How much money was spent by Dean Foods to keep the lines between organic and non-organic blurred? The NY Times reports that Silk spent $29.1 million on advertising in major media last year.
But it is likely to lose much more than that by trying to cut it cheap on the quality front and trying to fool its previously loyal consumers.
Photo Credit: That Other Paper via flickr