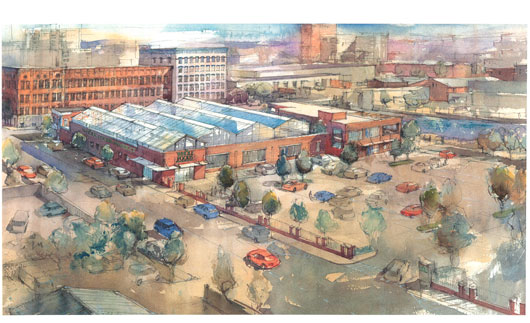 On April 1st, Whole Foods Market announced its intent to partner with Gotham Greens to create a commercial-scale rooftop greenhouse on top of its new Brooklyn store — the first such farm to be integrated with a large retail grocer. The 20,000 square foot farm will sit on top of the soon-to-open Whole Foods store in Gowanus, Brooklyn and will supply fresh, ultra-local, sustainably grown produce year-round to the Brooklyn store and several others in the area. Both store and farm are scheduled to open this fall.
I had not heard of Gotham Greens before reading this news, but this business has captured my fascination (which will come as no surprise to those of you aware of my herb farming dream). Founded in 2008, it has supplied Whole Foods with produce since 2011. The company's mission is to provide its  local customers with the "finest quality, freshest, best tasting, and most nutritious culinary ingredients available in New York City." Its approach to sustainability targets natural resource preservation by minimizing land impact, using hydroponic methods to conserve water, running energy-efficient facilities, and staying local to reduce food miles. Gotham Greens also steers clear of chemical insecticides, pesticides, and herbicides and never uses genetically modified seeds.
We hear much these days about urban farms, backyard chickens, and rooftop gardens. But this partnership "kicks it up a notch" as Chef Emeril would say. A successful, environmentally-conscious grocer partners with one-hell-of-an interesting, sustainable farming company to pioneer a new way to grow, market, and distribute food. Really cool stuff.
A new Whole Foods Market is opening up in my neighborhood later this year. Perhaps the Emerald City-like greenhouse will come later…? I hope so.
Watch this inspiring, five-minute video to learn more.
[vimeo 62903716 w=400 h=300]
If this partnership came to your neighborhood, would you be more likely to shop there? Would you pay more for hyper-local, ultra-fresh produce? Let us know what you think of this endeavor.
Image Credit: Whole Foods Market and Gotham Greens