Heirloom tomatoes are in season now! They come in many shapes, sizes, and colors. Some are gorgeous, some are down-right ugly but, for the most part, they all taste pretty darn good.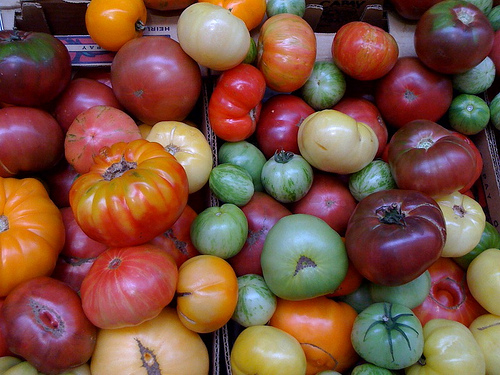 The term "heirloom" is used to describe varieties of tomato that have been cultivated for over 50 years.
Heirloom tomatoes are also open-pollinated, which means that they're pollinated by wind or bees. Open-pollinated plants are capable of producing seeds that are genetically identical to the parent plant. Open-pollination is what allows heirloom tomato seeds to be passed down generation to generation. Hybrid plants, on the other hand, do not reliably produce seeds that have the features of the parent plant, and thus their seeds can't be saved.
My favorite heirloom variety is the Brandywine. It's an incredibly rich and buttery beefsteak tomato.
Brandywines are so delicious that you don't need to dress them up much. I like to rub raw garlic on a piece of toast and then top it with fresh basil and slices of Brandywine tomato. I drizzle the whole thing with olive oil and sprinkle on some sea salt for a delicious snack.
Do you have a favorite heirloom tomato or heirloom tomato recipe? Share it as a comment!
Like this post? You might also enjoy In Season Now: Cherry and Grape Tomatoes.
Image courtesy of wendyness via a Creative Commons license.