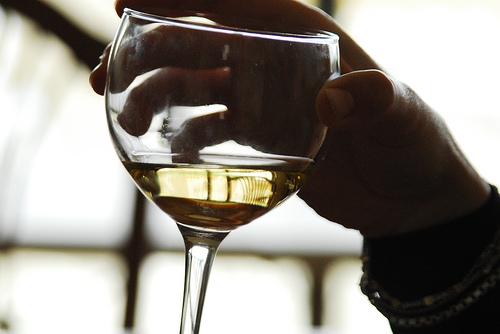 One of the biggest headaches when entertaining, especially during Thanksgiving, is deciding what beverages to serve with dinner. As Karen Page and Andrew Dornenburg (authors of What to Drink with What You Eat) wrote in the Washington Post,

The prospect of choosing a bottle that will please all of your guests and complement all of your dishes can perplex the most confident holiday host.

Even avid wine lovers can be struck with a temporary case of oenophobia — fear of wine — around Thanksgiving. The prospect of choosing a bottle that will please all of your guests and complement all of your dishes can perplex the most confident holiday host.
So what do you do? BYOB is one answer. Another is to let me help you choose a few bottles to uncork without breaking the bank or cashing in that IRA.
I'm going to concentrate on matching wine with the main course, turkey, since the rest of your repast will vary greatly based on region of the country, family history, guest preference and oven space. I love my whites and rosés (see Think Pink) but I'm a believer in drinking reds on that festive day. The turkey itself, has a fairly neutral taste that can marry with most wines, provided they are not too strong.
I have two schools of thought on matching wine with turkey.
One, I will call the Patriotic wine choice. As Slate.com wrote,
Thanksgiving is a uniquely American custom–part of our secular religion–and zinfandel is the quintessential American wine. (Never mind that the vines actually came here from the former Yugoslavia.)

Zinfandel was a lowly grape in the old country, arrived here and, after a while and some luck, blossomed into greatness and wealth. Today, both Thanksgiving and zinfandel are as American as apple pie (which is not really American either, but you get my point).
Zinfandel (red Zinfandel, not that bubblegum tasting, mass marketed white Zin crap) is fruit-forward, rich, slightly spicy and peppery with a touch of ripe dark berry and red cherry. It's the big and bold choice for your Thanksgiving meal. The key is to choose a Zin without big tannins but with mild spiciness and balanced fruit.
In the wine world, the "3-Rs" of zinfandel are Ravenswood, Ridge and Rosenblum. (I add the 4th "R", Rodney Strong.) The problem is that they are big, overpower our timid poultry friend and are usually not the best value.
My recommendations are the Boeger, Walker Vineyard, Zinfandel, El Dorado, California ($16.99) or the Eberle Winery, Steinbeck/Wine Bush Vineyard, Zinfandel, Paso Robles, California ($22.95). Both are well rounded and supple with great mouth feel that won't overpower the delicate bird.
The second option I like to call the Ad Man's wine choice.
"Le Beaujolais nouveau est arrivé!" For over 50 years, Beaujolais nouveau (by French law) is released annually just after midnight on the third Thursday of November, exactly one week before Thanksgiving. Perfect timing to serve as the perfect accompaniment. Coincidence, I think not. It is a triumph of marketing and promotion, similarly in my opinion to the Copper River Salmon.
Beaujolais nouveau is made from the Gamay grape using a technique called carbonic maceration, in which whole grape clusters are thrown into a tank. The tank is then sealed, trapping the carbon dioxide from the fermentation process inside. After three weeks in the tank, the free-run juice is collected, filtered and bottled. Alison Napjus and Mitch Frank from The Wine Spectator said it best, "The resulting red wine is light-bodied, with fresh cherry and berry flavors and a distinctive banana aroma."
My recommendations are the Georges Duboeuf, Nouveau, Beaujolais-Villages, France ($13.99) the region's largest producer or Labouré-Roi, Beaujolais Nouveau, France ($13.00), Burgundy's third largest negociant. As an added bonus, with the 2008 Beaujolais nouveau, Labouré-Roi has launched a major new eco-friendly initiative that features a two-pronged approach to minimizing impact on the environment.
1. Labouré-Roi Beaujolais Nouveau 2008 will be packaged in a lightweight PET plastic bottle (750 ml) to help lower the winery's carbon footprint during transportation.
2. The "One More Tree" campaign helps aid the UNEP's (United Nations Environment Programme) worldwide Plant for the Planet: Billion Tree Campaign to help fight climate change and restore the earth's ecosystems. For each bottle purchased, one tree will be planted in Mali, the seventh largest country in Africa, and also one of the poorest.
The key to both of these wines, and Beaujolais nouveau in general, is to serve it slightly chilled (around 50-55 degrees Fahrenheit) and to remember that it is a "wine to be gulped rather than sipped, enjoyed in high spirits rather than critiqued."
For the ultimate technique for cooking your turkey, see The Perfect Turkey and for more information on Heritage Foods and heirloom turkey see Turkey in August?
Image Credit: Creative Commons photo by paulaloe