What is tempeh? Not all tempeh is the same – here's why local tempeh is more nutritious than its commercially-produced counterparts.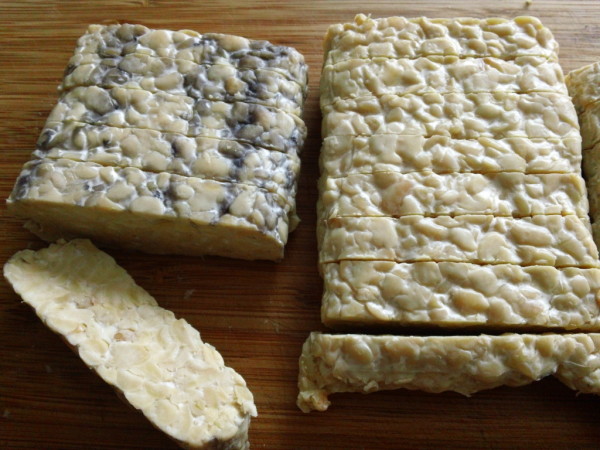 I love tempeh– this fermented soybean product is funky and delicious, and totally easy and versatile in the kitchen. But during some recent research on tempeh I found some stuff that was mildly startling: the tempeh that we're accustomed to in our daily lives is hiding a little secret.
If you've never heard of tempeh, you can think of it as tofu's sexier, healthier cousin. Tempeh is a wonderful soybean food, made with cooked whole soybeans that have been inoculated with culture (Rhizophus Oryzae). This culture grows prolifically on the cooked beans, forming a solid mass (a cake, in tempeh terms) of beans connected with a network of rich mycelium (fungus).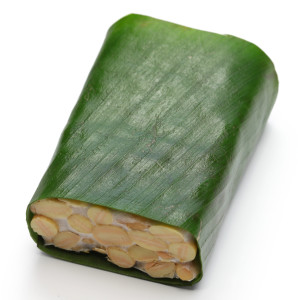 In Indonesia, where tempeh originated, tempeh is made daily and comes wrapped in green banana leaves, the white fuzz of mycelium thick and dense on the beans. This process make the beans into something totally new, wonderful, and more healthful.
Soaking, sprouting and culturing beans and grains makes them more digestible and improves the nutritional value. If you have problems digesting beans and grains, give soaked, sprouted, or cultured ones a try. And if you have trouble digesting soy, tempeh might just be an answer to your problem.
Commercial Tempeh's Dirty Secret
Commercially available tempeh differ pretty significantly from traditional tempeh. I found out that tempeh produced on a large scale is actually pasteurized, which negates many of the healthy benefits the comes from the culturing process.
Though the good plant-protein, improved digestibility and great texture is still there, you lose all the probiotic benefits through the pasteurization process. Confirmed by consumer emails from the companies, both Hain-Celestial tempeh (sold under Westsoy) and Lightlife brand are pasteurized after culturing. These brands are pasteurized to give them a longer shelf life for long hauls across the country and for longer term storage. But it also means we're missing out on all the vital, living energy that has been cultivated for us.
Finding Unpasteurized Tempeh
The solution? Find local, artisanal tempeh or learn to make your own. Tempeh can be made from a variety of beans, including adzuki, black bean, chickpeas or mung beans. Tempeh cultures are available online from a variety of sources. Cultures for Health offers a range of cultures, including tempeh, that can help you get started on your own tempeh making adventures.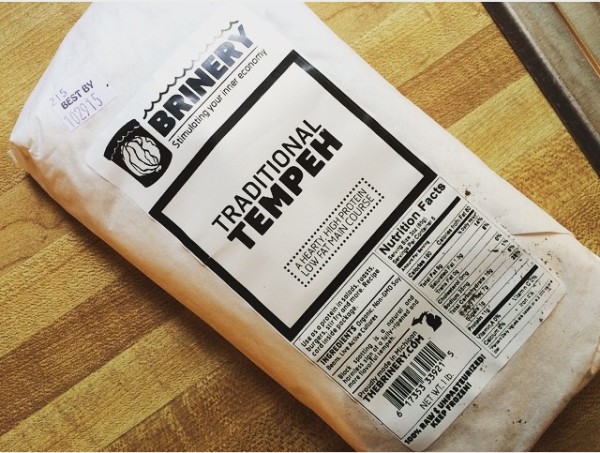 But there are tempeh renegades around the US making their own tempeh and keeping it truly alive! In a recent US road trip, I found companies in Brooklyn, Asheville, Hawaii, and Maine making tempeh from all sorts of beans and selling it locally to keep all those vital cultures alive.
Smiling Hara in Asheville, North Carolina, makes some wild looking black bean and black-eyed pea tempeh. When I was in Asheville this summer I got to experience Smiling Hara, and was so happy to find tempeh that tasted just like it does in Indonesia: fresh, ever-so-slightly tangy, and just perfect. You can find it in restaurants throughout Asheville too, so there was lots of tempeh eating in West North Carolina!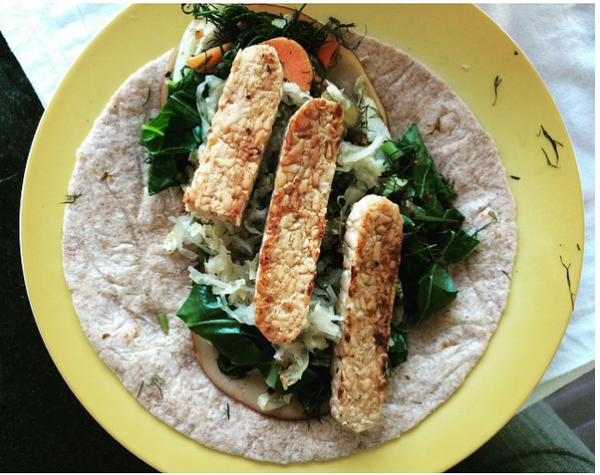 In Detroit (my hometown), The Brinery makes awesome pickles, tempeh, sauerkraut and other fermented awesomeness. I got to sample the goodness (and cook up some tempeh for my soy-scared parents) while I was visiting over the summer.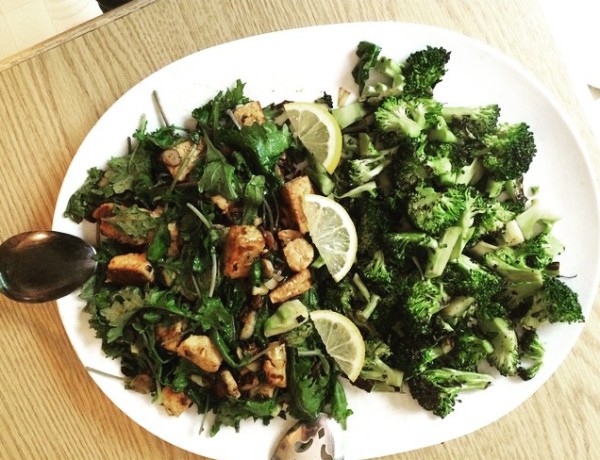 In Hawaii and the Bay Area, in Life Foods (based in Maui), makes their tempeh with mung beans and spices for a uniquely delicious take on this classic vegetarian staple.
There's also Barry's Tempeh in Brooklyn, and Rhizocali Tempeh are making the bean cake in the Bay Area. Lalibela makes local black bean and regular soy bean tempeh in Maine, and Twin Oaks makes it in Virginia. These brands have limited availability because of their short term storage. But if you can get your hands on them– enjoy the true bounty of probiotics, nutrients and yum from these cultured beans.
Tempeh in banana leaf image from Shutterstock; all other images from the author