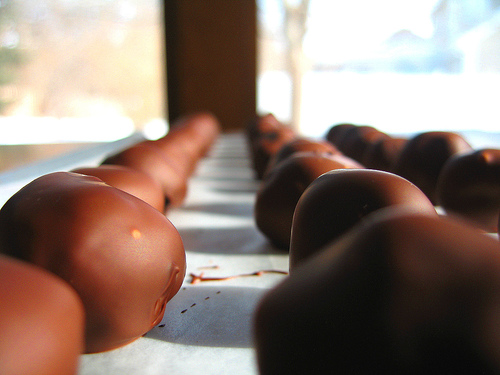 Ultra thick chocolate shakes. Or how about unbelievably rich chocolate truffles?
Vegetables. Maybe a vegan chili? This recipe is incredible, whether you're vegan or not.
Xigua. (If you can find it- It's hard to think of food that starts with X…) A watermelonesque melon.
Yams. As well as all other members of the potato family. Just be sure they are prepared using vegan-friendly oils.
Zucchini. Filled with vitamin C, it is known to prevent a wide variety of diseases.
Image credits:
Vegan Lunch. Creative Commons photo by avlxyz
Apple Logo Fruit Salad. Creative Commons photo by richardthomas78
Lentils. Creative Commons photo by photobunny_earl
Pumpkin Seeds. Creative Commons photo by wiserbailey
Chocolate Truffles. Creative Commons photo by queen_of_subtle