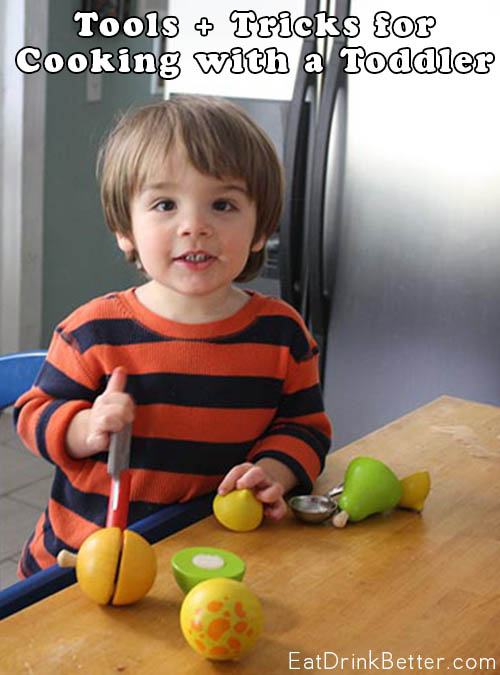 Teaching kids to cook encourages them to eat healthier, and even young kids can get in on the kitchen action. Here are some of the toddler-friendly kitchen activities that I use to get my son interested in cooking and eating healthy food.
My son is two, and he's been "helping mommy" in the kitchen for just under a year. Before we talk about cooking with young kids, I think it's important to take stock of why you'd even bother. The idea isn't that a toddler is going to be helpful in the kitchen, at least at first. When Darrol helps me cook, it usually takes more time and energy, I'm not going to lie. But the time and energy you invest in cooking with your toddler pays off as they hone their skills and as they actually eat the foods they helped make with less of a battle when you all sit down for supper.
These are some of the tools and techniques that we use to get Darrol excited about cooking and eating well. Every kid is different, so see what speaks to you on this list!
1. The Learning Tower – Yes, you can pull a chair or stool up to the counter to help your kid reach, and if splurging on a Learning Tower seems crazy, don't do it. What I like about this piece, though, is that it has rails around the edges, so I can cross a fall off of my list of things to worry about while Darrol is at the counter using a knife or the blender. Our Learning Tower (pictured below) is TARDIS blue (see the picture above), but I think that color is discontinued. It's just as handy in non-scifi colors, though!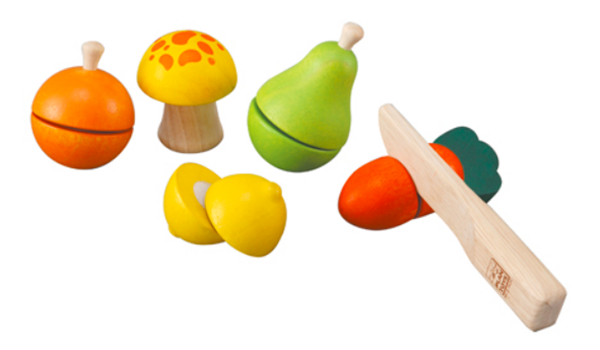 2. Play Food – Sometimes, your kid can't help. I'm not ready to hand him a paring knife, for example, when it's time to chop carrots. Instead, we do parallel play during steps he can't help with. This fruit and vegetable play set from PlanToys* is a lifesaver in my kitchen. Darrol happily cuts the fruit in half (the halves are joined with velcro, so he really can cut them in half!) while I slice, dice, and chop with a grownup knife.
3. Making Smoothies – Darrol loves to drink "yummy smoothies," and he's even more jazzed about ones he helps me make. When you're making smoothies with a toddler, be prepared for about half the fruit to make it into the blender. The other half gets eaten in the process. He can drop frozen fruit pieces and greens into the blender, and I even let him help me cut up bananas with a butter knife and lots of supervision.
4. Preparing Tofu – Like bananas, tofu is soft enough to cut with a butter knife. I sort of guide his hand as we cut together, and he loves it! When I trust him a bit more, I'll back off and let him cut himself. These little tasks might seem small, but it's an intro to knife skills and knife safety that will serve him when he's learning to cook more advanced foods.
5. Setting the Table – When our meal is almost ready, Darrol sets the table. I am not ready to risk my vintage dishware, so his jobs are putting out placemats, distributing our napkins, and setting out silverware. He also helps me or his dad fill up our water glasses.
6. Shopping Together – Darrol loves grocery shopping. We basically eat our way through the store, hitting all of the samples, and he helps me pick out the food we'll be eating that week. Engaging him in stocking the kitchen helps him get familiar with healthy foods, and sometimes I discover new things that I would never have suspected he'd want to eat. On a recent trip to Trader Joe's, I learned that he will eat broccoli slaw if there's mustard or dressing to dip it in. And since he helped me pick out the food, he can help me decide what we're going to eat. Meal planning for toddlers!
Do you have any tips or tricks that you use to help your toddler get acquainted with cooking? I'd love to hear your ideas in the comments!
*This post was sponsored by PlanToys, all of the opinions are 100% mine. I really do use these tricks and tools when I cook with my kid, and he loves being in the kitchen with me!