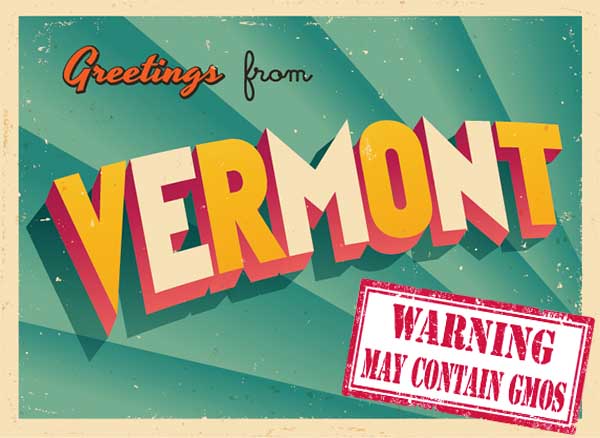 Oregon's GMO labeling law may be kaput for now, but in Vermont the shopper's right to know is still a possibility. The Vermont Right to Know GMOs Coalition sent out a press release this morning announcing that tomorrow morning Burlington's Federal District court "will be hearing the first oral arguments on Vermont's landmark GMO labeling law."
Vermont's House of Representatives passed Act 120 in May of last year, and biotech and big food companies quickly sued the state. The Grocery Manufacturers Association (GMA) is the main culprit behind the suit. You may remember the GMA as the association that put big money into defeating GMO labeling in other states, including Oregon during this most recent election and California's Prop 37.
The Vermont Right to Know law wouldn't just require labeling for foods containing genetically modified ingredients. It also includes language aimed at stopping the rampant misleading use of "natural" on food packaging.
Of course the GMA is freaking out. They're going to have to come up with all new ways to healthwash the junk food they hock.
According to the release from The Vermont Right to Know GMOs Coalition:
"After the oral arguments, the Judge will deliberate and issue a decision, probably within the next few months. We will make sure to provide updates after the hearing for those who cannot attend. This is an exciting moment in our struggle to label GMO foods, and it reminds us how far we have come in the last three years."
If you're in Vermont and want to see the oral arguments, you can visit the courthouse tomorrow morning. The hearing starts at 9:30am on Wednesday, January 7th at the Burlington US District Courthouse.
Want to really get into the details of this case? See all of the legal documents relating to the Vermont Right to Know here.