With food in short supply, residents in Venezuela have been asked to start their own urban gardens. Can Venezuela urban gardens really feed a hungry nation?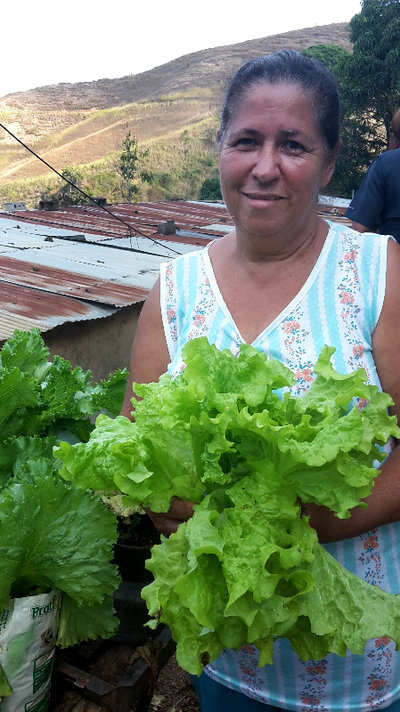 A report on NPR looks at the pending food crisis in Venezuela. With staple foods less available, President Maduro has called upon the population to help themselves by growing their own food.
Sounds pretty great, right? Encouraging more Venezuela urban gardens seems patriotic and helpful. But some critics have called upon the president to do more for the country.
Some of the concerns that have led to the food crisis include expropriation of land, government price controls, a decrease in oil revenues (Venezuela's top export), and a lack of supplies. In addition, over 80 percent of the population lives in cities, which means that gardening could be a challenge– but it doesn't mean that it's an impossible task.
Supplies are a concern though. One resident was quoted as saying,"There is nothing — just like there's no food, there are no seeds, no herbicides … and no medicines to vaccinate farm animals." Some say that the residents don't have the know-how to grow their own food, so the directive is misguided.
All of these concerns make it clearly into a crisis in the making: Phil Gunson of the International Crisis Group, explains that, "At least one in 10 people is eating two meals a day or less. There isn't starvation. We are not talking about famine, but we are talking about malnutrition, particularly in the case of children."
This story was particularly interesting because it reminded me of the awesome story of Cuba's community gardening renaissance that happened only a few decades ago.
When the Soviet Union fell apart in early 1990s, it meant economic devastation to Cuba, as their communist ally. Almost overnight, oil and other supplies stopped coming to Cuba, and Cubans had to learn quickly how to feed themselves and keep their country running. There was widespread starvation and poverty for many years, but Cuba is an amazing success story of the power of self-sufficiency.
The Power of Community is a wonderful film that details how the fall of the Soviet empire was a boon for self-sufficiency and a new healthy community in Cuba. When they stopped getting oil, they needed to relearn how to use animals for farm labor; they had to use bicycles to get around town, and perhaps most importantly, they needed to relearn how to farm without chemical or fossil fuel inputs.
This led to an explosion of organic urban farms and permaculture gardens across the country. You can watch the full film here (subtitled in Spanish). While I don't wish any further challenges on the people of Venezuela, I do think that Cuba offers a positive example of what can happen when people are facing such a crisis. And it's also a word of warning for all of us: when our farms run out of oil for production, how will our organic revolution happen?