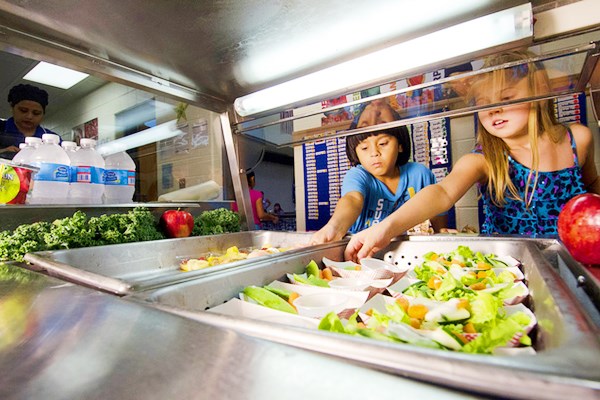 One NYC school implemented an all-vegetarian school lunch menu this year, and already school administrators report positive results. Since shifting towards a healthier lunch program, the school says its students demonstrate better attention and test scores — plus a small but promising decline in obesity rates. Happy National School Lunch Week, veggie-style!
See Dick and Jane Eat Falafel
Public School 244 in Queens, NY, made headlines by transitioning to an all-veggie lunch plan for its 400 elementary students last January. To support healthier habits, the school also maintains a 'no vending machine' policy. According to a recent article in New York Daily News, 'kids also attend weekly nutrition classes where they learn about making smart  food choices, he said. And when their energy lags, the kids get "energy breaks"  that allow them to get up for a minute and be active.'
Kids can bring their own lunch from home, but about 90% of the school's students reportedly utilize the veggie school lunch program. The transition was implemented gradually, facilitated by a head cook who is both a school parent and herself a vegetarian. About 70% of the students at P.S. 244 have families with Asian or Indian roots; this veggie-friendly cultural background may have played a role in both the smoothness of the transition and the popularity of the program with the school's parents and students.
In any case, school administrators report improvements in test scores and student attention since the program's implementation. From a health perspective, they've seen a 2% decline in obesity rates among students — a small change, so far, but a positive indicator that they're onto something good!
For more on childhood obesity and the school lunch revolution, read on:
It's Not Rocket Surgery: Nutrition Matters!
Learning depends on brain development, and brain development depends on good nutrition and regular physical activity. If we're going to pull our public education system from its current dysfunctional quagmire, and reverse the childhood obesity epidemic threatening the health of a whole generation, programs like this one at P.S. 244 deserve close watching — and, as they succeed, emulation.
Image credit: Creative Commons photo by USDAgov.