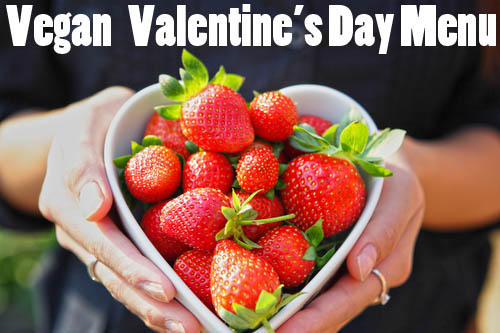 You want a romantic evening but you don't want to deal with reservations. You want to knock your socks off of your valentine with your mad, slick kitchen skills. Well this menu will be your chance to shine and get your romance on.
Have fun, pick out your awesome playlist, light the candles and enjoy!
Pretty in Pink
Ice
1/2-ounce orange liqueur
1/2-ounce creme de cassis or grenadine
Squeeze lemon juice
1-ounce organic vodka
Organic club soda
Lemon slice, for garnish
In a highball glass filled with ice, pour the orange liqueur, creme de cassis, lemon juice, and vodka. Top with club soda and stir. Garnish with a lemon slice and serve.
Stuck On You Caramelized Walnut Salad
1 bulb fennel, halved and cut into 1/2-inch wedges
1/2 cup caramelized walnuts (recipe below)
2 cloves garlic, minced
2 tablespoons brown sugar
1 tablespoon extra-virgin olive oil
1/4 teaspoon salt
1/8 teaspoon freshly ground black pepper
5 ounces (about 6 to 7 cups) mixed salad greens
Red Wine Vinaigrette, recipe below
Preheat the oven to 400 degrees F. Line a baking sheet with parchment paper.
In a medium bowl, toss together fennel, garlic, brown sugar, olive oil, salt, and pepper. Place the ingredients on the baking sheet in a single layer. Cook until the fennel is caramelized, about 20 minutes. Remove from the oven and let cool for 5 minutes.
In a large bowl, place the salad greens, walnuts and caramelized fennel. Toss the salad with the Red Wine Vinaigrette and serve immediately.
Caramelized Walnuts
1/2-cup walnut halves
2 tablespoons brown sugar
1/4 teaspoon salt
Pinch cayenne
1-teaspoon walnut oil
In a medium skillet, cook the walnuts, brown sugar, salt, cayenne and 1 teaspoon of walnut oil over medium-high heat. Cook until the sugar caramelizes and coats the nuts, about 5 minutes, stirring occasionally to separate the nuts. Transfer to a baking sheet covered with waxed paper to cool.
Red Wine Vinaigrette
2 tablespoon red wine vinegar
1 tablespoon lemon juice
1/2 teaspoon agave
1/2 teaspoon salt
1/8 teaspoon freshly ground black pepper
1/4 cup extra-virgin olive oil
Mix the vinegar, lemon juice, agave, salt, and pepper in a blender. With the machine running gradually blend in the oil. Season the vinaigrette, to taste, with more salt and pepper, if desired.
Tipsy Vodka Cream Sauce Pasta
Kosher salt
12 ounces penne pasta
1 28-ounce can whole plum tomatoes
1 tablespoon vegan butter
2 shallots, minced
1 clove garlic, minced
1/4 teaspoon red pepper flakes
1/2 cup vodka
2/3 cupvegan heavy cream (1 block of silken tofu (12-ounces) and 1/2 cup of plain soy milk. Blend in blender until thick and creamy and there are no more lumps)
1/2 cup nutritional yeast or grated pumpkin seeds, plus more for topping
Handful of fresh basil leaves, torn, plus more for topping
Bring a large pot of salted water to a boil. Add thepenne and cook as the label directs. Reserve 1/2 cup cooking water, then drain the pasta. Empty the tomatoes into a bowl and crush with your hands.
Meanwhile, melt the butter in a large skillet over medium heat. Add the shallots and cook, stirring occasionally, until slightly softened, about 3 minutes. Add the garlic andred pepper flakes and cook, stirring, 30 seconds. Remove from the heat and stir in the vodka, tomatoes and salt to taste. Return the skillet to medium heat and simmer, stirring often, until the alcohol cooks off, about 7 minutes. Stir in the heavy cream and cook until the sauce thickens slightly, about 3 minutes. Stir in the parmesan and basil.
Add the pasta to the sauce and toss to combine, adding some of the reserved cooking water to loosen, if needed. Season with salt. Serve topped with more parmesan and basil.
Spice Up Your Night Chocolate Strawberries
6 ounces vegan chocolate, chopped
3 tablespoons vegan heavy cream (1 block of silken tofu (12-ounces) and 1/2 cup of plain soy milk. Blend in blender until thick and creamy and there are no more lumps)
1 tablespoon vegan butter
1/8 teaspoon ground pure chili powder, such as ancho
10 large strawberries with long stems
In a heat-proof mixing bowl, add the chocolate, cream, and butter. Place over a smaller pot of simmering water. Be sure the water does not touch the bottom of the bowl. Stir until chocolate is melted. Stir in the chili powder and mix until fully incorporated.
Hold each strawberry by the long stem and dip into the chocolate allowing the excess to drizzle back into the pan. Place chocolate covered strawberries on a parchment or waxed paper lined sheet tray. Once chocolate is cool, chill until fully set, about 30 minutes.
Image Credit: Strawberries photo via Shutterstock