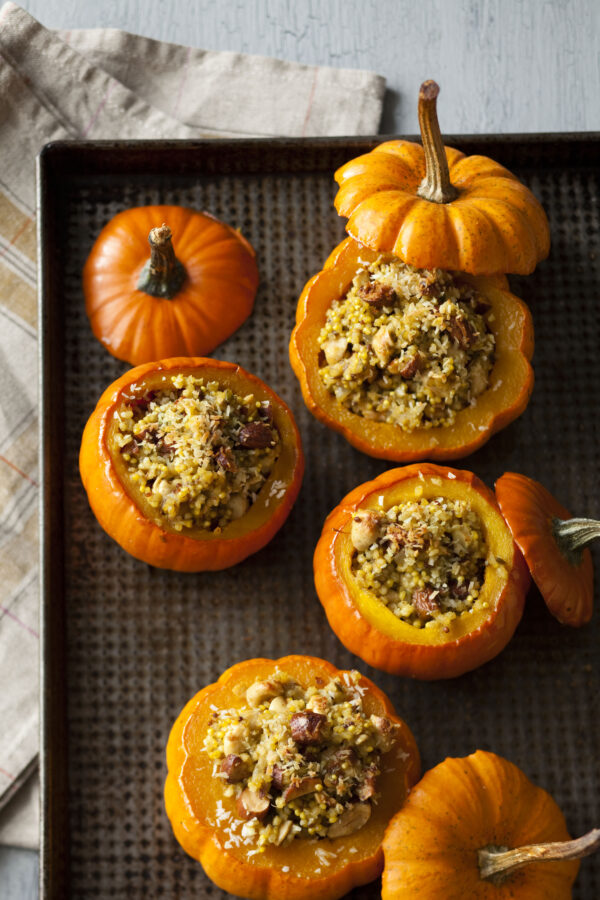 I must admit that I'm not all that attuned to vegan cooking. But, this year we have some vegan guests coming to our Thanksgiving meal so I was thrilled to find this festive and hearty recipe from Big Vegan, the beautiful, new cookbook from Robin Asbell.
Nutty Curry-Stuffed Squashes
These colorful, single-serving squash halves are speckled with golden millet, green jalapeño, and crunchy nuts. Redolent of spice and a touch of coconut, they will draw your guests to the table by scent alone.
Yield: 6 servings (Note from JK: Although this recipe calls for 3 mini pumpkins to serve 6 people, I might splurge and give each guest their own mini pumpkin…)

Ingredients
3 small

sweet dumpling squashes or mini pumpkins (about 13 oz each)

1 teaspoon

canola oil, plus extra for pans

1/2 cup

chopped onion

1 tablespoon

minced peeled fresh ginger

1 teaspoon

black mustard seeds

1

medium jalapeno, chopped

1 teaspoon

whole cumin seeds

1 teaspoon

ground coriander

1/4 teaspoon

ground turmeric

1/4 teaspoon

ground cinnamon

1/4 cup

millet

1/2 cup

coconut milk

1/2 teaspoon

salt

1/2 cup

raw cashews

1/2 cup

whole almonds, toasted

2 tablespoons

shredded/desiccated unsweetened coconut
Cooking Directions
Preheat the oven to 400°F.
Cut the squashes in half from the stem to the tip. Scoop out the seeds and place them cut-side down on oiled baking sheets/trays.
Bake for 10 minutes (they will not be completely cooked). Take the pans out and flip the squash halves over. When they have cooled slightly, use a spoon to cut into the flesh, loosening it in spots but leaving it in the shell so that the sauce will permeate the whole squash. Reduce the oven temperature to 375°F.
In a 2-qt saucepan, heat the oil. Add the onion, ginger, and mustard seeds and saute over medium-high heat until the onion is golden, about 5 minutes. Add the jalapeno, cumin, ground coriander, turmeric, and cinnamon and stir until they are fragrant. Add the millet and stir to coat, then add the ¼ cup water, the milk, and salt and bring to a boil. When it boils, cover the pan and turn the heat to low. Cook until the millet is tender, about 20 minutes.
Take the pan off the heat and stir in the nuts, then stuff the mixture into the squashes. Sprinkle each with 1 tsp coconut.
Bake the squashes until the filling is set and bubbling and the squashes are easily pierced with a knife, about 20 minutes. Let them cool slightly before serving.
Photos: Kate Sears
Wine Pairing Suggestion From

Crisp and fruity, the flavors of this sun ripened chardonnay combine hints of melon, white peach, and apple balanced with notes of lychee nut tropical fruits. The French Oak Barrels add a touch of almond and vanilla that dance across the mid palate. A rich wines that pairs perfectly with rich food.