I know, it's only August, but in a lot of places we're already seeing some tiny signs of fall. It's a little bit cooler in the mornings and evenings, and even here in Atlanta we have a touch of a breeze from time to time.
Honestly, I could eat soup and stew year-round, even in the heat of summer, but now that the weather's about to change, proper soup season is almost upon us! Even if it's not cold where you are yet, now's a good time to whip up some soups to keep in the freezer, so you can heat them up for quick fall suppers. Now that school is back in session, chances are your evenings are a little bit more hectic than during the lazy days of summer, and having a few easy meals in the freezer can help you resist the urge to order expensive delivery food.
These vegan soups and stews are hearty, tasty, and totally free of animal products!
1. Coconut Eggplant Tomato Bisque – Now is the perfect time to make and freeze a batch or two of this soup. When fall rolls around and you're missing those seasonal tomatoes and eggplants, you can heat up some of this filling soup.
2. Tempeh Chili Con Frijoles – Tempeh adds a meaty texture to this deeply-seasoned chili recipe.
3. Sunchoke and Carrot Soup – A simple vegan soup that can stand alone with some crusty bread or makes a great side dish.
4. African Peanut-Potato Stew – Sweet potatoes and peanut butter make this soup hearty, creamy, and delicious!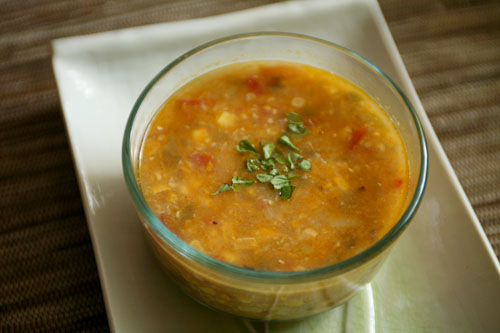 5. Vegan Maque Choux – A vegan take on a Cajun classic. You won't miss the meat!
6. Root Veggie Chowder with Collard Ribbons – Leafy greens are right around the corner, and they make a great addition to a filling soup.
7. Cilantro Coconut Tofu Soup – Can you ever go wrong with coconut, cilantro, and a little lime? Answer: no!
8. Vegan Cream of Broccoli – Broccoli is another one of my favorite fall veggies, and I love that this creamy soup uses potatoes instead of vegan milk to make it creamy!
9. Indian Spiced Sweet Potato Soup – Indian spices go so well with sweet potato and kale in this stick-to-your-ribs soup!
10. Roasted Red Pepper, Garlic, and Butternut Squash Soup– This super-simple fall soup only has four ingredients! Talk about easy.
Do you have a favorite vegan soup or stew recipe? I'd love to keep the comfort food inspiration going in the comments!
Image Credits: Vegan Soups and Stews photo by Becky Striepe, Vegan Maque Choux photo by Bonnie Heath