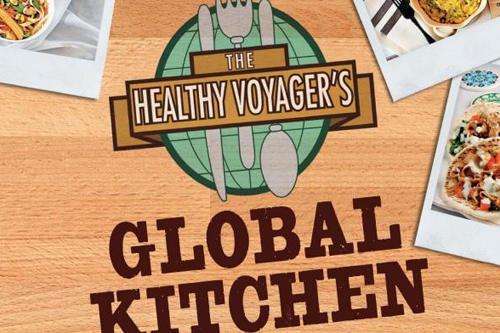 Welcome to Week 2 of The Healthy Voyager's Global Kitchen Holiday Cook-A-Long Contest!
This week we will be featuring recipes from the following Healthy Voyager's Global Kitchen Chapters:
Greece
India
China
Middle East
Caribbean
To Enter: Choose one or more of the recipes below, cook and upload your photo(s) of the recipe(s) to The Healthy Voyager Facebook Page, along with your favorite holiday travel memory or wish.
Readers will vote on recipe photos, with the winning recipe receiving a copy of The Healthy Voyager's Global Kitchen along with goodies from Daiya Cheese and Gardein!
Good luck and enjoy your international recipe!
This week's vegan recipes:
1. More Moussaka, Please! (Vegetable and white sauce casserole)
Yields 6 to 8 servings
Moussaka Ingredients
1 1/2 pounds eggplant (about 2 medium sized), sliced into 1/4 inch rounds
Salt and pepper, to taste
1/2 pound zucchini (2 small)
5 tablespoons olive oil, divided
2 teaspoons thyme, minced, divided
1 cup onion, finely chopped (1 medium)
5 tablespoons olive oil
2 large portobello mushrooms, stemmed and chopped
1/2 pound seitan or vegan ground beef
4 cloves garlic, minced (separate out 1 minced clove)
1 teaspoon cumin
1/2 teaspoons cinnamon
1/4 teaspoon allspice
1 cup crushed tomatoes, drained
2 tablespoons tomato paste
1 teaspoon lemon juice
1 cup bread crumbs
1 1/2 pounds Russet potatoes; peeled, cooked and mashed with a little salt and pepper
1 cup béchamel sauce (below)
Bechamel Sauce Ingredients

3 tablespoons vegan butter
3 tablespoons flour
2 cups plain soy milk, blended with 1 large block of silken tofu
1 vegetable bullion cube
Dash of nutmeg
Pepper, to taste
Cooking Directions
Arrange a single layer of eggplant rounds on baking sheet. Sprinkle each slice with salt, turn, and repeat. Let sit for 30 minutes. Slice the zucchini into 1/4 inch, round slices. Arrange in single layer on another baking sheet.
Rinse eggplant briefly and pat dry, rinse and dry the baking sheet, then lay out eggplant rounds again.   Preheat oven to 375ºF. Combine 1 tablespoon olive oil with pepper and 1 teaspoon thyme. Brush this mixture over both sides of eggplant and zucchini, then bake both trays of veggies until softened, about 20 minutes. Remove from oven and set aside.
Heat 2 tablespoons oil in frying pan, add onions, and sauté over medium-low heat until soft, about 10 minutes. Meanwhile, place Portobellos in food processor along with seitan, and pulse. Add to onions in the frying pan and increase heat to medium to fry, stirring occasionally, until pan is dry. Add 3 cloves garlic, cumin, cinnamon, allspice, tomatoes and tomato paste and continue cooking, stirring occasionally, until fairly dry, about 15 minutes. Stir in salt and pepper to taste as well as lemon juice and set aside.
Preheat oven to 350ºF. Combine bread crumbs with remaining garlic clove, teaspoon thyme, and 2 tablespoons olive oil.
Arrange half of the eggplant in the bottom of a lasagna baking dish, followed by a layer of half of the seitan-mushroom mix, then a layer of half of the mashed potatoes. Continue layering with the remaining eggplant, then zucchini, then remaining seitan-mushroom mix, then the rest of the mashed potatoes. Pour the béchamel all over the top, then top with bread crumb mixture. Bake until golden brown and not jiggly, about 30 minutes. Let sit 5 minutes before serving.
To make sauce: In a medium saucepan, melt the butter over medium heat and carefully add the flour. Whisk continuously for 2 to 3 minutes, until smooth and free of lumps. Add the milk/tofu mixture slowly along with the bullion, whisking constantly until sauce has thickened. Lower the heat as much as possible and simmer, stirring occasionally, for 15 to 30 minutes, depending on desired thickness. Season with nutmeg and pepper.
2. Pakora Poppers
Yields 4 servings
Pakora Ingredients

1 cup chickpea flour
1/2 teaspoon ground coriander
1 teaspoon salt
1/2 teaspoon turmeric
1/2 teaspoon chili powder
1/2 teaspoon garam masala
2 cloves garlic, minced
3/4 to 1 cup water
Safflower or peanut oil, for deep frying (or preferred high heat oil)
2 white or yellow onions, sliced into rings
Cauliflower florets
Sweet potatoes, cut in to small cubes
Broccoli florets
Mint Yogurt Dipping Sauce Ingredients
1 cup plain vegan yogurt
Juice of 1 lime
3 cloves garlic
1 cup fresh mint
1 teaspoon cumin
1 teaspoon paprika
1 teaspoon coriander
Salt and pepper, to taste
Cooking Directions
To make pakora: Sift the chickpea flour into a medium bowl. Mix in the coriander, salt, turmeric, chili powder, garam masala and garlic.  Make a well in the center of the flour mix. Gradually pour the water into the well and mix to form a thick, smooth batter.
Over medium high heat in a large saucepan or fryer, heat the oil to 375ºF, about 2-inches deep. Coat the cauliflower, onions, sweet potatoes and broccoli in the batter and fry them in small batches until golden brown, about 4 to 5 minutes. Drain on a paper towel lined plate before serving.  Serve hot with mint yogurt dipping sauce.
To make sauce: Place the yogurt, lime juice and garlic in a blender and puree on high until smooth. While blending, slowly add in the mint, coriander, and cumin. Season with salt and pepper.
3. Some Like It Hot & Sour Soup
Yields 6 servings
"Meat" & Tofu Ingredients
1 large block tofu (14 ounces), extra firm, pressed and drained
1/2 cup seitan
Marinade Ingredients

1 teaspoon soy sauce or tamari
1/2 teaspoon sesame oil
1 teaspoon tapioca starch (or cornstarch)
Other Ingredients

1/2 cup bamboo shoots
3 to 4 Chinese dried black mushrooms or fresh mushrooms of your choice
5 cups water
1 cup vegan chicken bullion broth (make with vegan chicken bullion)
2 teaspoons ginger, minced
1 teaspoon granulated sugar
2 tablespoons soy sauce or tamari
2 tablespoons red rice vinegar, white rice vinegar, or red wine vinegar
1 teaspoon sesame oil
1 teaspoon salt, or to taste
1 tablespoon cornstarch dissolved in 1/4 cup water
1 green onion, finely chopped
White pepper, to taste
Hot chili oil, to taste (optional)
Chopped cilantro for garnish
Cooking Directions
Slice seitan into thin strips. Mix marinade ingredients and marinate seitan for 20 minutes.
Cut tofu into small squares. Cut bamboo shoots into thin strips and then into fine slices. If substituting Chinese dried mushrooms, soak to soften, then cut off the stems and cut into thin strips. If using fresh mushrooms, wipe clean with a damp cloth and slice.
Bring the water and broth to a boil. When it is boiling, add the bamboo shoots, mushrooms, ginger and stir. Add the tofu. Bring back to a boil and add the marinated seitan. Stir in the sugar, soy sauce and vinegar and sesame oil. Test the broth and adjust the taste if desired, season with salt to taste.
Slowly pour the cornstarch/water mixture into the soup, stirring while it is being added. Let the broth come back to a boil. As soon as it is boiling, remove the broth from the stove. Add the green onion and the white pepper to taste. Drizzle with chili oil if desired and garnish with some chopped cilantro.
4. Halva Piece of the Middle East (Semolina candy)
Yields 4 to 8 servings, depending on size
Ingredients
1 3/4 cups soy milk
3 tablespoons rosewater
1 to 2 teaspoon vanilla extract
1 teaspoon ground cardamom seeds
4 tablespoons sugar
1 cup coarse semolina
3 1/2 tablespoons raisins
1 teaspoon slivered almonds
Cooking Directions
Heat the milk, rosewater, vanilla, ground cardamom seeds and sugar in a pan over a medium heat for 4 to 5 minutes.
Add the semolina and raisins and cook, whisking continuously, for about 5 to 10 minutes, or until the mixture has thickened.
Remove from the heat and mix in the slivered almonds. Spoon the mixture into a deep baking tray. Set aside and allow to cool. Once cooled place in the freezer for at least 10 minutes up to an hour as this extra setting time will make it easier to slice.
Remove from the freezer and cut into squares.
5. Jerk Un-Chicken
Yields 3 to 6 servings
Un-Chicken Ingredients
6 vegan chicken filets
1 lime, halved
Pinch of salt
4 to 5 tablespoons of Jerk seasoning
8 to 12 pimento or allspice leaves
Jerk Seasoning
1 red onion, chopped
1 1/2 teaspoons dried thyme
1 teaspoon ground allspice
1/2 teaspoon ground cinnamon
4 teaspoons white pepper
1/4 cup green onion tops, chopped
2 teaspoons salt
1/4 teaspoon ground nutmeg
5 small jalapenos (you may add or subtract based on spice tolerance)
2 tablespoons olive oil
Splash of rum
Cooking Directions
Put all the seasoning ingredients into a food processor and mix on high for 15 pulses.
To make the Jerk chicken, rub the chicken filets with lime and salt. Then rub the seasoning mix over them. Marinate in the refrigerator for 8 hours up to overnight (this yields the best results.)
Preheat a grill or grill pan to medium high heat. Spread the pimento leaves on the grill and grill on medium-low heat. Add the filets and grill the chicken for about 10 minutes, turning often to optimize cooking and browning. Let filets sit for 10 minutes and serve.
Did you miss the recipes from week 1? You can check out last week's vegan recipes right here!