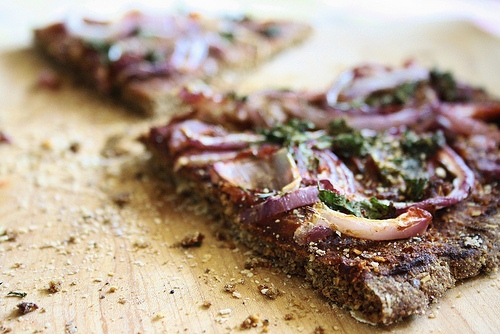 With a delicious, crunchy, falafel crust, this vegan pizza is far from typical. 100% gluten-free, full of protein, fiber, and incredibly healthy! Doesn't sound very much like a pizza, does it?
Vegan Pizza with Falafel Crust
Yield: Makes 1 large falafel pizza crust.
Ingredients
1/2 cup

ground,

cooked chickpeas, black beans, or lentils

1 1/2 cup

oat flour

1/3 cup

ground flax seeds

1/4 cup

olive oil

3 teaspoons

salt

1 teaspoon

baking soda

1 teaspoon

molasses

cumin, curry, cayenne, and thyme spices, to taste (optional)

Toppings:

1 tablespoon

pesto sauce

1

red onion, sliced

1

tomato, sliced

black olives

fresh basil, rosemary, and thyme, to taste

salt and pepper, to taste
Cooking Directions
Preheat your oven to 400°F.
Mix all of the ingredients (besides the toppings) in a large bowl and stir until a thick batter forms. When you can no longer stir, use your hands to press the ingredients together.
Form the dough into a ball, and use a floured rolling pin to flatten it to 1/2 a centimeter in thickness. Bake for 10-15 minutes at 350°F.
Once the crust has baked, layer on your toppings and bake the pizza for another 20 minutes or until crispy.
Enjoy!
Looking for more vegan pizza inspiration? Check out some of our more traditional vegan pizza ideas.