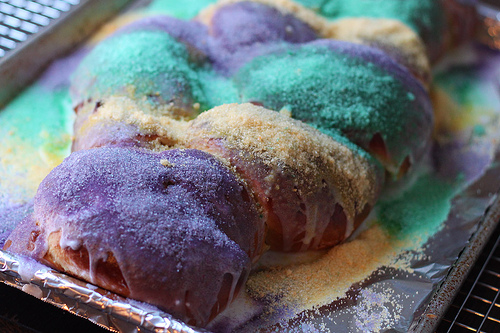 Happy Fat Tuesday! Just because you couldn't make it to Mardi Gras this year doesn't mean you can't celebrate with your very own king cake! Here are a few good, vegan king cake recipes to get you into the Mardi Gras spirit.
The ever amazing Kittee shares a recipe for vegan king cake. Kittee's recipes are always top notch!
Peta's king cake recipe gets rave reviews.
If cake's not your thing, you can still celebrate with Fat Free Vegan's gluten free king cake cookies. Gluten free baked goods can be hit or miss, and 100% trust her gluten free baking powers. The Fat Free Vegan has never steered me wrong.
Are you guys planning any kind of Mardi Gras shindig? Is king cake on the menu? Tell us what's cooking on this beautiful Fat Tuesday!
Image Credit: Creative Commons photo by Emily Carlin