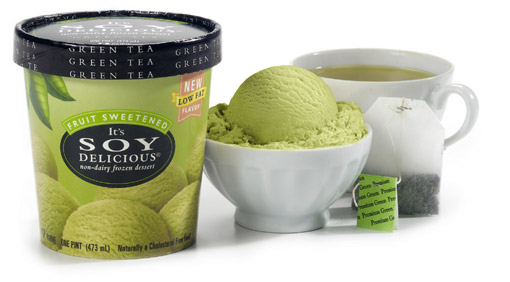 It's been hovering in the upper 90s here in Atlanta, and weather like this makes me crave ice cream like no other. This year, I'm on the hunt for my favorite vegan ice cream! The plan is to try new pints each week and share my findings right here. I know, it's a tough life I've got.
This is going to be the last week for this challenge. Next week, I'll do a wrap up and pick a favorite!
While staring at the frozen foods, I realized that despite reviewing vegan ice creams for weeks and weeks, I'd somehow managed to not pick a soy-based brand the entire time! Let's be honest here: part of that was intentional. I'm not a fan of that soy aftertaste, especially in desserts. Still, in the name of science, it felt like the right thing to do, so I grabbed a pint of Soy Delicious green tea ice cream. This is a soy-based brand made by Turtle Mountain: the same folks who produce the Purely Decadent coconut-based ice creams. It's gluten free and the label touts that it's "fruit sweetened." Here's how it stacked up:

The Stats
Ingredients: ORGANIC SOYMILK (FILTERED WATER, ORGANIC SOYBEANS), TAPIOCA SYRUP AND/OR BROWN RICE SYRUP, CHICORY ROOT EXTRACT, SAFFLOWER OIL AND/OR SOYBEAN OIL, MIXED FRUIT CONCENTRATE (PINEAPPLE AND APPLE SYRUPS, PEAR AND PEACH CONCENTRATES), NATURAL PLANT FIBER, POTATO SUGAR, GREEN TEA POWDER, CAROB BEAN GUM, GUAR GUM, CARRAGEENAN, POTATO STARCH.
Calories per 1/2 cup: 110
Total fat per 1/2 cup: 1.5g
Total saturated fat per 1/2 cup: 0g
Total fiber per 1/2 cup: 2g
1/2 cup contains: 6% of your iron and 2% of your calcium (based on a 2000 calorie diet)
Price: $3.99 per pint
The Verdict
Well, color me impressed! Not only is this ice cream low in calories and in fat, there was no detectable soy aftertaste! The slight bitterness of the green tea completely masked it. The ice cream was light but creamy with a strong green tea flavor. If you're not a green tea fan, this is definitely not for you.
While the ice cream is juice sweetened, it also contains tapioca and/or brown rice syrup as the second ingredient (before the juice concentrate), which I thought was a little misleading. It's also sweetened with potato sugar. That said, it didn't taste overly sweetened at all. There was just enough sweetness to jive with the green tea flavor.
This brand was a noticeably softer than the other pints I've tried, and it melted a bit faster.
If you want to give this ice cream a whirl, check out Turtle Mountain's store locator to find a pint! You can also download a pdf of all the Turtle Mountain products' allergy info right here.
Image Credit: Turtlemountain.com