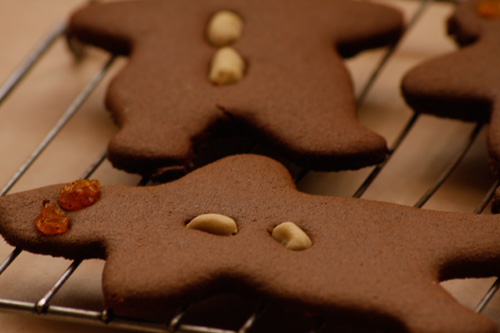 One of my favorite treats (especially through the holidays) is gingerbread cookies, and I've gone through a lot of experimentation to come up with the best vegan gingerbread recipe. It creates the perfect texture for cutouts or houses. You can even make them into gingerbread ornaments for your tree…
The great thing is that ginger is actually really good for you. It's better when it's fresh, rather than ground, so if you want to replace the ground ginger, just grate some fresh ginger and squeeze out about a teaspoon of juice.
Vegan Gingerbread Cookie Recipe
Prep time: 30 min. Cook time: 12-15 min.
Time from start to eating: 42-45 min.
Makes: 30-40 cookies, or 1 gingerbread house.
Ingredients
1/2 cup

brown rice or maple syrup

1/2 cup

molasses

pinch of

salt

1 1/2 tsp

ground ginger

1 tsp

ground allspice

1 tsp

ground cinnamon

1/2 tsp

ground cloves

1 tsp

baking soda

1/2 cup

coconut oil

2 1/2 – 3 cups

whole wheat (or other whole grain) flour
Decoration Ideas
Dried cranberries
Dried apples
Raisins
Peanuts
Slivered almonds
Unsweetened coconut
Cooking Directions
In a medium pot, combine the syrup, molasses, salt and spices. Heat to a light boil over medium heat, stirring occasionally. Remove the pot from the heat, and stir in the baking soda and oil until it's thoroughly combined.
Add 2 1/2 cups of the flour, and fold it in gently to the molasses mixture.
On a floured surface, knead the dough until thoroughly blended, adding additional flour as necessary until you get a solid but soft dough. Divide the dough in half, wrap one piece in plastic wrap and set aside. You can chill the dough before rolling, but it's not absolutely necessary.
Preheat oven to 325F. With floured rolling pin, roll the dough out to slightly less than ¼ inch thick. With floured cookie cutters or a knife, cut dough into shapes (or according to dimensions for a house). Reserve trimmings and reroll.
Place cookies, spaced slightly apart since they will spread a little, on cookie sheets. If you plan to hang cookies as decorations, make a hole in the top at this point. Decorate the cookies with nuts and/or dried fruit, pressing them into the dough so that they'll stick.
Bake until brown around edges, about 12 min. Makes 30-40, depending on size of cookie cutters you use.
You can also watch a free video of me making these vegan gingerbread men and ladies.
Image credit: Heather Nauta of Healthy Vegan Recipes