Let's face it: there are times where, despite our best efforts, our only options just might be fast food, especially on vacation or a road trip. Try these vegan fast food options, next time you're in a pinch!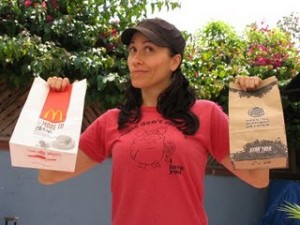 On a road trip or in a podunk town with little to no options for a healthy meal, I've found ways to navigate the fast food menu. I do not, I repeat, do not, advocate the consumption of fast food except for in a pinch and other compromising situations. So I suggest you bookmark this article in case of emergency!
Editor's Note: Fast food joints periodically change their recipes. Definitely try to confirm before ordering, if possible. If you see something outdated on this list, hit us up via the contact page, so we can keep this updated!
Here are some of the biggies:
Arby's. Um, its pretty tough here. You have to pick a lot off of the salads and read the ingredients on the dressing packets to be 100% safe. The market fresh sandwich bread had honey in it.
Baja Fresh. I love Baja as everything is made fresh with no lard, msg, etc. I go for the tostada salad with no meat, cheese or sour cream and pile on salsa, guac and all their cool fixin's from their salsa bar. It's chock full of beans, rice and crispy veggies. You can also go for the veggie burrito or tacos with no cheese or sour cream!
Burger King. Well, vegans, no can do on the veggie burger as it contains egg whites but the fries are fried in a separate fryer with no animal products. Not so much for the onion rings, they a cooked in a shared fryer. I say you're safest here with a salad and to find out before you drown your greens, what is in the dressings they happen to have available at that store. Again, there is always, salt, pepper and a lemon wedge. I have heard that the french toast sticks are vegan (check out the ingredients here – scary, but animal free), good in a breakfast time pinch!
Carl's Jr/Hardee's. A side salad with no cheese and balsamic vinaigrette seems to be the safest bet here. If you are so inclined to fill your tummy, their fries or hash brown nuggets are vegan as well. You can also grab a taco salad without the meat, cheese or sour cream.
Chipotle. Another great place in a pinch for healthy fast food. The black beans, rice, guac, and tortillas are all vegan so eat away people and create your dish however you choose.
Coffee Bean. Soy lattes and hot tea with soy milk here. No yummy flavored drinks as they use powders that all contain dairy.
Del Taco. From what I can decipher, the veggie works burrito without cheese or sour cream is vegan as are their fries. Make sure you ask a manager before ordering.
Domino's. Crunchy thin crust is the only vegan crust (contains soy for those sensitive to it). Their pizza sauce is dairy free, so pile on the veggies and order up! Salads are ok without cheese and any of the Italian dressings. Skip the breadsticks, as they contain dairy as well. Go ahead and get the pasta primavera but swap the alfredo for pizza sauce (not marinara as it has cheese in it).
El Pollo Loco. If you catch yourself around here, sides are alright. Like a side salad with no cheese, pinto beans and some veggies with no margarine. Slather all your stuff in salsa!
Jack in the Box. Well, here is a place you have some ok options outside of a salad. The Teriyaki Rice Bowls are veganizable by dropping the meat out and are packed with veggies. Sugary ones, but veggies nonetheless. Sometime you just gotta take what you can get ; ) Go for a taco here by ordering it with black beans instead of meat and leaving off the cheese. Fries and hash brown sticks, while greasy, are vegan friendly. In addition, Jack food is all made to order so you're likely to get a fresher meal here than with the burger royalty.
McDonald's. Oh yes, the golden arches. It can be done if there is no choice. Don't even think about the fries if you're vegan, as they contain beef and milk. Not even kosher! Although, you can go for a side salad and ask for the cilantro lime as that one, despite being chemically, is still vegan. Or opt for salt, pepper and a lemon wedge. You can veganize the other salads by picking off the croutons and cheese, if you're OK with that, and you can get their new iced coffees sans milk.
Pizza Hut. Vegans, we are screwed here unless we order multigrain dough with no sauce and tons of veggies. All other sauces and doughs contain dairy.
Pollo Tropical. I am a sucker for Cuban food so the sides here make me very happy! Boiled yucca in garlic sauce, plantains, and some rice with black beans. They also offer the veggie tropichop which is like a cuban veggie rice bowl. Oh so good!
Quizno's. These guys aren't far behind Subway. I do love a warm sandwich, but Subway has better veggie options. At Quizno's I order a veggie sub, no cheese or mayo, add guac and vinaigrette. Toasty yumminess!
Starbucks. Soy latte, soy tea latte, soy chai latte, yum! If you need the extra flavors, they use syrups for most of them and they too are vegan but loaded with chemicals and high fructose corn syrup. Also, Frappucinos can be made with soy now so have at it for a sinful treat! If you're hungry, go for the tofu and noodle bento box or a fruit medley. Starbucks in Canada carries vegan baked goods!
Subway. This one of the most vegan- and health- friendly places if you are in a bind. You can always go with a veggie delite on Italian bread (9 grain wheat contains honey), hold the cheese and mayo, while piling on the veggies, avocado and mustard. You can also get this wrap-style or chomp on a salad ; ) They do have veggie patties, but they're not vegan, as they contain egg.
Taco Bell. You'd be surprised but the Taco Bell menu can be easily manipulated to bring it down to somewhat a'ight ; ) Everything is still full of high fructose corn syrup and hydrogenated oils BUT the menu can be veganized. And again, don't make this a habit! Ok so, their new Fresco Style menu is easy to change up. Order the tacos or burritos Fresco style, swap the meat for beans, and voila! Veganized. You can also veganize the Crunchwrap Supreme tossing the meat, cheese and sour cream and subbing beans and guac. If you're more a burrito gal, try the 7 layer burrito minus the layers of cheese and sour cream, BAM, vegan 5 layer burrito! So yes, the ingredients in all of these are vegan but certainly not the best thing for you. But like I said, in a bind, we do what we can, right?
Wendy's. Oddly enough, they are great to gluten free diners. As for vegans, we can have their side and regular salads so long as we pick of the meat and/or cheese (if you're comfortable with that) and choose an appropriate dressing. You can order the baked potatoes, plain so you can add salt, pepper, chives and any other healthy toppings on your own. They also offer oranges as a combo side, so you can grab some fruit instead of fries.