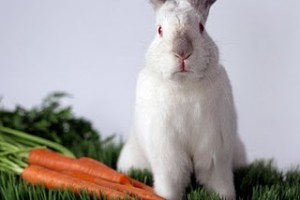 Yay! Spring has sprung and the Easter bunny is on his way! Time to eat lots of chocolate and feast with family. I've put together a healthy, vegan version of a traditional Easter meal so let these vegan Easter recipes be my gift to you this bountiful bunny day.
Hot Cross Buns
Ingredients
1 cup

flour

1/2 teaspoon

salt

1 teaspoon

allspice

1 tablespoon

sugar

1 lb

raisins

1 1/2 teaspoon

yeast

1 teaspoon

sugar

1/3 cup

warm water

1/2 teaspoon

cinnamon

Vegan butter

Powdered sugar
Cooking Directions
Put flour, salt, allspice, 1 tablespoon sugar and raisins in a bowl. Leave in a warm place.
Mix yeast, 1 teaspoon sugar and water. Leave yeast mixture to rise. Stir yeast mixture into flour mixture. Knead, roll into buns and leave in a warm place to rise. Bake 10-15 minutes at 425 degrees. Brush cooling buns with butter and sprinkle with powdered sugar.
Crunchy Veggie Salad
Ingredients
Salad
1 medium head

cauliflower, cut into florets (about 8 cups)

1 medium bunch

broccoli, cut into florets (about 5 cups)

2 cups

button mushrooms, finely chopped

3 large

tomatoes, finely chopped

1 medium

onion, finely chopped

2

celery ribs, chopped

1 medium

carrot, shredded

1/2 cup

slivered almonds
For the Dressing
3/4 cup

vegetable oil

3 tablespoons

lemon juice

1/2 teaspoon

sugar

1/2 to 1 teaspoon

dill or tarragon, depending on taste

Salt and Pepper to taste
Cooking Directions
In a large salad bowl, combine all the salad ingredients.
In a jar with a tight-fitting lid, combine the dressing ingredients; shake well. Pour over vegetables and toss to coat.
Pineapple Glazed Vegan Ham
Ingredients
1 1/2 cups

gluten flour

1/3 cup

soy flour

5 ounces

silken tofu

1 cup

water

2 tablespoons

tomato paste

1 teaspoon

black pepper

1 1/4 teaspoon each

garlic salt, onion powder

3/4 teaspoon

liquid smoke

1/2 teaspoon

soy sauce

1 teaspoon

salt

1 tablespoon

vegetable bouillon

1 1/2

teaspoon paprika

1 tablespoon

maple syrup

1 cup

water

1/2 teaspoon

liquid smoke

1 tablespoon

vegetable bouillon

1 tablespoon

tomato juice

1/2 teaspoon each

black pepper, garlic salt, onion powder
1/2 cup

brown sugar

1/2 cup

maple syrup

1 tablespoon

Dijon mustard

4

canned pineapple rings, thinly sliced
Cooking Directions
To make the 'ham':
In a bowl, mix the gluten flour and soy flour then and set aside.
Add the ingredients from the silken tofu to the maple syrup into a blender and blend until smooth. Pour into the soy & gluten flour bowland mix well. Add extra gluten flour as needed, to knead into a dry ball. Let sit 1 hour. Knead again into a firm, smooth ball.
Preheat oven to 375 degrees. Line a large juice can (such as pineapple juice can) with foil and/or parchment paper. Place gluten ball in the can and press down firmly into the can.
Mix together the remaining ingredients and pour over the gluten ball in your can. Cover can with foil and place can in oven. Lower temperature to 250 degrees and let bake three and a half hours. Remove from can and cool on wire rack while making the glaze.
To make the Pineapple Glaze:
In a medium saucepan, combine the brown sugar, maple syrup and mustard and bring to a boil over medium-high heat, stirring constantly. Cook until reduced slightly, about 2 minutes; set aside.
Brush the baked ham with the glaze, then top with the pineapple rings, securing them with toothpicks. Return the ham to the oven and bake uncovered until heated through, 25 to 30 minutes.
Easter Eggless Cocktail
Ingredients
1 oz

Blue Curacao

1 oz

coconut milk

Soy creamer
Cooking Directions
Pour the Blue Curacao and coconut milk over ice cubes in an old fashioned shake glass.
Add a splash of the soy creamer on top to taste.
Vegan Strawberry Rhubarb Pie
Ingredients
1 package

of vegan puff pastry, thawed (should be enough for 2 sheets, 1 to to line and 1 to cover the pie tin)

2 1/2 cups

chopped red rhubarb, fresh

2 1/2 cups

de-stemmed strawberries, cut in large pieces

1 1/2 cups

sugar

2 tablespoons

minute tapioca

1 tablespoon

all-purpose flour

1/2 teaspoon each

lemon zest, lemon juice, ground cinnamon

1 teaspoon

vanilla extract

3 tablespoons

vegan butter, cubed small plus 1/4 cup melted to brush pastry

Large granule sugar
Cooking Directions
Roll out 1 piece of dough to make a bottom crust. Place into a pie dish. Put dish in refrigerator to chill.
Preheat oven to 425F.
Mix the rhubarb, strawberries, sugar, tapioca, flour, zest and juice of lemon, dash of cinnamon, and vanilla. Mix well in a large bowl and pour out into chilled crust. Dot the top of the filling with the cubed butter. Brush edges of pie crust with some of the melted 1/4 cup butter. Roll out the other piece of dough and place over filling. Crimp to seal edges. Brush with melted butter and garnish with large granule sugar. Collar with foil and bake at 425 degrees for 15 minutes. Decrease temperature to 375 degrees and bake for an additional 45 to 50 minutes, or until the filling starts bubbling. Let cool before serving.
Do you guys have any vegan Easter recipes of your own in the works?