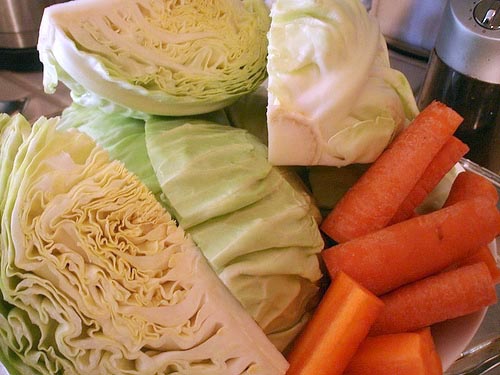 With St. Patrick's day coming up fast and a recent cold snap here in Atlanta, a hearty plate of corned beef and cabbage sounds just about right. Who says that vegans can't whip up a batch of this Irish staple? Here are a few recipes that say otherwise!
1. The ever-amazing Fat Free Vegan shares her mock corned beef and cabbage recipe.
2. Over at The Vegan RD, Ginny shares her vegan take on the classic corned beef and cabbage and a beer bread recipe to pass alongside it.
3. La Pure Mama's vegan corned beef and cabbage recipe includes a recipe for making the "beef" from scratch!
Have you guys made any good, vegan corned beef and cabbage? Most of the recipes I found call for fake meat, which I don't necessarily think is a bad thing, but it would be fun to try making this with other vegan proteins – maybe beans?
Image Credit: Creative Commons photo by citymama