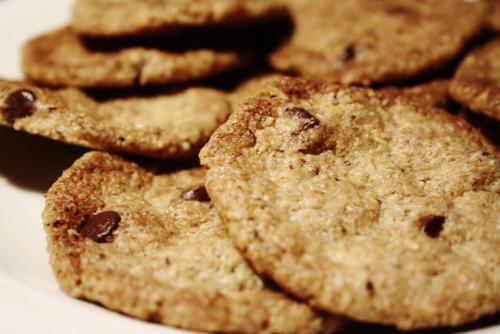 Oat flour is a healthy, gluten-free (well, almost gluten-free) alternative to regular flour, and so easy to make at home! All you need are oats and a blender. I used Quaker oats, the slow-cooking kind for these vegan cookies. Using instant or quick-cooking oatmeal will make the dough of whatever you're making mushy.
Vegan Cookies
Ingredients
2 cups

oat flour

1 cup

white sugar

1/3 cup

brown sugar

1/3 cup

vegan margarine

1/4 cup

canola or sunflower seed oil

1 teaspoon

salt

1 teaspoon

baking soda

3/4 cup

vegan chocolate chips
Cooking Directions
Pre-heat oven to 350°F and grease a baking tray.
Mix oat flour, sugar, salt, and baking soda in a bowl. Add margerine and oil and stir until mixed. If the mixture is too dry, add a tablespoon of soy milk. Add chocolate chips last and mix.
Roll tablespoon-sized balls of dough and flatten them with the back of a wet spoon on your baking tray. Bake for about 10 minutes, or until golden brown.