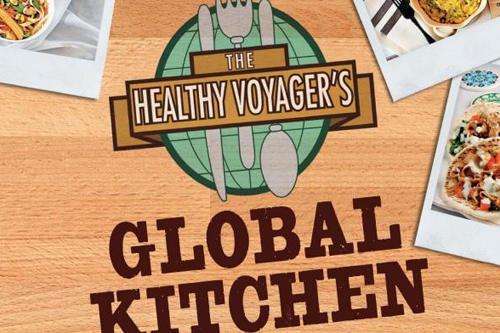 Welcome to Week 3 of The Healthy Voyager's Global Kitchen Holiday Cook-A-Long Contest!
This week we will be featuring recipes from the following Healthy Voyager's Global Kitchen chapters:
Germany
Africa
Thailand and Vietnam
Russia
Spain
USA
To Enter: Choose one or more of the recipes below, cook and upload your photo(s) of the recipe(s) to  The Healthy Voyager Facebook Page, along with your favorite holiday travel memory or wish.
Recipe photos will be voted on by our readers, with the winning recipe receiving a copy of The Healthy Voyager's Global Kitchen and goodies from Daiya Cheese and Gardein!
Good luck and enjoy your international recipe!
This week's vegan cook-a-long recipes:
1. Potatoey Pickert (Potato hash)
Yields about 24 cakes
1 1/4 tablespoon dry yeast
2 1⁄8 cup soy milk, warm
6 large potatoes, peeled and grated
4 1/2 cups flour
2 1/2 cups pureed silken tofu
1 tablespoon sugar
1 tablespoon salt
2 cups raisins
Safflower oil, for frying (or preferred high heat oil)
Put the yeast in a very big pot and mix with warm milk and the grated potatoes. Add in the flour and tofu. Finally add salt and sugar. Now stir in the raisins and mix dough until the ingredients are well incorporated into a big mass. It should have the consistency of soft cookie dough; add milk or flour to adjust if necessary. Let sit for 30 minutes until it doubles in size.
Put palm-sized amounts (small pancakes) into a large, deep frying pan and fry them on low heat in about an inch of oil, being sure to not crowd the pan.  When golden brown and cooked through, let them cool on a paper towel lined plate. Serve with jam, applesauce, vegan butter and/or syrup.
2. Biryani B'Stilla ("Chicken" pastry)
Yields 4 to 6 servings
4 vegan chicken filets
2 tablespoons vegan chicken bouillon
2 cups hot water
1/2 cup silken tofu blended with 1 teaspoon of arrowroot powder
2 tablespoons fresh parsley, chopped
1 teaspoon ground cinnamon
2 teaspoons sugar
1 (17 1/2 ounce) package frozen puff pastry, thawed
Salt and pepper, to taste
1/4 cup vegan butter, melted
Preheat oven to 360ºF. Place chicken in a small saucepan and add in the bouillon and water. Poach over medium-low heat, about 5 to 7 minutes or until cooked through. Remove the chicken, reserving the bullion water. Dice the chicken and set aside.
In a small bowl, whisk tofu/arrowroot mixture with 1/2 cup reserved bouillon liquid and chopped parsley. In a separate bowl, mix together cinnamon and sugar.
Roll out one sheet of the pastry into a 12-inch square. Cut another sheet of pastry in half and roll out into two 8-inch squares. Fit the 12-inch square of pastry into a 9-inch pie pan, there will be a little overhang. Spread half of diced chicken evenly across bottom of pastry in the pie pan. Pour half of tofu mixture over chicken. Sprinkle with half of cinnamon and sugar mixture, then season with salt and pepper. Cover with one 8-inch square of pastry. Cover this pastry square with remaining chicken, tofu mixture, and cinnamon and sugar, seasoning with more salt and pepper. Cover with remaining pastry square. Fold edges of bottom pastry over top of pie to seal and brush with melted butter. Bake for 30 to 40 minutes or until golden brown.
3. Mega Mango Sticky Rice
Yields 4 to 6 servings
2 cups sticky rice (short grain, glutinous rice), soaked in cold water for at least one hour and drained
1 1/4 cups coconut milk
A pinch of salt
2 tablespoon sugar
1 1/4 cup water
2 large ripe mangoes, peeled and sliced
In a saucepan bring to a rice, coconut milk, salt, sugar and water to a boil and stir. Lower heat and simmer, uncovered, about 8 to 10 minutes until all the liquid is absorbed then remove from heat. Cover and let stand 5 minutes. Transfer rice to a steamer or double boiler and steam for about 15 to 20 minutes over boiling water, until rice is cooked through. Mold the cooked rice into small bowls, mugs or ramekins, lined with plastic wrap, to mold.  Cool rice until it has reached room temperature. At serving time unmold onto a plate or bowl and top with sliced mango.
4. Beet You To It Borsch (Beet & "Beef" stew)
Yields 8 servings
2 tablespoons olive oil
2 cups (1 pound) seitan, cut into 1/2-inch cubes
1 onion, peeled and finely chopped
3 1/2 quarts vegan beef broth (make with vegan beef bullion)
1/4 cup red wine vinegar
2 tablespoons lemon juice
2 1/2 cups cabbage, cored and shredded
3 cups ripe tomatoes, diced
4 cups beets, peeled and diced (tops reserved and chopped)
2 bay leaves
Salt and pepper, to taste
2 cups vegan sour cream
1/4 cup chopped dill (or more to taste)
Heat oil over medium-high heat in a large stockpot. Add the cubed seitan, and sear until well browned. Stir in the onion, and cook until tender and translucent, about 2 minutes. Pour in the broth, vinegar, and lemon juice; add the cabbage, tomatoes, diced beets, bay leaves, salt, and pepper. Bring to a boil over high heat, then reduce heat to medium-low, cover, and simmer until the seitan and beets are tender, about 2 hours. Stir the beet tops into the borscht, and simmer an additional 15 minutes and season to taste with salt and pepper. Garnish with a generous dollop of sour cream and a sprinkling of dill.
5. Un-Classic Arroz con Pollo ("Chicken" and rice)
Yields about 6 to 8 servings
"Chicken"

2 packages of vegan chicken filets
(about 8 filets), cut into strips
1 teaspoon dried oregano
1 teaspoon ground cumin
1/2 teaspoon freshly ground white pepper
1 tablespoons red wine vinegar
2 tablespoons Annatto oil or olive oil
Sofrito and Broth

1 medium white onion, finely chopped
1 small red bell pepper, cored, seeded and finely chopped
3 cloves garlic, minced
1 tomato, seeded and diced
3 cups vegetable broth
1 cup dry white wine
1 1/2 cups light colored beer
1/2 teaspoon annatto seeds, or 1/4 tsp saffron threads
1 tablespoon tomato paste
1/2 teaspoon cumin
Salt and black pepper, to taste
2 cups Valencia or Arborio rice
(or preferred rice)
1/2 cup cilantro, chopped
1/2 cup sliced red pimientos
Can of green peas
Mix the oregano, cumin, white pepper and vinegar in a large bowl. Add the chicken, turning the pieces to cover with the mixture and let marinate at least 15 minutes. Over medium heat, heat the oil in a large pan and brown the chicken pieces all over, about 2 minutes per side. Transfer the chicken to a platter and set aside.
To make the sofrito and broth, add the onion, bell pepper and garlic to the oil in the pan that cooked the chicken, cook over medium heat, until soft but do not brown, about 1 or 2 minutes. Add the tomato and cook for one more minute. Return the chicken to the pan with the sofrito and cook for about 1 or 2 more minutes.

Add the broth, wine and beer, tomato paste, cumin and salt and pepper. Bring to a boil, reduce heat, cover and simmer for about 30 minutes.
While the chicken is cooking, place annato seeds or saffron in small saucepan with 1/4 cup of the chicken/sofrito liquid. Simmer for about 5 minutes. Strain this mixture back into the chicken.

Bring chicken mixture to a boil, stir in the rice, reduce heat, cover and simmer until the rice is tender, about 20 to 25 minutes. If it starts to dry out and rice is still al dente, add more liquid. If it gets too soupy, uncover during the last 10 or 15 minutes of cooking.
 About 5 minutes before it's done, stir in half of the cilantro, peas and pimientos. Serve and garnish with remaining peas, pimentos and cilantro (you don't need to use all of it).
6. Un-Clams Casino
Yields 16 bite/spoon sized "clams"
2 tablespoons olive oil
2 ounces sliced vegan bacon, finely chopped
1/3 cup chopped shallots
2 large garlic cloves, minced
1/2 cup red bell pepper — finely chopped
1/4 teaspoon dried oregano
2 tablespoons lemon juice
3 tablespoons vegan butter
2 tablespoons dry white wine
1/4 cup vegan mozzarella, shredded
2 tablespoons Italian bread crumbs
Salt and pepper, to taste
1 cup oyster mushrooms, chopped
1 cup porcini mushrooms, chopped (cremini or Portobello are good as well)
16 small romaine spears or crackers
Lemon wedges, for serving
Heat the oil in a heavy large skillet over medium heat. Add the bacon and sauté until crisp and golden then transfer onto a plate.  Add shallots, garlic, peppers and oregano, lemon juice and butter to the same skillet and sauté until the shallots are tender and translucent, about 5 minutes. Add the wine and simmer until it is almost evaporated, about 2 minutes. Remove the skillet from the heat and cool completely. Stir in the bacon, vegan cheese, mushrooms and bread crumbs into the vegetable mixture. Season the mixture, to taste, with salt and pepper. Think of it as stuffing, you don't want it to be to dry. Preheat the oven to 500º F.
Grease a muffin pan and fill each hole, half way, with the mixture. Brush tops with a little melted vegan butter. Bake until they are just cooked through and the topping is golden, about 8 minutes or so. It's key to not dry them out!  If you want to serve these on decorative spoons, it's best to bake them in the spoons so you don't have to transfer them. Also nice in soufflé tarts!
Spoon out the mixture and place each one in the center of a romaine spear or cracker.  Sprinkle with a little vegan mozzarella, plate and serve as appetizers with a wedge of lemon for extra zest!