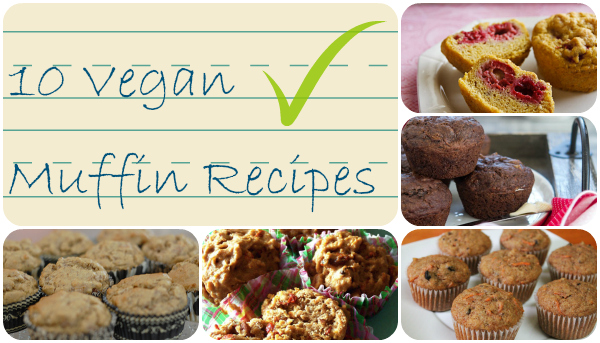 Whip up a batch of vegan muffins on the weekend for a quick vegan breakfast that you can grab and go all week long.
One of the complaints that I hear from folks who are thinking about dipping a toe into a vegan diet is that it takes too much time. I hear ya! Like any lifestyle change, a vegan diet can seem daunting at first. The trick is to find time-saving tricks to replace non-vegan convenience foods with healthy whole foods. For an easy vegan breakfast, a batch of muffins can make your mornings a breeze.
I know, muffins aren't always the healthiest food. Many muffin recipes are basically cupcakes without frosting on them. For someone new to eating vegan or who normally grabs a pre-packaged granola bar, though, a batch of homemade muffins is definitely an improvement over greasy non-vegan breakfast foods.
A batch of muffins also makes a great vegan breakfast treat for holiday house guests, so grab your mixing bowl, preheat that oven, and let's make some muffins!
Vegan Breakfast: 10 Vegan Muffin Recipes
1. Pear and Apple Cardamom Ginger Muffins – These muffins use stevia in place of sugar, so they're sugar free.
2. Blueberry Banana Muffins – If you're going to put fruit in your muffins, it may as well be blueberries and bananas.
3. Low Fat Banana Muffins – These yummy muffins use apple butter in place of some of the oil for a lower-fat vegan breakfast.
4. Whole Wheat Carrot Muffins – These healthy whole wheat vegan carrot muffins are so moist and delicious that no one would believe that they are made without the use of refined sugar or white flour.
5. Strawberry Banana Coconut Muffins – So decadent, you'd never guess that they are low in added sugar.
6. Wheat Free Blueberry Coffee Cake Muffins – Pick up some spelt flour for a healthy vegan breakfast!
7. Oil Free Chocolate Zucchini Walnut Muffins – You won't miss the oil in these rich muffins.
8. Mama Chia Breakfast Muffins – This reader recipe uses a chia drink for moisture and binding properties.
9. Gluten Free Raspberry Corn Muffins – A little bit sweet, a little bit savory, a satisfying vegan breakfast.
10. Goji Berry Muffins – Give your breakfast a superfood boost with goji berries.
Do you have any favorite muffin recipes or other quick vegan breakfast ideas? I'd love to hear them in the comments!