What do you think of when you hear the term "urban agriculture?" Sometimes it's about practices involving cultivating, processing, and distributing food in densely populated areas. At other times, it involves particular skills like animal husbandry, aquaculture, agroforestry, urban beekeeping, or horticulture.
Urban agriculture can also reflect the ways that people across socioeconomic strata react to fresh food access — or lack of it. City spaces can become sustainable communities where food security, nutrition, and income generation are intertwined.
Urban food security requires a reliable year-round supply of nutritious and safe food. But it's much more complex than saying, "Grow your own vegetables," isn't it? Many elements must come together for successful urban agriculture, according to the Food and Agriculture Organization of the United Nations:
access to quality irrigation;
efficient urban food supply and distribution systems;
production of resource materials (e.g. guidelines, manuals, resource books);
expert consultations and workshops on urban food supply and nutrition;
protection and improvement of the urban and peri-urban environment;
improve urban resilience and adaptation to natural disasters, including climate
change; and,
increased collaboration, networking ,and joint activities with partner organizations.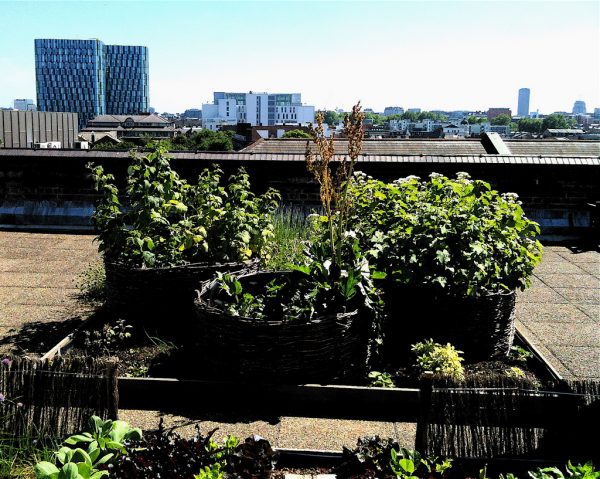 There are many different approaches to urban agriculture and urban garden spaces. Let's survey some of them and figure out what successful urban farmers have done.
Starting Small with Urban Gardening
A simple starting place to learn about growing food in city spaces is available from the Urban Agriculture Company.  It designs grow kits that provide exactly what you need for "a fun and easy growing experience." Each grow kits comes with one pack of organic seeds, one balanced bag of organic soil, and one container to grow the plant in. (The container is made from 100% recycled tea bags.)
The World's Smallest Garden kickstarter is just adorable!  Just find an empty bottle, fill it with water, and insert the World's Smallest Garden. Voila! You have the fresh herbs you want year-round.  The inventors provide a kit that contains a special smart soil. It uses a capillary action to lift water up to the seed. As the seedling sprouts, it sends roots down into the bottle which allows the plant to water itself. Young plants can survive for up to a month using the initial water in the bottle. As the plants mature, their water usage will increase, and so you'll need to top off the water supply.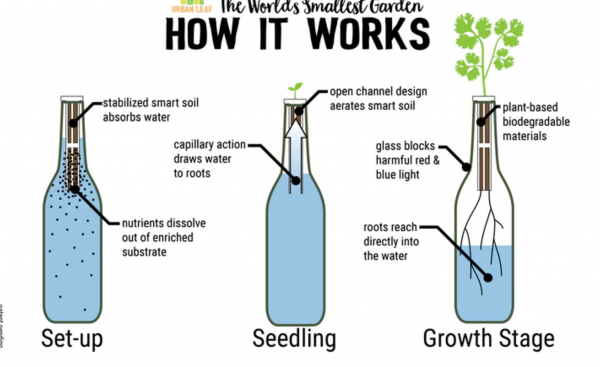 Freight Farms provides physical and digital tools to create local produce ecosystems on a global scale. They claim that, with the right tools, infrastructure, and support, anyone can become a freight farmer, regardless of their background or geographic location. Here's how it works. You start with their Leafy Green Machine™ — a vertical, hydroponic farming system built inside a shipping container. It's capable of growing a variety of lettuces, herbs, and hearty greens. Using climate controlled technology, a closed-loop hydroponic system delivers nutrient rich water directly to crop roots. That means just about anybody can grow fresh produce year-round, as these local hydroponic farms that grow organic vegetables can be located anywhere. The 320 square foot units can grow as much produce as two acres of farmland while using less water per day than the average American needs for a single shower.
A collaborative working and learning space for sustainable food and urban agriculture ventures is open in Brooklyn, NY.  With the goal to deepen and expand the resources, connections, skills, and capacity in New York City's growing sustainable food and urban agriculture ecosystem, the AgTech X Co-Lab offers hands-on experience, the use of hydroponic equipment, educational events, and access to resources. It is a dedicated space for those looking to develop business concepts and pilot new projects.  Newcomers and entrepreneurs alike can even use the site's resources to transition into careers in agritech and urban agriculture.
Popular Sports Settings for Urban Gardens
NFL's Levi Stadium, home of the San Francisco 49ers, is one of several major sports team homes to feature an urban garden. Arugula, lettuces, and herbs are just a few of the garden varieties featured in a space set nine stories off the ground with industrial metals, bright billboard display, and giant corporate logo in the background.
Fenway Park, home of the Boston Red Sox major league baseball team, has reinvented a former black rubber membrane roof into a 4000 pound annual harvest space. Called Fenway Farms, the garden changes seasonally and, in addition to lots of yummy seasonal northern vegetables, includes beehives. The environmental benefits include improved air quality, energy reduction through improved thermal performance, moderation of urban heat, and storm water amelioration. So, too, does Fenway Park Farms also serves as a teaching tool for area youth on the importance of healthy eating and the local environment.
The Garden at AT&T Park serves as a unique gathering place and a living, learning classroom that encourages children to live healthier, more active lives. With aeroponic towers, garden beds, and herb tables, The Garden is open to community partners for children's educational programs focused on healthy eating and nutrition.
Due to open in late 2017, the new Atlanta Falcons football stadium will hold multiple edible gardens. Raised beds will be planted in the southwest corner of the facility with additional edible plants located throughout. Crops will include blueberries, two varieties of figs, and two varieties of apples. Garden areas are designed so as to be irrigated by a storm water detention vault, which is part of LEED certification. The gardens, set within the city, will provide produce to food programs as well as work with local schools on healthy eating initiatives.
Joining Urban Agriculture as a Global Movement
One urban agriculture initiative has a goal to create an abundance of food for people in need through repurposing unused land and space into economically sustainable garden systems. The Urban Farming™ mission is to increase diversity, raise awareness for health and wellness, and uplift communities around the globe. As a hub and a network to connect people with non-profit, private, and public entities, the organization educates communities in need about growing their own food and about the global economy and emerging industries and how these issues affect their daily lives.
Their inspirational "Urban Farming 100 Million Families and Friends Global Campaign™" is hoping that 100 million people plant and register their gardens as a part of the "Urban Farming Global Food Chain®". This campaign empowers people who are unemployed, underemployed, laid off, malnourished, have unhealthy diets, and suffer from hunger or food insecurity. This proactive, global campaign is a holistic global vision that sees a future in which good health, innovation and productivity are an inherent part of our lifestyle. Register your urban farm here.
Starting a Large Scale Urban Farm Initiative
Whether you're interested in a small community garden, being part of an urban farm venture that span several city blocks, or joining an indoor hydroponic or aquaculture facility, are all examples of urban agriculture. Sure, urban farms have challenges, but the opportunities out there through urban farmer mentoring, resources available from federal and city government agencies, and local organization assistance can really help you to overcome obstacles to starting a large-scale urban farm.
The USDA Urban Agriculture Toolkit  is a really fine resource for learning the in's and out's of urban agriculture operations. Here's what you'll find in the comprehensive booklet:
Resources
Costs
Grants
Marketing and development
And, if you need more, check out the some best practices and possibilities from the University of Missouri Extension Service.
Want to Learn about More Urban Agriculture Initiatives?
If you're interested in surveying more really cool spaces for urban agriculture initiatives, check these out:
Detroit Urban Agrihood, launched by the Michigan Urban Farming Initiative, works to promote all forms of sustainable, urban agriculture, focusing on agriculture as the centerpiece of a mixed-use urban development;
Grow Dat Youth is an urban agriculture project in New Orleans  and demonstrates how how kids and teens benefit beyond nutrition when they start growing their own food;
Aurora Urban Farm, set in an old 5,000-square-foot building, was a gift to TTriple Threat Mentoring for its urban farm mission to attack poverty by teaching kids about healthy eating. This year-round indoor hydroponic operation was made possible through a $550,000 grant from the Dunham Fund, which encourages innovation and collaboration in educational and community development programs.
If you live in an urban environment, it's time to get farming!
Photo credits: Gabriel Kamener, Sown Together via Foter.com / CC BY
David Barrie via Foter.com / CC BY