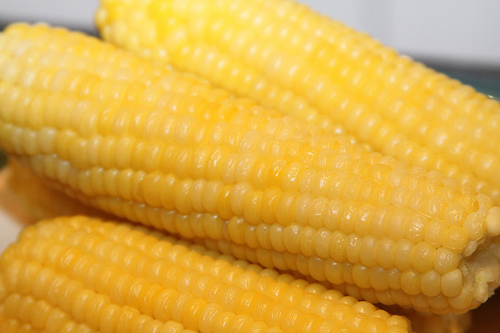 Unlabeled GM sweet corn from Monsanto will be on the shelves of your local grocery store next year.
Monsanto's GM sweet corn was approved in August with little fanfare. The USDA didn't test it for safety or require it to be tested by Monsanto, since the three genetic modifications – Roundup Ready herbicide tolerance and two for insect resistance – had been separately approved in other crops in 2005 and 2008.
Sweet corn is the corn we buy fresh on the cob or canned. Only about 10% of sweet corn is genetically engineered right now. Nearly all field corn, the kind that's processed into high fructose corn syrup and other food additives, is genetically modified in the United States.
What Can You Do?
There are three things you can do to keep GM sweet corn out of your pantry.
1) Contact grocery stores and tell them you don't want GM sweet corn on their shelves. Food and Water Watch has a petition that they're delivering to the top ten largest grocery chains in the United States asking them not to stock GM sweet corn.
2) Tell the FDA you want GMOs labeled. Sign the petition by the Center for Food Safety demanding the FDA require the labeling of genetically engineered foods.
3) Call Representative Dennis Kucinich at (202)225-5871 (his Washington, D.C. Office) and ask him to submit the Genetically Engineered Food Right to Know Act.
Image by gudlyf, used with Creative Commons license.