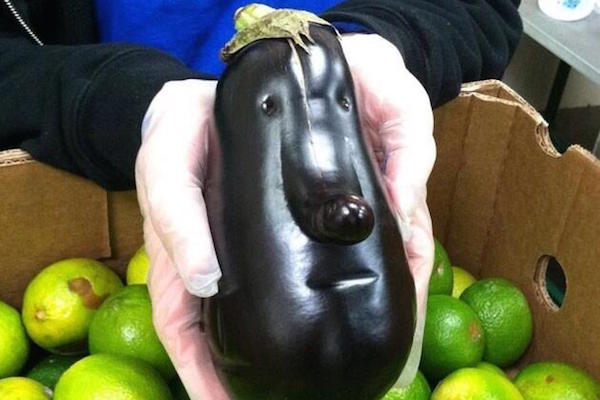 About 30% of harvested produce in the U.S. doesn't reach our grocery stores because it's not up-to-snuff cosmetically. Curvy carrots, bulbous potatoes, apples with faces — all perfectly edible, yet tossed aside. But the tide is turning. Almost daily, I come across stories about people who seek out deformed vegetables and ugly fruit — giving them new purpose as the fresh, healthy morsels they were meant to be — and often giving us a good laugh.
Rescuing and repurposing ugly produce is good for everyone. Farmers and grocers sell more, shoppers pay less, hungry people eat better, and food waste's disastrous impact on the planet is diminished. Hurrah! We've written about ugly produce doing beautiful things in the past. Here are a few more ugly produce stories-of-goodness that paint a bright picture of our food system's future.
Wanted: Imperfectly Delicious Produce
What happens to a strawberry with white shoulders? That ugly fruit is left unharvested, even though the majority of its flesh is plump, red, and delicious. That's why California-based food service company Bon Appétit launched its Imperfectly Delicious Produce program. Through the program, the company works with its farmers to find ways to save cosmetically-challenged fruit and vegetables. Bon Appétit is tackling food waste early in the supply chain, hoping to salvage imperfectly delicious food that would otherwise go to waste. And with the company operating 500 cafes in 33 states, the potential for positive impact is enormous.
Selling Ugly Fruit and Wonky Vegetables in Canada
Last month, Canada's largest grocery retailer, Loblaw, launched a new line of misshapen produce that sells at 30% less than the beautiful alternatives. The line is called "no name Naturally Imperfect" and consists of apples and potatoes for now, but the company plans to add other produce if the brand is a success. This is particularly good news for low-income families trying to eat well on a budget. One of Loblaw's Senior VPs says: "Once you peel or cut an apple you can't tell it once had a blemish or was misshapen." That common sense means our cents go further.
"Produce with a Purpose" Fights Hunger
The fact that we waste 40% of the food we produce in the US is tragic, given that 1 in 6 or 7 Americans don't have access to fresh, healthy food. That's why Hungry Harvest started a produce CSA with a twist. The company recovers surplus produce — much of which is discarded based on appearance — from farmers and suppliers and sells it CSA-style. And for every share a member buys, it donates the same to a local food bank, homeless shelter, or family in need. In a recent interview with Food Tank, COO and co-founder, John Zamora shared the good news: "We have 300 paying members who have helped us recover over 115,000 lbs. of produce, of which over 62,000 lbs. has been donated to those in need." Well done.
Ugly is the New Beautiful When it Comes to Produce
Ugly fruit and vegetables don't need to suffer from body image problems these days. They're in the spotlight. Sitting at the popular kids' table. All the rage. Just read NPR's recent story about "silly, saucy, scary" produce. Featuring tweets with pictures of ugly fruit and misshapen vegetables, it will make you smile. Perhaps even laugh out loud (like I did). And I seriously recommend following @UglyFruitAndVegetables on Twitter, "Cause Uptown Veg gon give it to ya. Saturday night & we in the spot. Don't believe me, just watch!!!!!" Nuff said.
I'm now on a mission to anthropomorphize my fruit and vegetables. And I can't wait to share the results. Do you have other stories of people saving ugly fruit and deformed vegetables? Please share!
Related Stories:
Image Credit: Gareth P Lewis via Twitter