I've always liked drinking sake, the Japanese rice wine that's popular at sushi restaurants, and, increasingly, on cocktail menus. But I never knew how much I was missing until I attended the TY KU Sake tasting at Wanderlust Squaw Valley a few months ago.
Related: Eating Vegan at Wanderlust
Not only was this event my first proper sake tasting (including excellent vegetarian pairings for the whole event!), I learned a ton of great stuff about this excellent beverage.
What you Need to Know about Sake
Sake is made from just a few ingredients: rice, water, yeast, and koji (cultured rice, which is also the base for miso). With so few ingredients, the quality of each ingredient makes a big difference for your sake.

Most of us have tried warm sake, but our presenter Adrian made it clear that only junk sake is heated, which masks flavor and makes poor quality sake taste a bit better. The highest quality sake you can get your hands on is Junmai Dai Ginjo, which uses super polished rice for an ultra-smooth sake.
Second in line is Junmai Ginjo, with less rice polished but also a pure, clean taste and finish. TY KU Sake Black, a junmai ginjo, was actually my favorite at the tasting. It's easy to see it pairing with all sorts of foods (especially warming, spicy stuff like curries and even mexican foods). Its mellow flavor also means it's a great base for innovative healthy cocktails.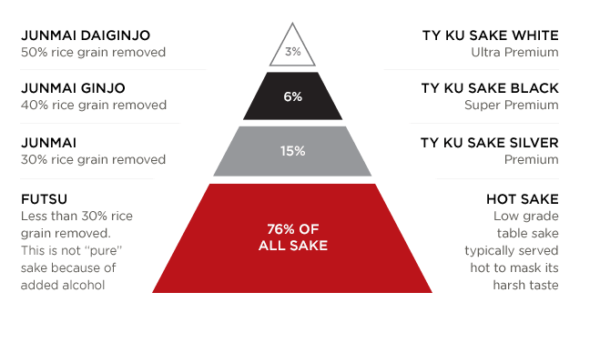 TY KU has made it easy to enjoy premium sake with their regular options, but they have multiple flavored varieties too. I personally prefer plain/original sake, but the cucumber flavor was light and refreshing, and is just begging for some fresh herbs and sparkling water. The coconut sake, a nigori (unfiltered) sake, is creamy and light, but tastes a bit too coconutty even for this island girl.
Drinking While Yoga-ing: Apres Yoga Happy Hour
TY KU has been a long-time sponsor of Wanderlust events, with a focus on their Apres Yoga campaign, focusing on happy hour after yoga class.
While it might seem surprising to see an alcohol company be aligned with a yoga event, it actually makes quite a bit of sense. Many yogis do enjoy their booze, and sake offers a healthier beverage that's naturally free of gluten, sulfites, and tannins, and has an incredibly light and sweet flavor. Sake is also less acidic than typical wines and contains no preservatives.
Their Apres-Yoga theme is centered around the idea that we work hard in class and push ourselves in life everyday. Healthier imbibing can allow us to acknowledge that rest and relaxation are integral parts of our practice– that is, the practice of yoga AND of life!
Tune into TY KU deliciousness on social media:
Instagram
Facebook