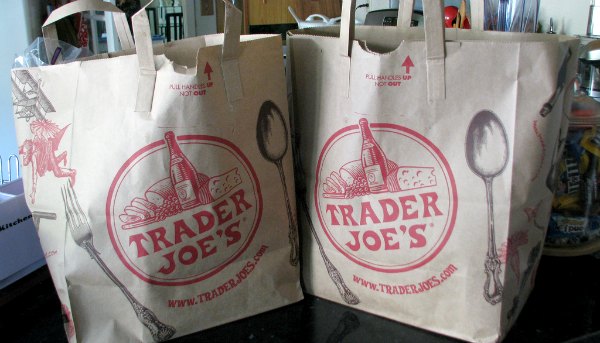 A friend of mine recently wrote about being a little bit disillusioned with Trader Joe's, and it made me wonder what you all thought about that!
My friend Andrea shared a little bit about her experiences with Trader Joe's. Like a lot of us, she was thrilled when the franchise finally opened in her town. Before Trader Joe's came to Madison, where she lived, those enticing packaged foods and cheap wine deals were special treats that she could only get when she visited a town that had a TJs. Recently though, the chain has been losing its lustor for her, especially after learning about how their parent company – Aldi – was linked to terrible plastic pollution which caused sperm whale deaths.
Her piece really struck home for me, because I had such a similar experience. We only got a Trader Joe's here in Atlanta a few years ago, and my friends and I couldn't wait to stock up on kettle corn, Two Buck Chuck (which is more like $3.50, because of liquor laws here), and peanut butter pretzels.
Trader Joe's and Overpackaging
I still love those snacks, but the thing that bothers me about Trader Joe's is the insane overpackaging. They love to wrap things in plastic! The snack foods tend to come in the standard box-with-a-plastic-sleeve-inside, but many of the snacks I've gotten go further and are individually wrapped in even more plastic within the sleeve.
What really gets me, though, is the produce. The vast majority of their fruits and vegetables are wrapped in a plastic bag or those unrecyclable mesh produce bags. It's a huge waste!
Related Reading: 5 Crafty Ways to Upcycled Mesh Produce Bags
There are things that I like about Trader Joe's too, don't get me wrong. That kettle corn is one of my favorite treats, and my husband demolishes their peanut butter pretzels. I still shop there occasionally, but I don't think of it as the wonderland that I did before we got one in our town.
What do you think about Trader Joe's? Does your town have one? Do you shop there? I'd love to hear your experiences!
More on Trader Joe's:
Image Credit: Creative Commons photo by flippinyank