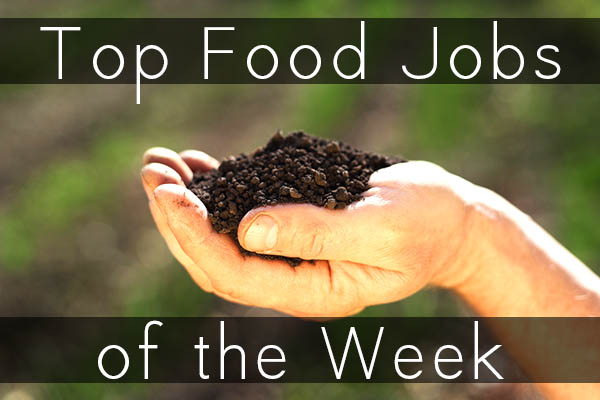 It's time again for our weekly sustainable food jobs series in partnership with our sister site: Green Job Post. Every week, we share some select food job listings in this space. The site has listings for more food jobs, and there's a great section of sustainable food jobs, if you'd like to browse more listings.
Top Sustainable Food Jobs of the Week
---
1. Equal Exchange Customer Service – The Equal Exchange Customer Service Department is seeking a Customer Service Representative to serve our customers in schools, congregations and faith-based organizations, and assist with serving Sales Department customers as well. We are looking for motivated candidates with strong communication and problem-solving skills, excellent attention to detail, and the ability to work well with others. Previous customer service experience preferred. This is a full-time hourly position out of Canton, MA office. Equal Exchange is a worker-owned cooperative and an equal opportunity employer.
2. Marketing Projects Coordinator: High Mowing Seeds – High Mowing Organic Seeds has grown exponentially, and what started as a one-man operation is now a thriving business making available to home gardeners and commercial growers over 600 heirloom, open-pollinated and hybrid varieties of vegetable, fruit, herb and flower seed. The Marketing Projects Coordinator is responsible for managing multiple large projects and campaigns, including the production of our retail and wholesale catalogs, and overseeing several key marketing channels including our website (content), advertising, SEO, direct mail, PR and partnerships.
3. Digital Marketing Manager: Colavita USA – Family-owned Colavita USA LLC, headquartered in Edison, NJ, has been importing and distributing Colavita Extra Virgin Olive Oil for over 30 years. Colavita Extra Virgin Olive Oil is recognized as the trusted family brand in the US and has earned awards from renowned cooking publications. The Digital Marketing Manager will be joining a fast-paced marketing team and will be responsible for the growth and management of an expanding and robust social media and email marketing platforms, encompassing a large brand portfolio of food products. The candidate will take charge in growing the brand's digital audience across multiple channels and participate in the overall optimization of the brand in the digital space, including full responsibility for digital content management and development strategy. We are looking for a candidate with a background in food/passion for the food industry.
4. Fermentation Engineer: Clara Foods – We are a venture capital-backed company working towards a disruptive advance in food technology. Clara Foods is a new Bay area startup aiming to disrupt the food space by creating the world's first animal-free egg white. We are looking for an experienced Fermentation Engineer. The ideal candidate will have 5 to 10 years of experience in an industrial setting (e.g. biopharma, industrial biotechnology) involving fermentation operations including seed train, fermentation, centrifugation, and MF. The candidate is expected to plan, design, and execute fermentation process development and optimization project plans.
5. Assistant Coach: sweetgreen – Be a part of something revolutionary! At sweetgreen, we believe in quality ingredients – and not just for our food. Our Assistant Coaches (Assistant Managers) lead our team members, They are our most valuable ingredient – the heart of our business, the face of our brand, and what truly make the sweetgreen experience special and unique. Head Coaches help drive sweetgreen's values within the stores – creating a family environment where all feel welcome to enjoy a healthy meal together. We are looking for happy, humble, and hard-working people to join our growing team.
---
If you're looking to post a job and want to help make Green Job Post a better site, we'd be grateful if you could take two minutes to fill out our survey. We're offering three free Basic listings as a thank you (code is given at the end of the survey). Thanks from the Green Jobs team!
Keep up with the latest sustainable food jobs by subscribing to the Eat Drink Better newsletter or to the Sustainable Food Jobs newsletter!
Image Credit: Soil image via Shutterstock