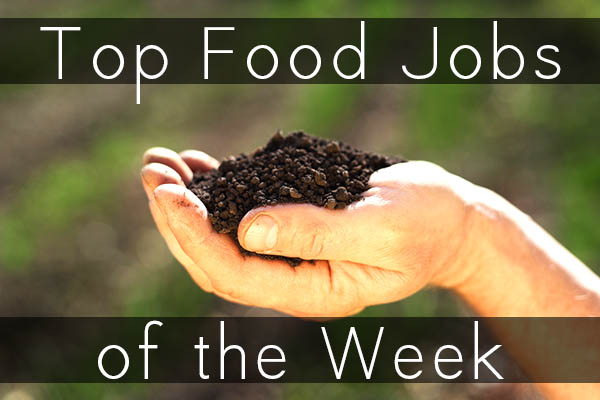 It's time again for our weekly sustainable food jobs series in partnership with our sister site: Green Job Post. Every week, we share some select food job listings in this space. The site has listings for more food jobs, and there's a great section of sustainable food jobs, if you'd like to browse more listings.
Top Sustainable Food Jobs of the Week
---
1. Equal Exchange Customer Service – The Equal Exchange Customer Service Department is seeking a Customer Service Representative to serve our customers in schools, congregations and faith-based organizations, and assist with serving Sales Department customers as well. We are looking for motivated candidates with strong communication and problem-solving skills, excellent attention to detail, and the ability to work well with others. Previous customer service experience preferred. This is a full-time hourly position out of Canton, MA office. Equal Exchange is a worker-owned cooperative and an equal opportunity employer.
2. Project Coordinator: NYC Compost Project (Queens Botanical Garden) – The Project Coordinator for the NYC Compost Project hosted by Queens Botanical Garden reports to the Compost Project Manager. This person is primarily responsible for delivering workshops and trainings (including the yearly Master Composter course), providing technical assistance to community compost sites, and planning public outreach events. This person must be able to track all of their activities and efforts and submit data to the Project Manager in pre-defined quantitative or narrative format as needed.
3. Seed-to-Plate Nutrition Education Program Coordinator: Recipe for Success Foundation – Recipe for Success Foundation is dedicated to combating childhood obesity by changing the way our children understand, appreciate and eat their food, and by educating and mobilizing the community to provide healthier diets for children. The S2PNE Program Coordinator hires, trains, develops, and manages Regional Facilitators, the local S2P Instructional team, and virtually mentors distance S2P Instructors on how to effectively implement and integrate curricula into complementary core learning objectives. Through authentic and effective communication this role connects the educational community to the mission, fosters engagement and thoughtful dialogue, and inspires a culture of health across educational institutions, for the purpose of reaching all children with Seed-to-Plate Nutrition Education™.
4. Vegetarian Chef & Meal Manager: Global Youth Village – GYV 2015The Global Youth Village started 37 years ago, with a need and a dream. A group of parents noticed their kids had never met anyone from a different country or culture– something they knew was important for young people growing up in a quickly "globalizing" world. They dreamed of a way to bring together young people from around the world to live and learn alongside one another. Manage overall meal production for Global Youth Village residents and guests, working with two other staff  while preparing well rounded, satisfying vegetarian meals for the teenage palate. Oversee and maintain kitchen sanitation, health and safety procedures.
5. Farm Crew Members: Pachamama Farm & Wellness -Family-run farm in Boulder County is looking for experienced farmers to join their tightly knit team in all areas of vegetable production, including vegetable processing, distribution, preservation, and cooking. Couples please apply!
---
If you're looking to post a job and want to help make Green Job Post a better site, we'd be grateful if you could take two minutes to fill out our survey. We're offering three free Basic listings as a thank you (code is given at the end of the survey). Thanks from the Green Jobs team!
Keep up with the latest sustainable food jobs by subscribing to the Eat Drink Better newsletter or to the Sustainable Food Jobs newsletter!
Image Credit: Soil image via Shutterstock